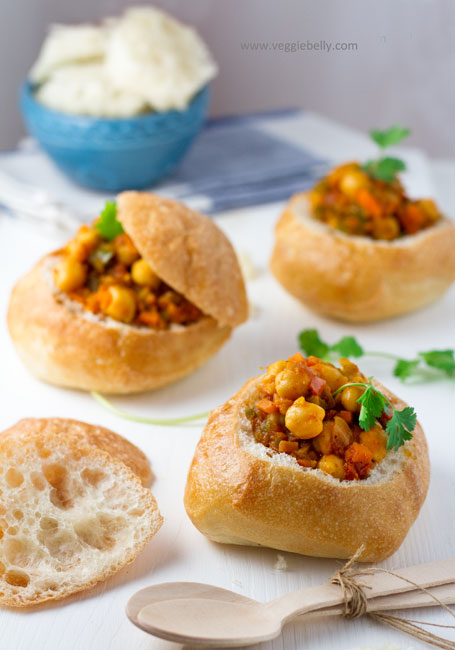 South African cuisine is a titillating mix of Indian, British, Malay, Portuguese and Indonesian food. Every group of settlers has left its own mark on the country's cuisine. Bunny Chow, also called 'bunny' is one of the Indian community's contributions to South African cuisine. Indian immigrant laborers are credited with inventing this dish nearly 200 years ago. They used hollowed out loaves of bread to put their curries in – an easy way to transport their curries while working in sugar cane plantations. The concept of bunny chow is not unlike India's own pav bhaji – bread eaten with curried vegetables.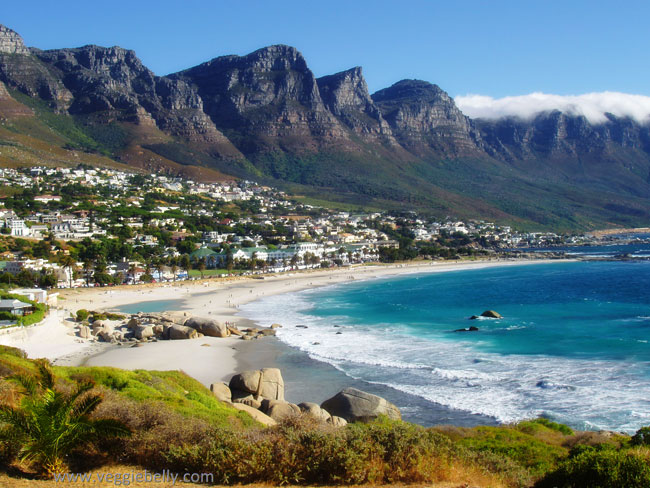 Camps Bay in Cape Town
When I first heard about Bunny Chow from a taxi driver in Cape Town, I was intrigued. But this African street food is usually made with meat, and I couldn't find a vegetarian version while I was in South Africa (I should have searched harder because the original bunny chow was vegetarian!). I was disappointed to say the least. When Meeta announced South Africa as the theme for her monthly mingle, I jumped at the opportunity to make a vegetarian bunny chow.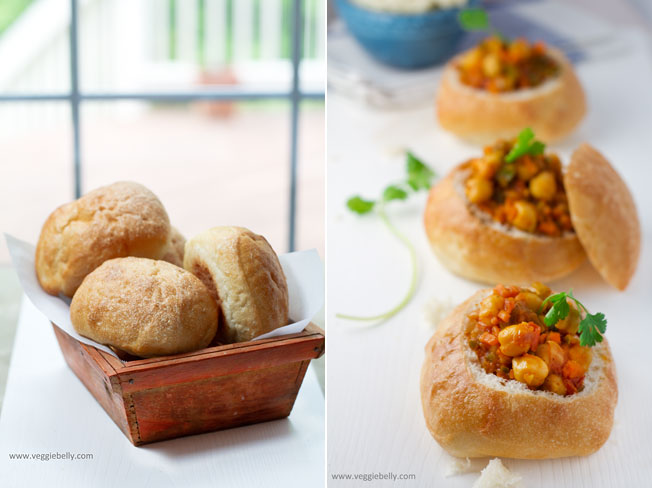 I used chickpeas as the filling. I also decided to go with a more elegant presentation and used mini ciabatta rolls, instead of the traditional white bread loaf. The mini rolls worked well, they looked cute, were easy to eat and reminded me of panera style bread bowls! The bread 'bowls' soaked up all the curry and got finger licking good!
Intrigued? Want to read more?
Cook Sister's bunny chow recipe
Afar blog's bunny chow recipe
Bunny chow etiquette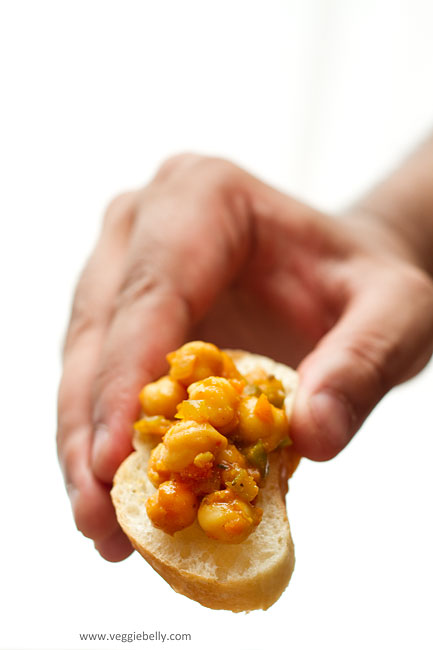 If you dont want to bother hollowing out bread or dont want use as much bread, you could serve the chickpea filling on top of slices of crusty bread – tapas style! But ofcourse, it wont be bunny chow anymore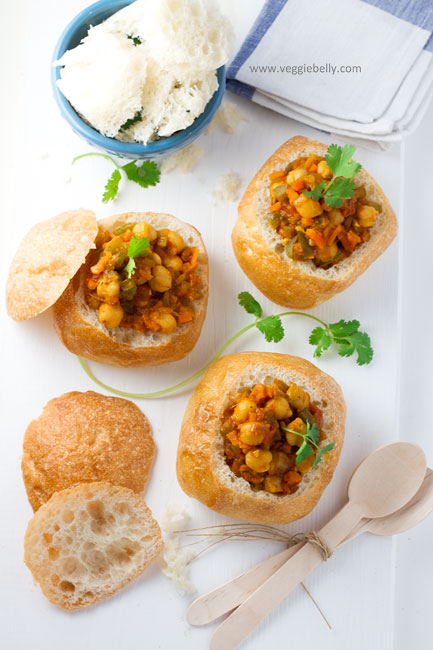 South African Bunny Chow with Chickpeas Recipe
makes about 6 mini bunnies
2 tablespoons vegetable oil
1 onion, finely chopped
1 tablespoon garlic paste
1 tablespoon ginger paste
1 carrot, diced (1/2 cups when diced)
1 small green pepper, diced (1/2 cup when diced)
1 large tomato, diced
1 tablespoon curry powder ( may need more or less depending on the brand)
1/2 teaspoon turmeric, optional
1/2 teaspoon paprika, optional
1 cup canned chickpeas, drained
2 teaspoons tomato paste
1-2 cups water
1-2 teaspoons lemon juice
salt
cilantro for garnish
6 mini ciabatta or other bread rolls (or 1-2 regular sized loaves of white or crusty bread)
Heat oil in a pan. Add chopped onions and cook on medium heat till the onions are brown. Then add ginger and garlic paste and saute 30 seconds. Add carrot, green pepper, and tomato and cook till the vegetables are soft. Now add salt, curry powder, turmeric and paprika if using, cook 1 minute on medium-high heat.  Add chickpeas, tomato paste, 1 1/2 cups water and bring to a boil. Stir to make sure tomato paste has dissolved. Boil for about 2 minutes. Add more water if the curry it too thick. Turn off heat. Taste,and add lemon juice according to taste.
Cut the tops off the mini bread rolls and gently scoop out the bread inside. Fill the bread 'bowls' with the chickpea filling. Garnish with chopped cilantro. Serve along with the scooped out bread for dipping.
If using larger sized loaves of bread, halve or quarter (depending on the size) the bread loaf. Scoop out the bread to form a bread bowl. Fill with chickpea filling. Be careful not to scoop out too much bread, your filling might leak out!
Comments
comments