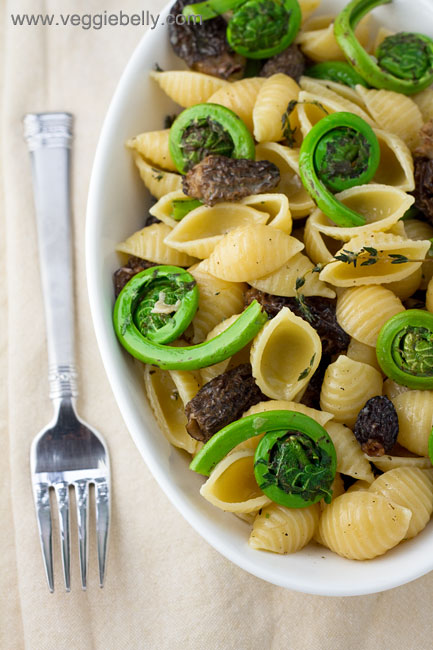 Fiddleheads are young, coiled fronds of the Ostrich Fern. They appear during a short window in the spring and are usually foraged. They have a very mild flavor and a pleasant crunch. To me, they taste somewhat like broccoli stems. Fiddleheads taste great with morel mushrooms. Both fiddleheads and morels come into season at the same time; so it makes sense to use them together. The bright delicate flavor of fiddleheads paired with the earthiness of morels is just exquisite.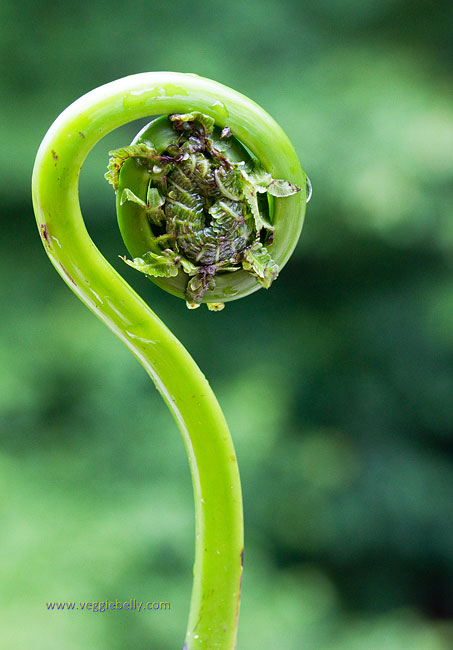 Fiddleheads remind me of the beauty of natures creations. These are bright green coils of fern with the delicate flavors of spring tucked into their gorgeous spirals. Dont add too many herbs or spices to fiddlehead dishes; just let their flavor shine through.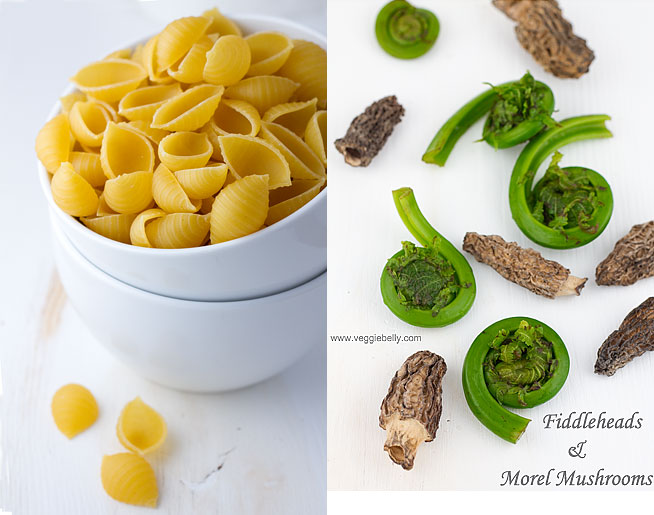 How to cook and store fiddleheads
- Remove any brown stuff and dirt on the fiddleheads. Trim the ends
- Wash them throughly in cold water
- Fiddle heads taste best when blanched in salted waterfor 2-4 minutes or until they are tender but crisp. Use blanched fiddleheads in pasta or lightly saute them in butter
- Instead of boiling, fiddleheads can also be steamed till they are crisp-tender
- Blanched/steamed fiddleheads can be patted dry and frozen
- Don't eat fiddleheads raw, they can make you sick!
- Consume fiddleheads immediately after your purchase or foraging trip. They don't keep very well
- If you must store fiddleheads, wrap them loosely in a plastic bag and refrigerate them. Use within one day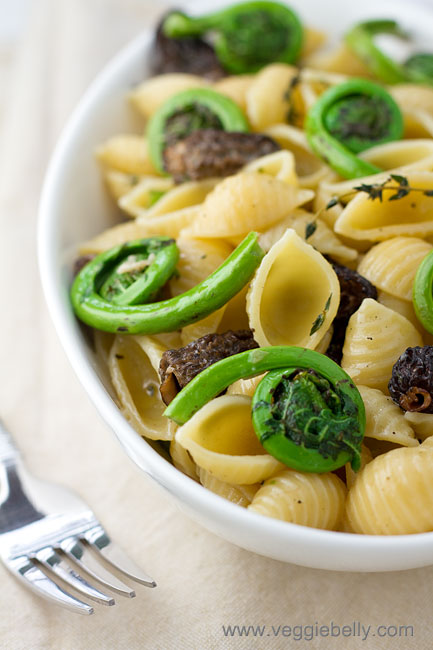 Fiddlehead Fern and Morel Mushroom Pasta Recipe
serves about 3-4
1/2 oz dried morel mushrooms
3 oz fiddlehead ferns (about 18-20 pieces), washed well
1/2 pound pasta
3 tablespoons butter or olive oil
2 cloves of garlic, chopped
2 sprigs of thyme
1/4 cup heavy cream (recommended) or milk
salt and pepper
Boil water in a small pot, add dried morel mushrooms to boiling water. Immediately turn off heat. Cover and let the mushrooms soak for about 15 minutes. After 15 minutes, drain and squeeze excess liquid from the mushroom. Reserve about 1/4 cup of the mushroom soaking liquid.
In another pot, boil more water, add fiddlehead ferns and boil for about 2 minutes. Then remove from water and submerge in a bowl with cold water and ice cubes. This will stop the cooking process and keep the fiddleheads crisp and green.
Cook the pasta in plenty of salted water till pasta is al-dente. Don't overcook pasta.
While pasta is cooking, heat a skillet and add butter or olive oil. Add chopped garlic, thyme, and drained morel mushrooms. Cook till morels are soft. Add drained fiddleheads, cream, and 2 tablespoons of mushroom soaking liquid. Cook on low heat for about 1 minute. Add salt and pepper. For a thinner sauce, add more mushroom soaking liquid. Add the boiled pasta and toss.
Comments
comments