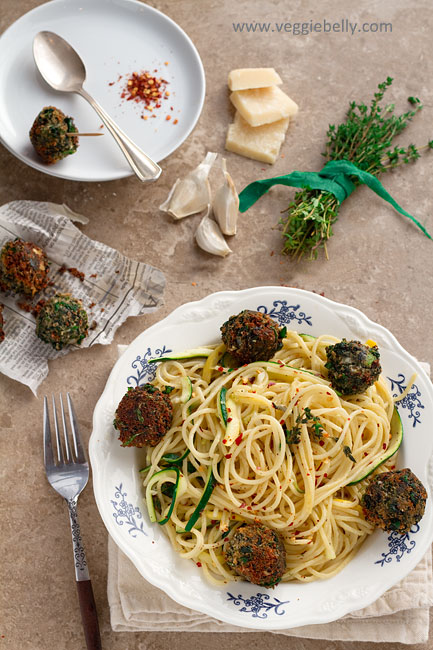 I first had this amazing pasta dish at Italia restaurant in Park Pod hotel, Chennai, India. Wanting to recreate the dish at home, I googled around to see if there were similar recipes. To my surprise I found a very similar recipe that is served at the famous Carluccios restaurant in UK! My recipe is inspired by Antonio Carluccios recipe for pasta with courgette sauce and spinach balls on BBC Food
Not only is Antonio Carluccios recipe delicious, it also has a special story behind it..
Everytime someone orders this dish at Carluccios restaurant, 50p (about 75 cents) is donated on the diner's behalf to the charity, Action Against Hunger. In just 3 years Carluccios has raised 430,000 pounds for the charity this way!  Take a look at their menu for details. (The restaurant sells this dish as penne giardiniera).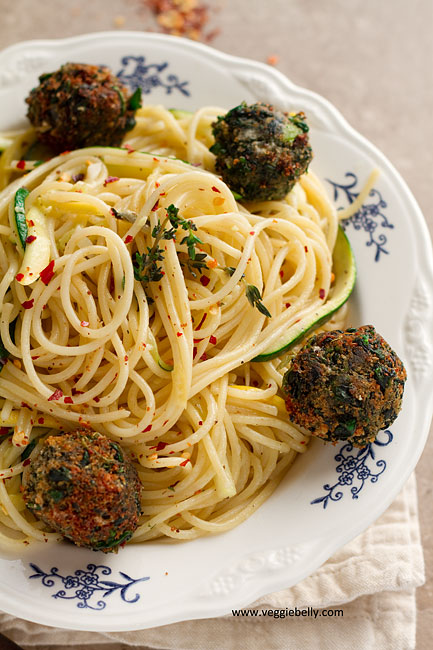 I made several changes to Carluccios recipe. Their spinach balls use eggs, I cut that out. Their recipe required fresh spinach leaves, but I used frozen, thawed spinach because i like the texture of frozen spinach better. I also added fresh thyme and extra garlic to the pasta for extra flavor. The fried spinach and parmesan balls are super tasty! You could even serve them as a snack or appetizer. But I love them in the pasta. These are a great vegetarian substitute  for spaghetti and meat balls.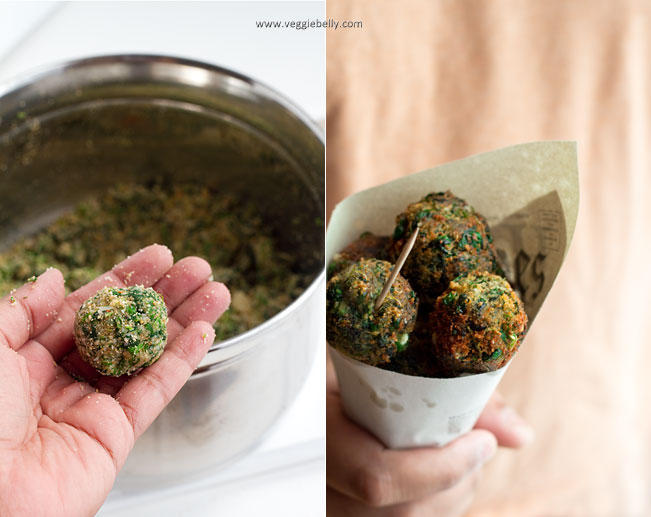 Some tips:
- Timing is important in this recipe because there are 3 elements to it – the pasta, pasta sauce, and spinach balls. Make the pasta sauce first (using olive oil, thyme, garlic, zucchini and cheese) and keep aside. Then work on the spinach balls. Roll the balls and keep them ready to fry.  Then put the pasta to boil. While the pasta is boiling, fry the spinach balls. This way, the pasta and the spinach balls will be done at the same time and you will have al dente pasta and crispy spinach balls just before serving.
- If you want to use fresh spinach, blanch it in boiling water and squeeze dry before using. Refer to Carluccio's original recipe which uses fresh spinach.
- If your spinach mixture is too dry and wont form a ball, sprinkle a little water. If the mixture is too moist (you probably didnt squeeze the spinach dry enough), try adding more bread crumbs. Keep in mind that if the mixture is too wet, then end result will be oily.
- You can bake the spinach balls if you wish. But it will work better if you formed the spinach mixture into patties for baking, instead of balls. This way, you will get a crunchier exterior in the oven. Ive never baked these before, but I think a temperature of 400-450f should work.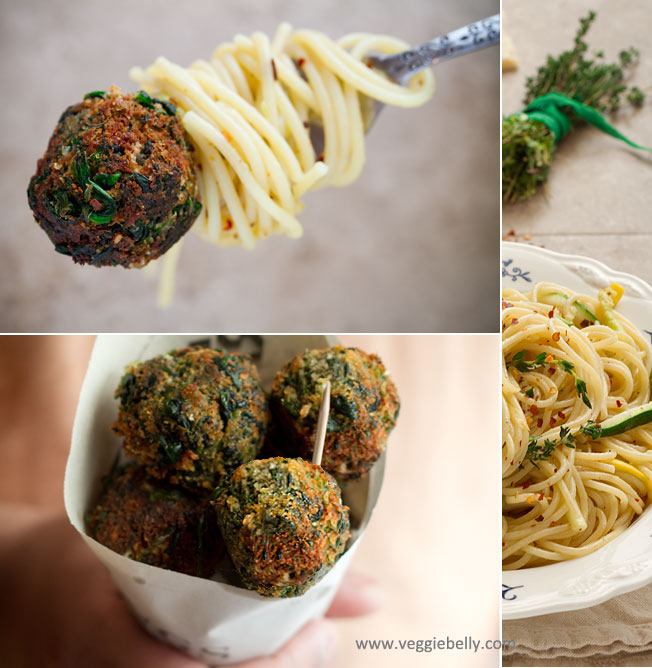 Spaghetti and Crispy Fried Spinach Parmesan Balls Recipe
adapted from this recipe by Antonio Carluccio
serves about 6
For pasta
450g or 1 lb spaghetti pasta
8 tablespoons olive oil
3 sprigs fresh thyme
4 garlic cloves, minced
Crushed red pepper, according to taste
2 zucchini or summer squash cut into thin strips (see picture in post)
1/2 cup grated parmesan cheese
Salt
Pepper
Bring a large pot of water to boil. Generously salt the water. When water boils, add pasta and cook till al dente.
While pasta is cooking, heat oil in a pan. Add thyme sprigs, garlic and crushed pepper and cook for about 30 seconds. Then add the chopped zucchini. Saute for about 2 minutes or till the zucchini is cooked, but still a little crunchy. Turn off heat and stir in grated parmesan, salt and pepper. This is your pasta 'sauce'. When the pasta is done, drain the pasta and toss with the zucchini mixture.
For Spinach Balls (makes about 24 balls)
1 lb frozen spinach
1/2 cup grated parmesan
1 cup breadcrumbs
a pinch of nutmeg
1 garlic clove, minced
Salt
Pepper
Vegetable oil for frying
Thaw frozen spinach. Squeeze out as much water as possible. Place thawed, dry spinach in a bowl. Add all other ingredients to the bowl, except the oil. Mix well.
Now test the spinach balls. Make one ball from the mixture, heat the oil, and shallow fry it on medium-high heat. If the balls fall apart, you need to add a little more bread crumbs to bind the mixture. If the extra breadcrumb trick didnt work, and the balls still fall apart, add one beaten egg to the mixture.
Form the spinach mixture into balls (see pictures in post). Heat a thin layer of oil in a wide, shallow pan.
Place spinach balls a few at a time and shallow fry them on medium-high heat, turning the balls around till all sides are golden and crisp. Remove spinach balls with a slotted spoon and place them on paper towels.
Serve spinach parmesan balls with the spaghetti.
Comments
comments