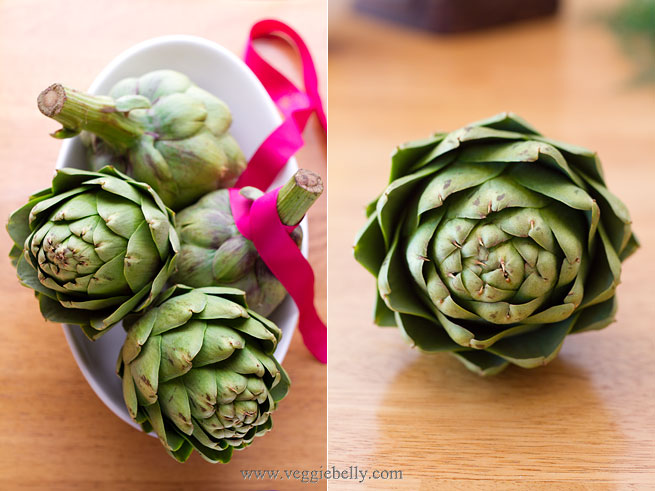 Frozen or canned artichoke hearts are fine if you are in a hurry; but I like to use fresh ones when they are in season and when I have the time to cut, trim and prepare artichoke hearts.
What you will need
steady cutting board
sharp paring knife and a larger knife
small spoon
bowl filled with water
a lemon
fresh artichokes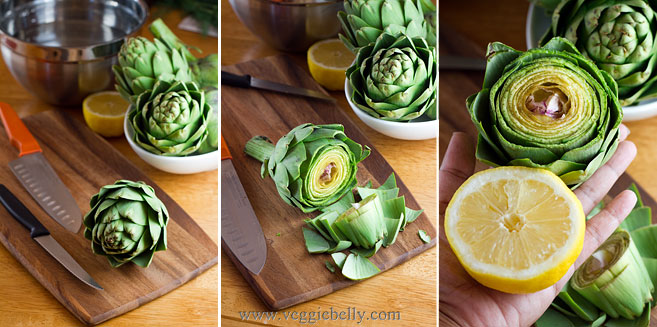 Cut the lemon in half. Squeeze one half of the lemon into the bowl of water. Place the squeezed lemon in the water as well. Keep the bowl of water near by. Using a large chef's knife, cut off and discard the top 2/3rds of the artichoke. Rub the cut end of the artichoke with lemon, to keep it from discoloring.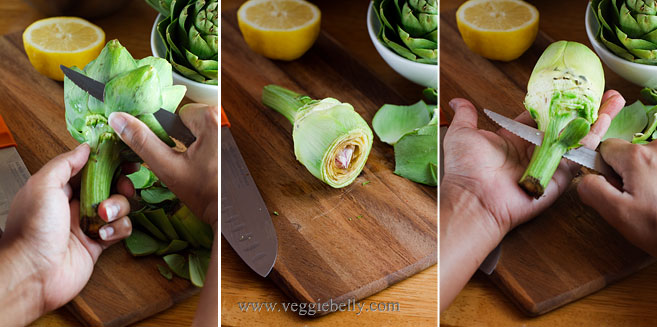 Using a sharp paring knife, trim the outer leaves. Keep removing the tough leaves till you get to the paler, softer leaves on the inside. Tip: save the outer leavesyouve just cut (in another bowl of lemon water). You can boil them and dip them in mayonnaiseor garlic aioli for a nice snack.
When there are about 5-6 layers of leaves left, stop trimming. Then trim the outer, tough, green stuff around the base of the artichoke and around the stem. When you got to the white part, stop trimming. Rub the lemon everywhere youve cut.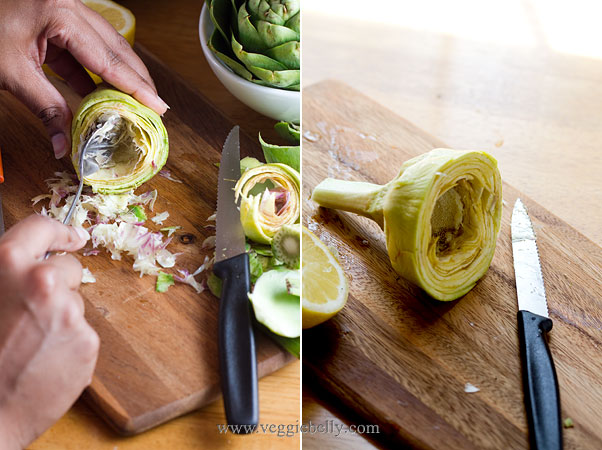 Now comes the important part. Using a spoon, gently but firmly scoop out the fuzzy choke from the center of the artichoke. Make sure you get in there and remove all of the choke, because this part of the artichoke is inedible. The artichoke heart is now clean, and ready for cooking. Immediately place the artichoke heart in the bowl of water and lemon juice.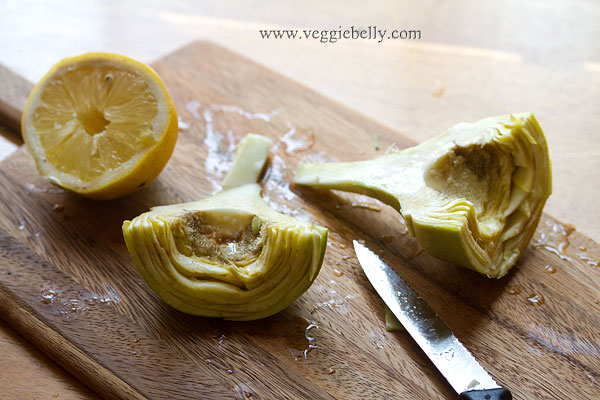 Depending on the recipe, either cut the artichoke hearts in half or quarter them. Also, depending on the recipe, remove or keep the stem.
Notes
- Be careful when handling an artichoke, the tips of its leaves have sharp spikes
- Make sure you remove all of the fuzzy choke from the center
- Always rub cut surfaces of an artichoke with lemon, to keep them from discoloring
- Place trimmed and cleaned artichoke hearts in a bowl of water with lemon juice

Print
Comments
comments