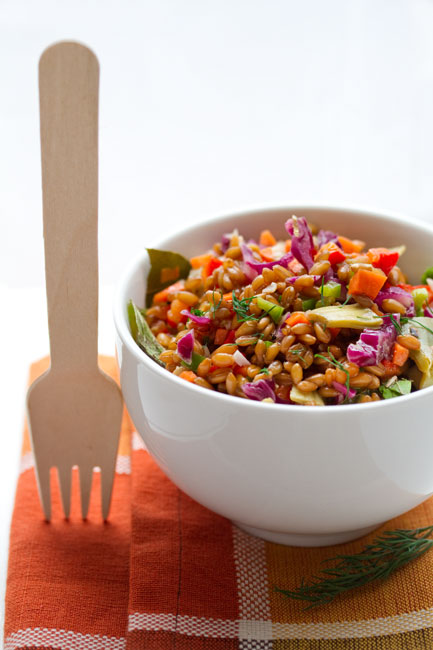 Wheat berry is the whole wheat kernel containing the wheat germ and wheat bran.  Wheat berries have heaps of fiber and protein. They have a sweet, nutty flavor and a chewy texture. They are tasty, easy to make and good for you. I buy wheat berries at Whole Foods. This recipe has a great confetti of color from all the different vegetables. Not only is this a colorful, healthy salad, its also vegan!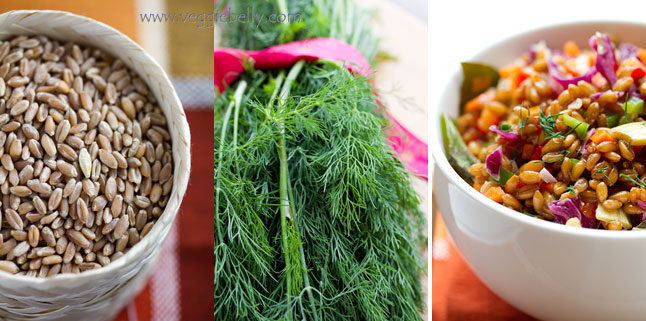 How to cook wheat berries
- Boil wheat berries in salted water and drain when done
- They will take anywhere between 1 to 2 hours to cook. I usually cook mine for about 1 1/2 hours.
- After one hour, start tasting the wheat berries. Turn off heat and drain when they are done to your satisfaction.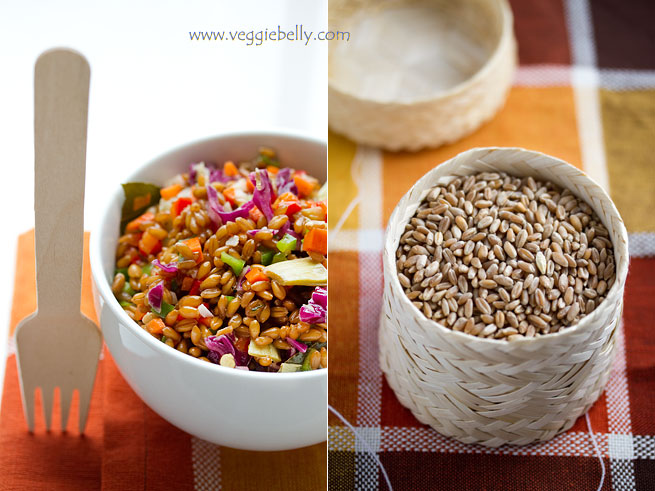 Wheat Berry Confetti Salad with Artichoke Hearts, Roasted Red Pepper, Green Pepper, Purple Cabbage, Yellow Sweet Corn, Dill and Mint Recipe
serves about 4
1 cup hard wheat berries
1-2 dried bay leaves
10 cups water
4 tablespoons olive oil
1-2 cloves garlic, finely minced
2 tablespoons white wine vinegar
1 teaspoon brown sugar
salt and pepper
1 large artichoke heart (bottled or frozen), chopped
1/2 cup chopped roasted red peppers
1/2 cup chopped green peppers
1/4 cup shredded purple cabbage
1/4 cup canned sweet corn, drained
1/2 tablespoon chopped fresh mint
1/2 tablespoon chopped fresh dill
Place the wheat berries, bay leaf, and water in a large pot. Salt the water generously. Bring to a boil. Then reduce heat to medium. Place a lid on the pot and crack the lid open to let steam escape. Let the wheat berries boil for about 1 1/2 hours or till done. After an hour of cooking, start checking the wheat berries for doneness. Remove from heat when wheat berries are done to your liking. Drain and set aside.
In the same pot, heat olive oil. Add the minced garlic and let it sizzle for about 20 seconds. Turn off heat and let the oil cool a little. Then stir in white wine vinegar, brown sugar, salt and pepper. Add cooked wheat berries to pot and mix well. Then add all other ingredients and mix well. Serve at room temperature. This salad will taste better if left in the fridge overnight.
Comments
comments