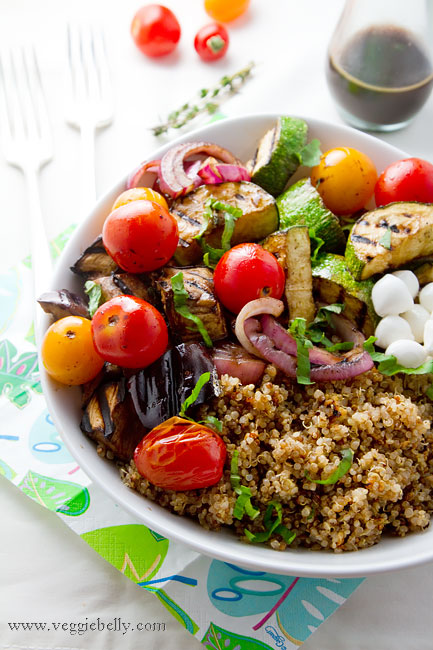 Repeat after me – balsamic makes everything better! Especially grilled summer vegetables and quinoa. I love to grill vegetables tossed in a simple dressing or marinade of balsamic vinegar, olive oil and garlic. I then serve the same dressing as a dipping sauce for the vegetables.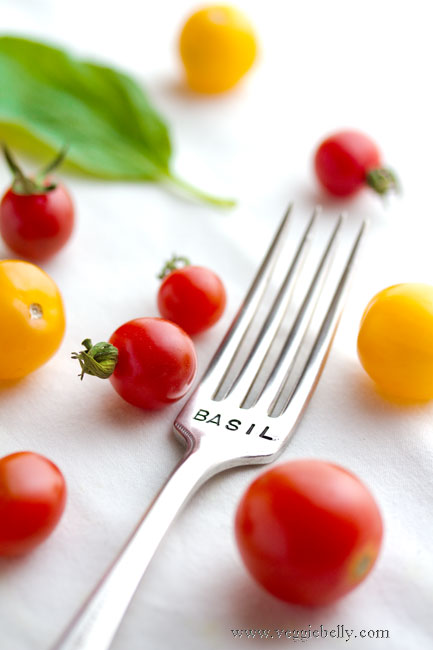 Herb name engraved vintage silver forks are the latest addition to my prop collection. I got them from Beach House Living shop on Etsy.com. Rita will customize the forks for you; her work is beautiful and service is super quick. Rita also flattens out engraved forks, spoons, and knives to be used as garden markers.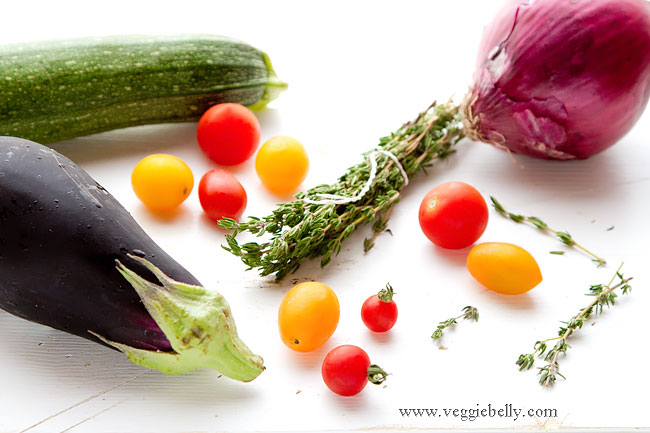 To salt or not to salt eggplant before cooking?
Eggplant is full of little air pockets (which is what makes it spongy). When cooking, these air pockets will absorb oil, and make your dish oily. Salting will collapse these air sacs.
Salt eggplants before cooking:
- to reduce oil absorption
- for firmer texture when cooked
- to remove bitterness from an old eggplant
Dont salt eggplant before cooking:
- for dishes that require mashing or pureeing the eggplant
- for silky, soft texture
- if you are quick cooking the eggplant or using high heat (like in this recipe)
How to salt eggplant:
Cut the eggplant as called for in the recipe. Place it in a colander. Sprinkle some salt over the eggplant (as much salt as you would when you cook it). Toss well. Place a heavy saucer or plate over the eggplants in the colander, to weigh them down. Let the eggplant sit like this in the colander for about and hour. All the moisture (brown liquid) will drain out. Rinse well, and pat dry with a cloth. Make sure eggplant pieces have been dried well. Then cook according to the recipe.
You dont have to salt the eggplant for this recipe, because you arent grilling it for long, so you dont risk it getting soft or mushy.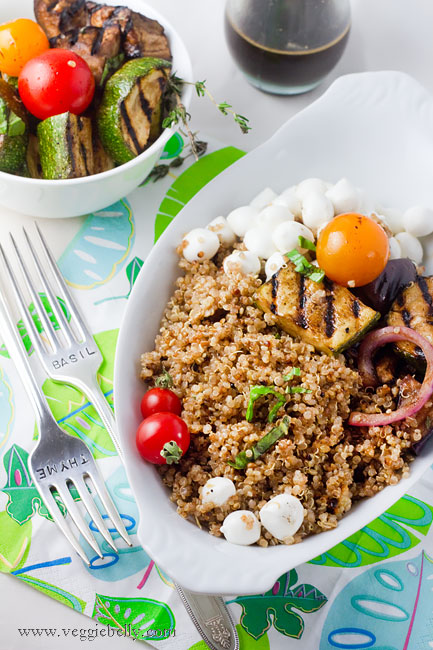 Use whatever vegetables you like. Red bell peppers, mushrooms, any winter squash, asparagus will also taste great grilled and served with quinoa; check out Dishing up Delight's roasted vegetable quinoa recipe. 101 cookbooks has a quinoa recipe with roasted cherry tomato and tofu.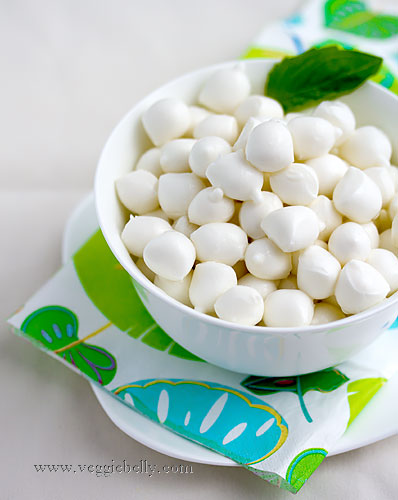 How cute are these little pearlini mozzarella balls? If you cant find them use bocconcini (slightly larger mozzarella balls). Vegans can use pan fried tofu or some toasted pine nuts or walnuts instead.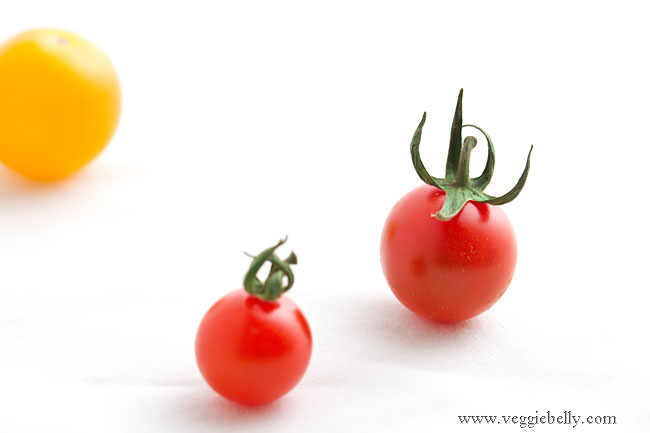 Balsamic Grilled Summer Vegetables (Eggplant, Zucchini, Tomato, Red Onion), Pearlini Mozzarella and Basil Quinoa Salad Recipe
serves about 3. (you will have as much grilled vegetables as quinoa).
for balsamic dressing
1/4 cup balsamic vinegar
3 tablespoons olive oil
2-3 cloves garlic minced
salt and pepper
for grilled summer vegetables
1 small italian eggplant (about 2 cups when cut into big cubes)
1 small zucchini (about 2 cups when cut into big cubes)
1/2 small red onion (1/4 of a large red onion)
3/4 cup cherry tomatoes
4 sprigs fresh thyme, leaves stripped
for basil quinoa salad
2 cups water
1 cup quinoa
1/4 cup basil leaves loosely packed, chopped
other ingredients
1/2 cup pearlini mozzarella balls, or bocconcini mozzarella balls, tossed in a little salt and pepper
(substitute with pan fried tofu or toasted pine nuts or walnuts for a vegan dish)
Whisk together all the balsamic dressing ingredients and set aside.
In a medium saucepan, boil water for the quinoa salad. Add quinoa and bring back to a boil. Reduce heat, and simmer covered, till all the water has been completely absorbed, about 20 minutes.
While quinoa is cooking, cut the eggplant and zucchini into 1 1/2 inch cubes. Cut the red onion into rings. Place cubed eggplant, zucchini, red onion, tomatoes and thyme leaves in a bowl. Pour half the balsamic dressing over the vegetables and toss well.
Brush grill grates with olive oil or non-stick spray (I used a stove top cast iron grill). Heat grill to medium-high. Grill the vegetables about 3 minutes on one side or till grill marks appear, about 3 minutes. Flip them over and grill other side till vegetables are tender but still a bit firm. Tomatoes will cook quicker, remove them from the grill as soon as they start to blister.
Reserve the balsamic dressing that remains in the bowl, to serve with the meal.
If you dont have a grill, broil the vegetables in the top rack of an oven, till one side is golden. Flip and broil other side.
When the quinoa finishes cooking, toss it with the second half of the balsamic dressing. Stir in chopped basil, salt and pepper. 
Spread quinoa on a platter or bowl. Arrange the grilled summer vegetables and mozzarella around the quinoa. Serve warm with the reserved balsamic dressing on the side.
Comments
comments