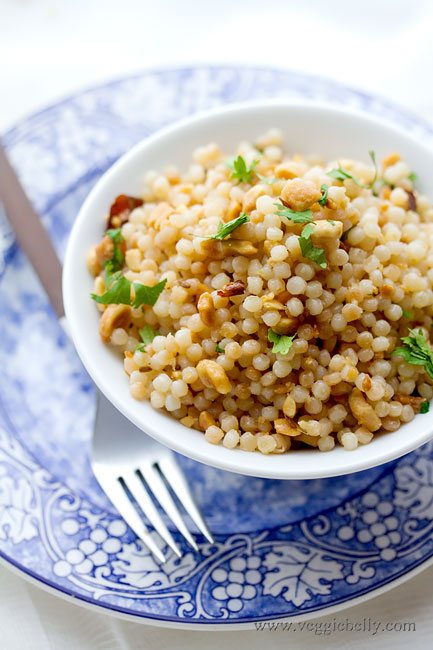 I am blessed to I have friends whom Ive known since childhood. These are the people I can be myself with and I know will support me through anything.
One such friend is Vidya. As children, Vidya and I hung out in each others' houses all the time. We've shared much, and had a lot of fun together. And through the years, no matter where in this world we were, we've kept the close friendship going.
A few winters ago, Vidya drove up from North Carolina to visit me. She came bearing a tub of marinated olives and a delicious merlot. We sat in my kitchen late that night, talking, eating, drinking and watching the snow fall. We were warmed by friendship and wine.
Vidya then made us a midnight snack – Israeli couscous with cumin and roasted peanuts. We chatted and sipped wine as Vidya cooked the nutty, chewy, cumin scented dish. There we were, old friends, in the middle of a winter's night; cooking, laughing and enjoying the sisterhood of a 20 year old friendship.
Thankyou Vidya, for so much more than just this recipe.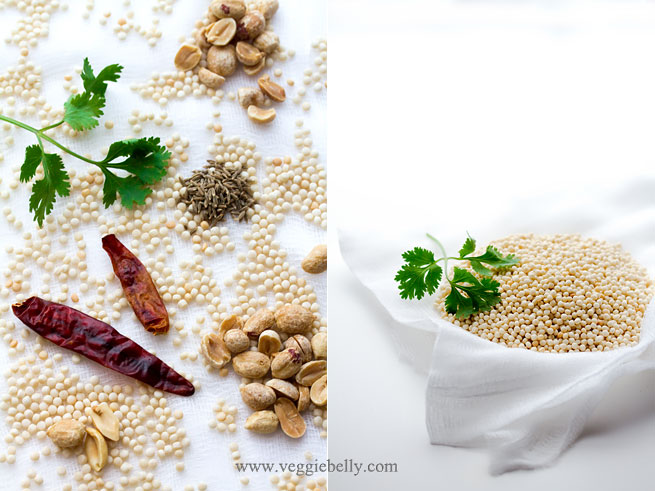 Vidya's recipe for israeli or pearl couscous is a shortcut version of Indian sabudana or sago kichdi. The traditional recipe uses sabudana (tapioca pearls). But I like Vidya's version with israeli couscous, its easy to make and you really cant mess it up. This is a great, 10 minute vegan snack or side dish.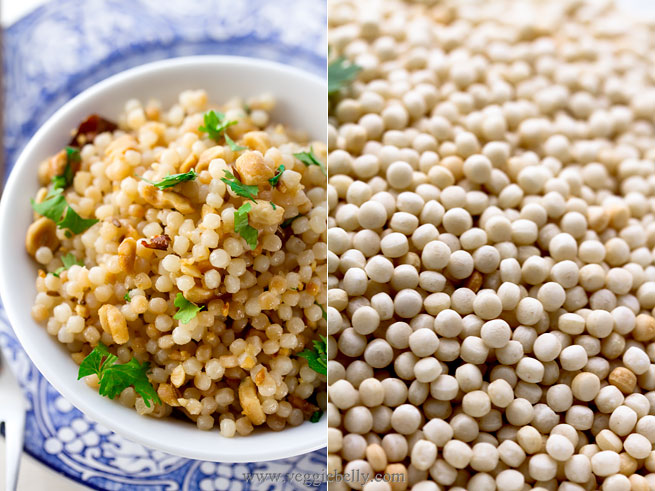 Israeli couscous, also called pearl couscous or mograbiah or ptitim is a type of pasta from the Levant region. If you dont have pearl couscous on hand, sustitute with cooked orzo or tapioca pearls.
Check out this curried Israeli couscous (mograbieh) recipe on gourmet sleuth. Vegan Yum Yum has a simple, vegan recipe for lemon pearl couscous.
But its this  couscous and mograbhia (israeli couscous) recipe on Dana Treat that really reminded me that I havent made this israeli couscous recipe in a while. Dana said she has a big load of israeli couscous and is always looking for recipes. Dana, this is for you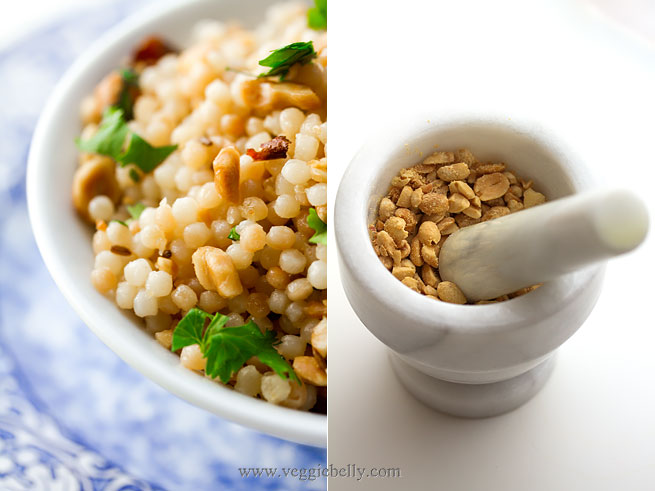 I use 1/2 cup peanuts in this recipe, which is on the peanutty side. Thats how I like it. If you feel this is too much, reduce the amout of peanuts to upto 1/4 cup.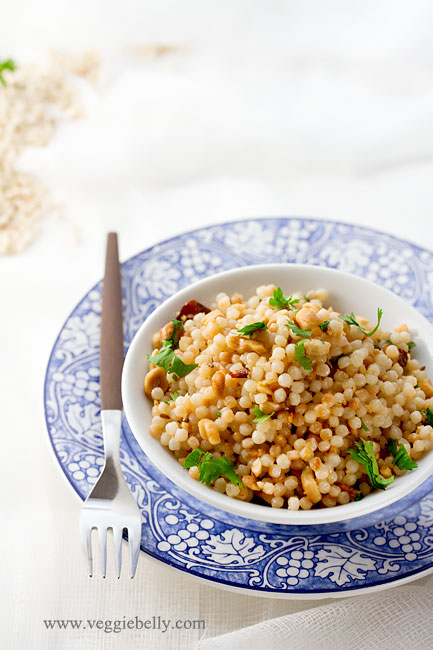 Israeli Couscous (Pearl Couscous or Mograbiah) with Roasted Peanuts Recipe
serves about 4 as a side
for the couscous
1 tablespoon oil
1 cup israeli couscous or pearl couscous, uncooked
for sauteing
1 tablespoon oil
1/2 teaspoon cumin seeds
a few curry leaves, optional
2 green or dried red chillies (or according to taste), chopped. Use jalapenos instead if you dont want it too spicy.
1/2 cup roasted peanuts, crushed lightly (this will be on the peanutty side, reduce the amount of peanuts if you wish)
1 tablespoon lemon juice
2 tablespoons chopped cilantro
salt
Heat oil in a large non stick skillet. Add couscous. Stir the couscous on low heat till it turns color and becomes light brown. Add 2 cups water. Bring to a boil. Reduce heat, cover the skillet and simmer till all the water is absorbed, 5-7 minutes. Couscous should not be mushy. 
While, couscous is cooking, take a wok, heat the oil and add cumin seeds. When they start to sizzle, add the curry leaves, and green or red chillies and cook for about 15 seconds. Add the cooked israeli couscous, peanuts, lemon juice and salt. Stir well. Turn off heat. Adjust lemon juice according to taste. Add cilantro. Serve warm.
Comments
comments