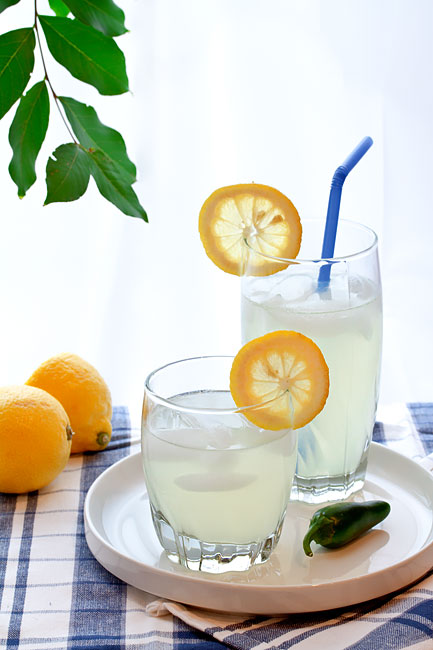 This is a sweet, refreshing lemonade with a touch of heat from jalapenos that will be great for a summer barbecue. Serve it ice cold, or spike it with some tequila! Dont be afraid of the jalapenos in this recipe, they add a mild, and very pleasant flavor. And you can make the lemonade as hot or mild as you like.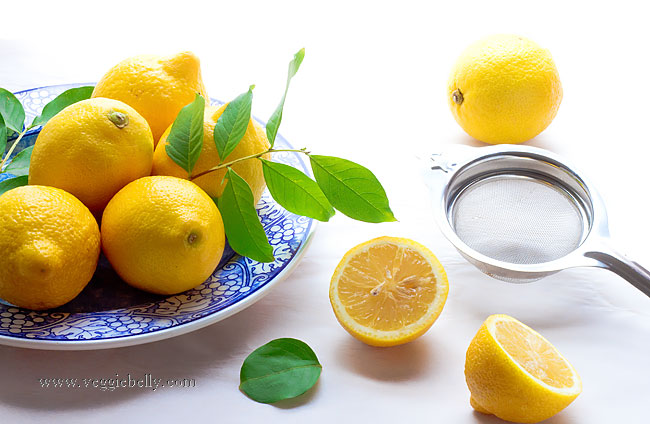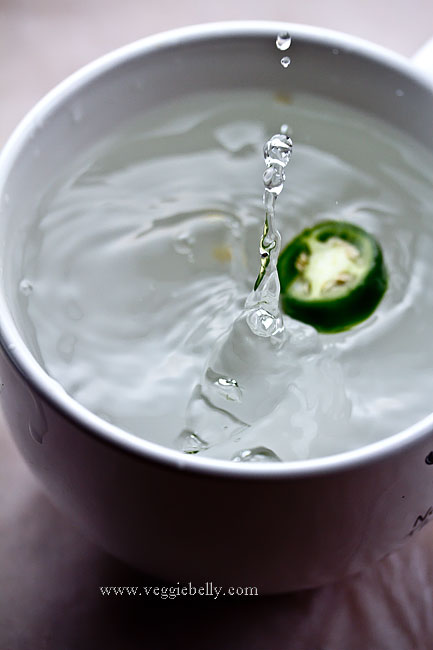 In case you are curious about this jalapeno water splash photo, here is the exif info:
Shutter speed: 1/1250
Aperture: f/18
ISO: 800
Exposure: manual
Lens: Canon 60mm macro
Setup: A bowl of water by a window. Camera on tripod, set to 'continuous shooting' mode. I dropped jalapeno slices into the water while continuously shooting. I think I took about 100 photos to get to this one.  
In order to capture the splash, you need to set your shutter speed very high (1/1250 in this case). Because the shutter speed was high, the camera lets less light in; to compensate for this I had to bump up the ISo to 800.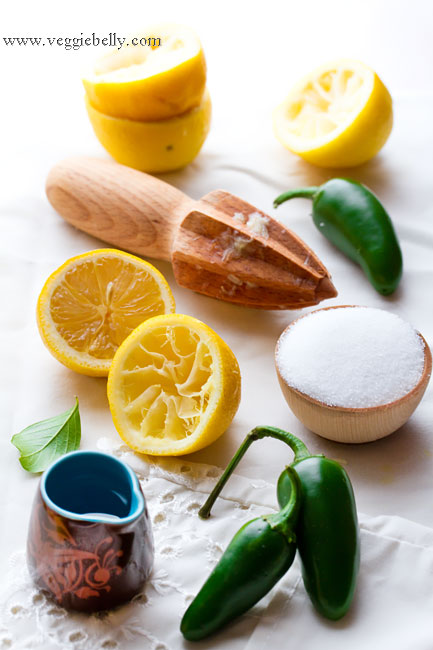 Squeezing a few lemons and mixing with water and sugar is so easy, I really dont know why we buy lemonade in the store!
What does jalapeno lemonade taste like? When you first sip it, its just like regular lemonade. When you swallow, the mild spice will hit your throat. This recipe is very mild. Use 2 jalapenos if you want it spicier.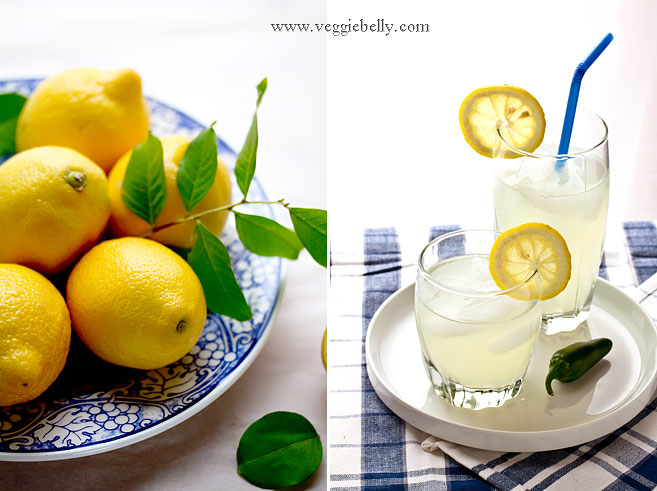 Here is a similar recipe for jalapeno lemonade on serious eats inspired by Crate & Barrels jalapeno lemonade mix. My recipe is slightly different – i used a pinch of salt, which brings out the sweet and hot flavors in the lemonade; I also made my jalapeno lemonade less sweet. Here is another jalapeno lemonade recipe on kalamazoo gourmet that doesnt require boiling the jalapenos in simple syrup.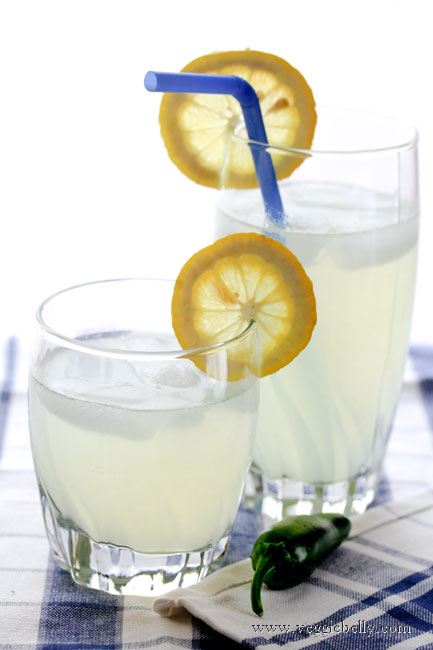 Jalapeno Lemonade Recipe
makes about 8 cups
for jalapeno sugar syrup
1 jalapeno, cut into 4 pieces (remove seeds for a milder lemonade)
1 cup water
1 cup sugar
1/8th teaspoon salt
other ingredients
1 cup lemon juice (juice of about 6 large lemons), strained
6 cups water
Place the chopped jalapeno and 1 cup water in a small saucepan. Bring to a boil. Continue boiling till about half the water has evaporated, about 2 minutes. Then add sugar and salt and stir. Reduce heat to low and simmer just until sugar has dissolved, about 2 minutes.  Let the syrup cool for about 5 minutes.
Place a strainer over a pitcher. Pour the jalapeno sugar syrup, lemon juice and 6 cups water through the strainer into the pitcher. Stir well. Serve chilled over ice cubes.
For tequila spiked jalapeno lemonade recipe: follow the recipe above, but instead of 6 cups water use 5 cups water + 1/2 cup (or more!) tequila. Serve on ice.
Comments
comments