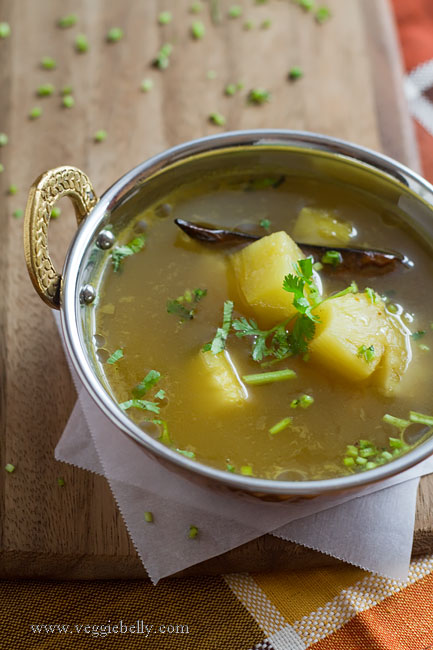 When I called my grandmother to get a pineapple rasam recipe, the culinary genius she is, suggested that the same recipe will also work with tender coconut. So here you have it – a pineapple rasam recipe and a tender coconut rasam recipe.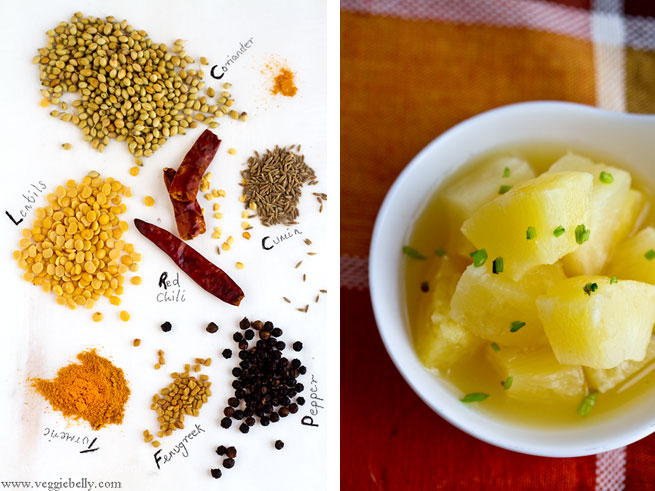 Roast and grind these ingredients for rasam spice powder & cook with sweet juicy pineapple
Rasam, also called charu or saaru, is a spiced, thin soup from South India. You can buy rasam powder at any Indian store; but I like home made rasam podi or powder better. Once you've made it, it will keep for months in an airtight container.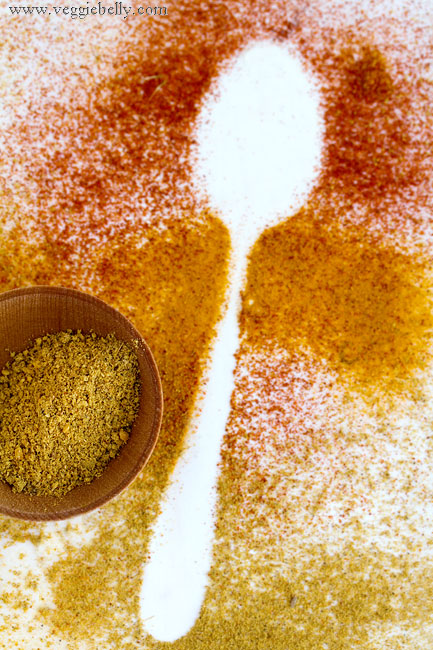 Serve rasam with rice or in cups like soup. There are several rasam recipes on the internet, the basic spices are the same, proportions and other additions vary according to family and region. This pineapple rasam recipe on Jugalbandi looks great, as does this pineapple rasam recipe on Veg Inspirations, Samayal Arai blog also has a pineapple rasam recipe.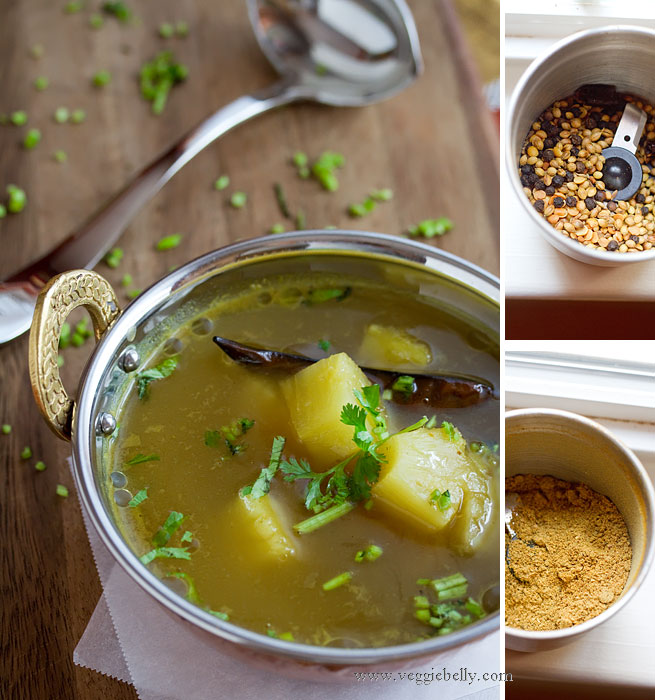 If I want a sweet and savory rasam, I always turn to pineapple. I havent tried my grandmother's idea of adding tender coconut pulp and coconut water to rasam; but I love the idea and if any of you try the tender coconut variation (see below) I'd love to hear how it turned out.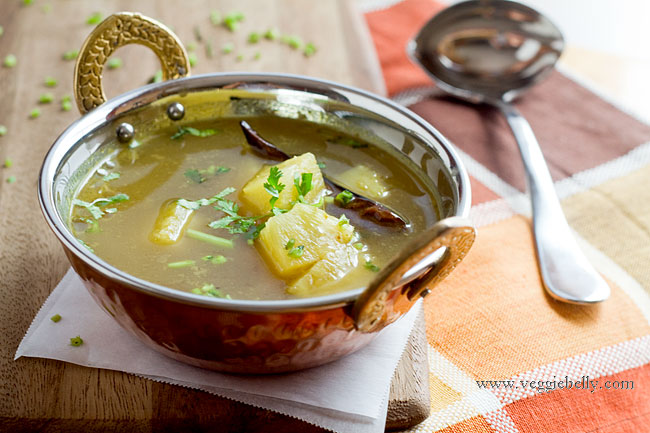 Pineapple Rasam Recipe
Serves about 4
for tempering
½ teaspoon ghee or clarified butter or oil
¼ teaspoon black mustard seeds
1 dried red chili
A pinch of asafoetida
A few curry leaves
for rasam
a small lime sized ball of tamarind pulp (about a tablespoon)
5 cups water
1 ½ tablespoons rasam powder (recipe below)
1 cup pineapple chunks (I used canned; make sure you buy pineapple chunks in 100% pineapple juice)
½ cup pineapple juice (from pineapple chunks can)
2 tablespoons chopped cilantro
Salt
Heat ghee or oil in a deep pot. Add mustard seeds. When they start to pop, add all other tempering ingredients. Cook for about 30 seconds.
Soak tamarind in 1 cup hot water for 5 minutes. Squeeze the tamarind with your hands, extracting the juices.
Add tamarind juice, 5 cups water and rasam powder to the pot. Boil for about 7 minutes. Add pineapple chunks, pineapple juice, cilantro and salt and boil another 5 minutes.
Serve hot with rice or drink like soup.
Rasam Powder or Rasam Podi Recipe
makes about ¼ cup
for dry roasting
2 tablespoons whole coriander
½ tablespoon cumin seeds
½ tablespoon peppercorns
¼ teaspoon fenugreek seeds
1 tablespoon toor dal or yellow lentils
for oil roasting
Few drops of oil
1 dried red chili, torn into small pieces (this will yield a mild rasam powder, use more chillies if you want it hot)
other ingredients
1/8 teaspoon asafoetida
1/2 teaspoon turmeric powder
In a small skillet on low heat, roast all the dry roasting ingredients one by one for about 1 minute each or till the spices are fragrant and turned color slightly. Place each ingredient in a coffee grinder as you finish roasting.
In the same pan, heat a few drops of oil, and roast the red chili for about 30 seconds. Add to the coffee grinder.
Add asafoetida and turmeric to the coffee grinder. Grind everything to a fine powder. Store in an airtight container. Rasam powder will keep for several months.
Tender Coconut Rasam Recipe
Use the pineapple rasam recipe above. But instead of pineapple chunks, use tender coconut pulp. Instead of pineapple juice, use tender coconut water. Add these right at the end of cooking.
Comments
comments