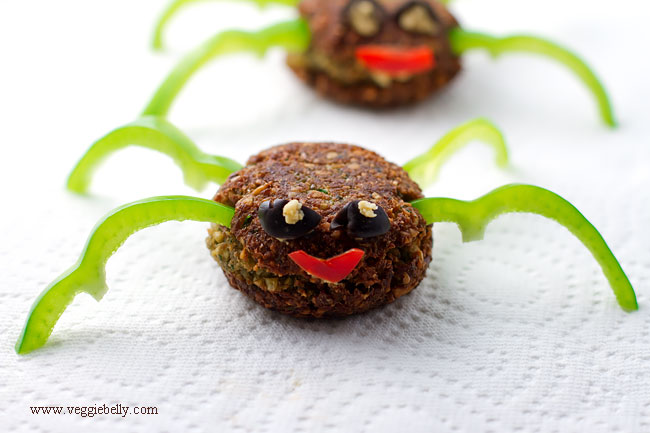 Whether you make these scary falafel spiders for Halloween or make just the falafel patties for a party, you will never go out for falafel again. Other than the soaking and frying, these homemade falafels are an easy, delicious vegan treat and so worth the effort. I always make extra and freeze the dough.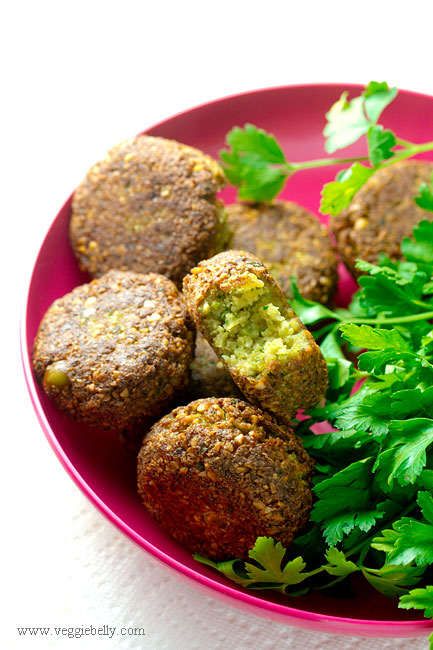 How to make falafel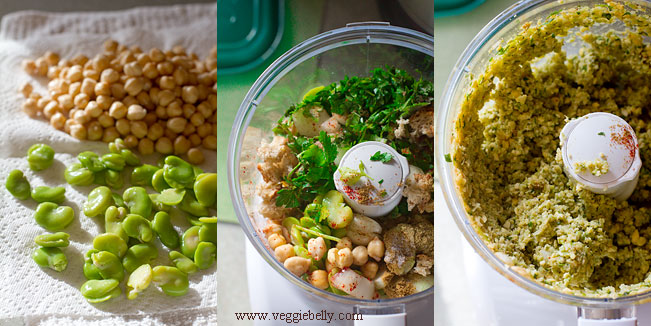 Drain soaked chickpeas and defrosted fava beans. Place them in a food processor along with onion, garlic, cilantro, parsley, cumin, coriander, chili powder, crumbled bread and baking powder. Grind to a coarse dough.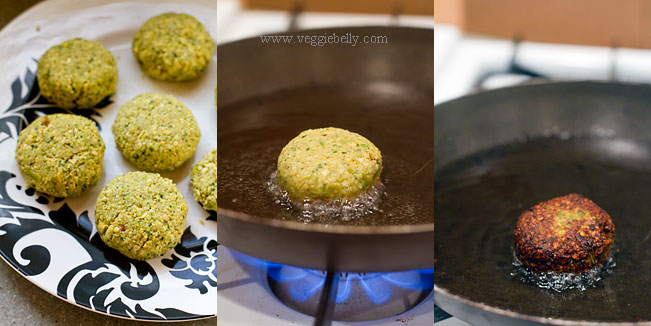 Form the falafel dough into balls, and flatten each ball a little. Fry in hot oil till golden. Flip the falafel gently and brown the other side.
How to make scary falafel spiders – a vegan halloween idea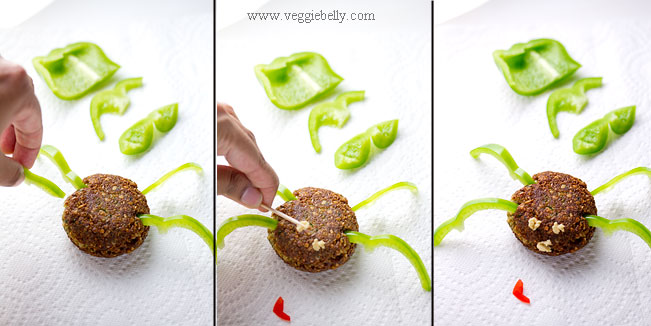 Insert green pepper strips for spider legs. Apply hummus or cream cheese using a toothpick where the eyes and mouth should be. Stick olive pieces for the eyes and red pepper strip for the mouth.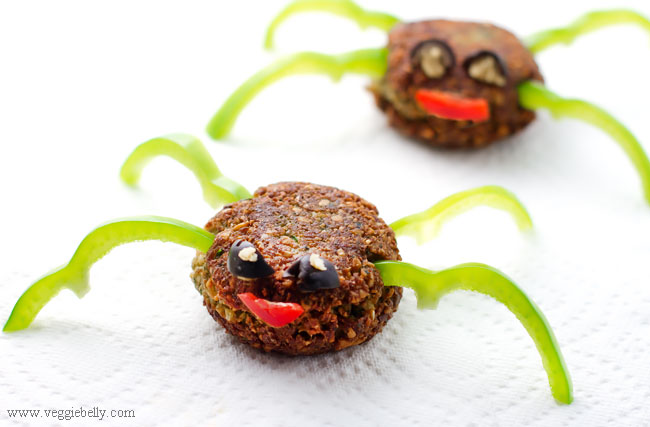 Boo!
Note: Egyptian style falafel uses fava beas (also called broad beans). I love fava beans in falafel, but I also enjoy the texture of the soaked chickpeas. So I use 2/3rds chickpeas and 1/3rd fava beans in this falafel recipe.
I use frozen, shelled fava beans. If you cant find this, use ¼ cup dried, shelled fava beans and soak them over night along with the chickpeas. If you cant find or dont like fava beans, simply use 1/4th cup extra of dried chickpeas.
Dont be tempted to use canned chickpeas, dried chickpeas or garbanzo beans that have been soaked over night are the best.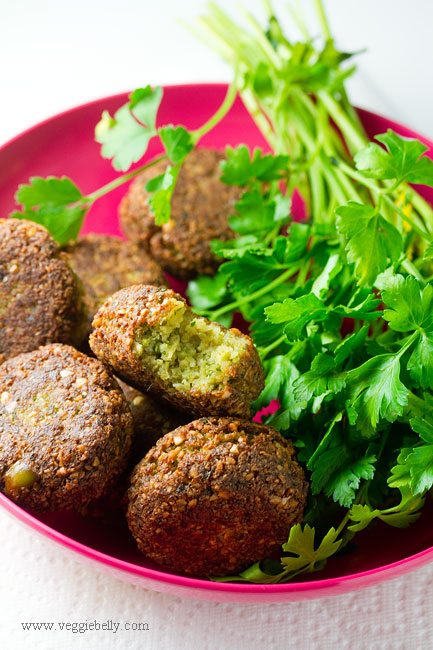 If you dont want to make these falafels into spiders, simply serve them with pita bread, hummus, tahini, tomato slices and lettuce.
More falafel recipes..
A favorite falafel recipe using chickpeas only on epicurious
An easy falafel recipe on the hummus blog
Arab levant falafel recipe using fava beans by Clifford Wright
Egyptian falafel recipe
Fava bean and chickpea falafel with sumac recipe by the amazing Meeta
Halloween Falafel Spiders Recipe
Makes 8 falafels
For the falafel
½ cup dried chickpeas or grabanzo beans
½ cup frozen, skinned fava beans, defrosted. Substtute with an additional 1/4th cup dried chickpeas.
½ small onion, chopped
3 garlic cloves, peeled
¼ cup (loosely packed) chopped cilantro
¼ cup (loosely packed) chopped parsley
½ teaspoon cayenne or chili powder (use less for milder falafel)
¾ teaspoon cumin powder
½ teaspoon coriander powder
¼ teaspoon baking powder
2 tablespoons crumbled stale bread
½ teaspoon, or to taste, salt
Oil for frying
Place the chickpeas in a bowl, and fill with water. Soak the chickpeas overnight (about 8-10 hours).
After soaking, drain the chickpeas well and place them on several layers of paper towels. Place the defrosted, skinned  fava beans on the paper towels as well. Dab the chickpeas and fava beans dry.
Place the drained, uncooked chickpeas, and the defrosted fava beans in a food processor. Add all other ingredients, except the oil,  to the food processor. Don't add water. Pulse till it forms slightly coarse dough (see pictures above). Sprinkle a little water if the mixture is too dry. If it is too wet, add more bread pieces and pulse again.
Divide the dough into 8 equal parts. Form each part into a ball and flatten a little.
Heat oil in a skillet. Pour enough oil so that a falafel will submerge in oil half way (see pictures). When the oil is hot, test a small drop of falafel dough by dropping it into the oil. It should sizzle and float to the top of the oil. If it doesn't sizzle and sinks, oil is not hot enough. If it gets too brown or black quickly, the oil is too hot.
Place the falafels, a few at a time, into the oil. When one side is browned, carefully flip the falafel and brown the other side. Remove to a plate lined with paper towels.
Serve falafels with hummus, tahini sauce, sliced tomatoes, lettuce, and pita bread.
For falafel spiders
8 falafels (recipe above)
1 small red pepper
2 medium green pepper
3-4 black olives
1 teaspoon hummus or cream cheese
A sharp knife
A tooth pick
Cut the red pepper in half, and remove the inner white membrane. Using a sharp knife, carve out a shape that looks like the spiders mouth. Cut out 8 mouths.
Cut each green pepper into 8 thin rings. Cut each ring into half. These are the spider legs.
Cut each olive into half lengthwise. Cut each half into 3 semi circles. These are the spider's eyes.
Place a falafel on a serving platter. Take the green pepper legs and insert them into the sides of the falafels to look like spider legs.
Using a tooth pick, dot a little hummus or cream cheese where the eyes and mouth should be. The hummus or cream cheese will act as the glue. Then carefully place the olives for eyes and the red pepper for a mouth. Dot a little more hummus or cream cheese over the olive eyes.
Comments
comments