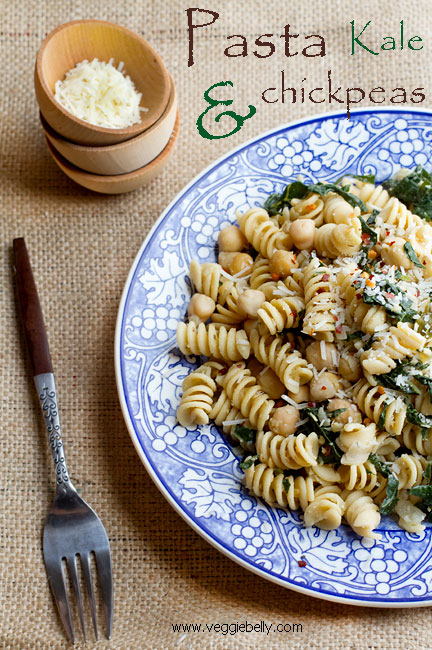 Pasta e fagioli or pasta with beans is a traditional Italian dish. It is usually made with pasta and cannellini or white beans in a tomato sauce. I took inspiration from the pasta+bean concept and turned it into a hearty main dish of pasta, chickpeas and wilted kale.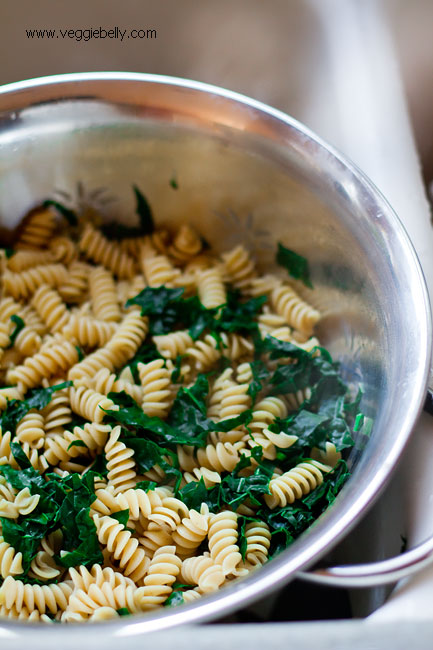 The easiest way to wilt the kale for this dish is to dunk it into the pasta cooking water just before you are ready to drain the pasta. Then drain the pasta and kale together. Add any kind of fresh greens you like. Vegans can simply leave out the parmesan in this dish.
This goes to Presto Pasta Nights hosted by the lovely Claire of Chez Cayenne.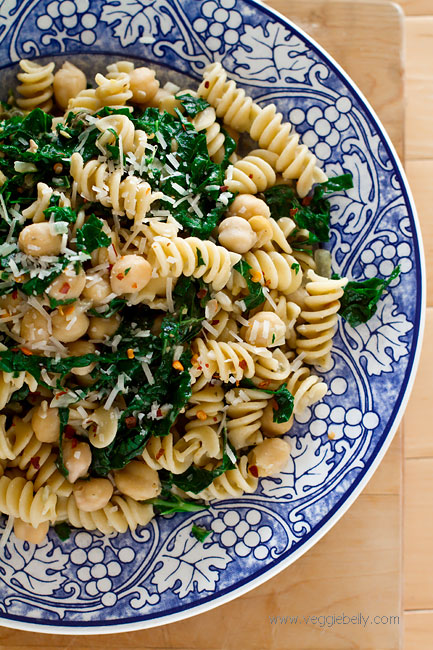 Tuscan Kale and Chickpea Pasta
serves 4-6
One 14 oz box of whole grain pasta (I used Barilla whole grain rotini)
12 large leaves Tuscan kale or any other variety of Kale, about 2 cups when shredded
4 tablespoons olive oil
1 medium onion, diced
Crushed red peppers, to taste
4 cloves of garlic, peeled and minced
2 tablespoons bottled, pickled capers + 2 tablespoons caper juice      
2 cups of drained, rinsed, canned chickpeas
1/4th cup dry white wine, optional
1/2 cup water
½ cup grated parmesan cheese
In a large pot, bring plenty of water to boil. Generously salt the water. When the water reaches a rolling boil, add the pasta, and cook till pasta is al dente. Make sure pasta doesn't over-cook.
While pasta is cooking, rinse the kale, and remove the tough ribs. Stack the kale leaves, roll up the stack, and cut into thin shreds. Set shredded kale aside.
Heat olive oil in a large skillet. Add onion and cook on medium heat till the onion softens, about 5 minutes. Then add crushed red pepper, and garlic. Cook 30 seconds. Add capers, caper juice from the bottle, chickpeas and white wine, if using. Let the mixture boil.
When most the wine has evaporated, add the water. Cook on medium-low heat for about 2 minutes, while mashing some of the chickpeas. Add more water for a thinner sauce.  Stir in parmesan and turn off heat. Taste and add salt if needed. You may not need salt for this sauce because the capers and the parmesan are quite salty.
When the pasta is almost done, dunk the shredded kale into the pasta pot. Let the pasta and kale boil for about 10 seconds. Drain the pasta and kale.
Toss the drained pasta and kale with the chickpea mixture. Serve immediately with extra parmesan for sprinkling.

Print
Comments
comments