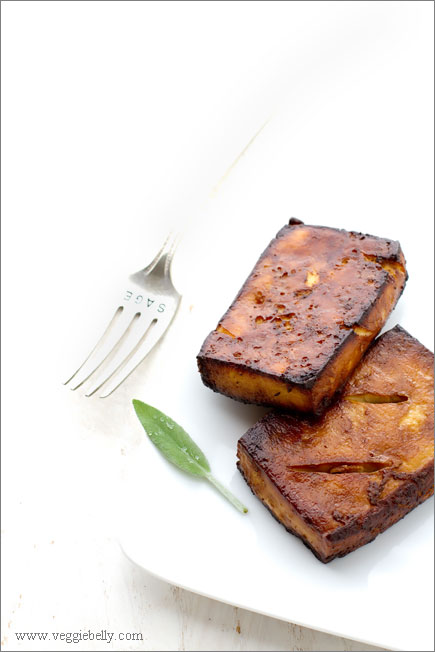 This is an easy, vegan thanksgiving main dish. The baked tofu is flavorful and chewy. And the vegan mushroom gravy has great meatiness, making this a very satisfying dish overall. Serve this thanksgiving entrée with some stuffing, and few vegetable side dishes.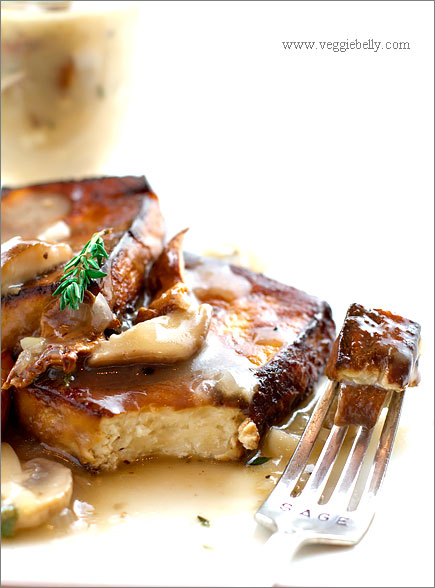 I like to insert a few thin slices of garlic into the tofu before baking. I enjoy the little bits of garlic in the tofu. You could do this with carrots or celery as well, or just leave this step out.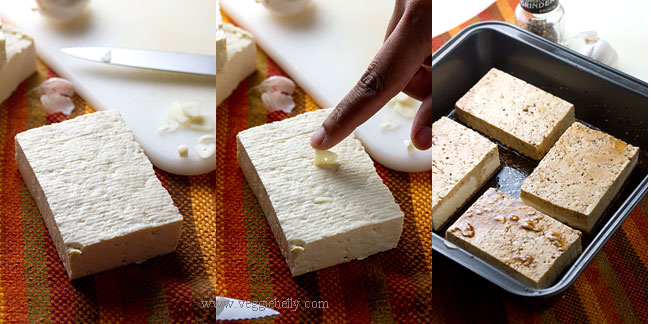 I love chanterelle mushrooms and always use them in gravy. They have a nice meaty texture, and chicken like flavor. You could use a mix of whatever mushrooms you like. I've used buttom mushrooms, criminis, shiitakes and chanterelles.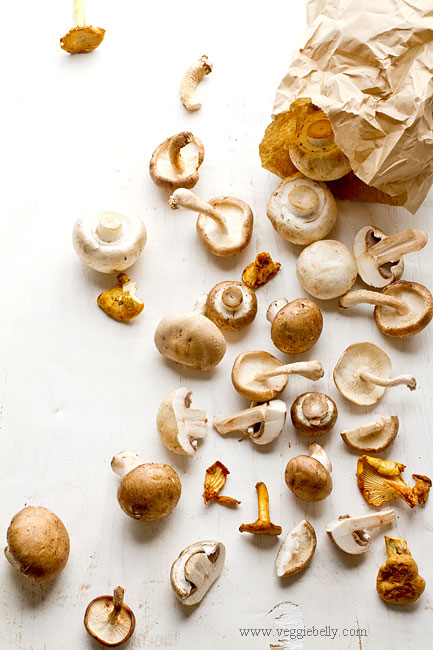 The mushroom gravy with thyme and sage goes really well with the chewy baked tofu. You could easily make the gravy the previous day and re-heat it in the microwave. You could also marinate the tofu the previous day (flavor will be stronger), and throw it in the oven about an hour before you eat.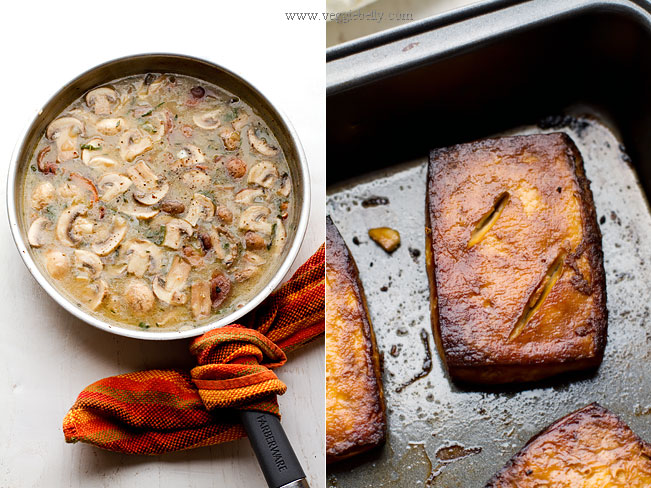 Some great baked tofu recipes..
Baked tofu recipe on Fat free vegan
Baked tofu recipe on the kitchn
Kalyn's baked tofu recipe with soy and sesame
Simple baked tofu recipe on Vegweb
Smokey miso baked tofu recipe on vegan yumyum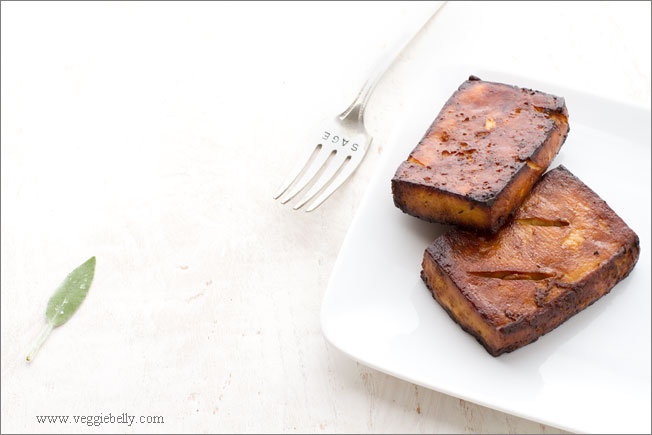 Some great mushroom gravy recipes..
Mushroom gravy recipe on Epicurious
Martha Stewart's vegetarian mushroom gravy recipe
Home brew chef's wild mushroom gravy recipe using beer
Vegan mushroom gravy recipe on what do I know blog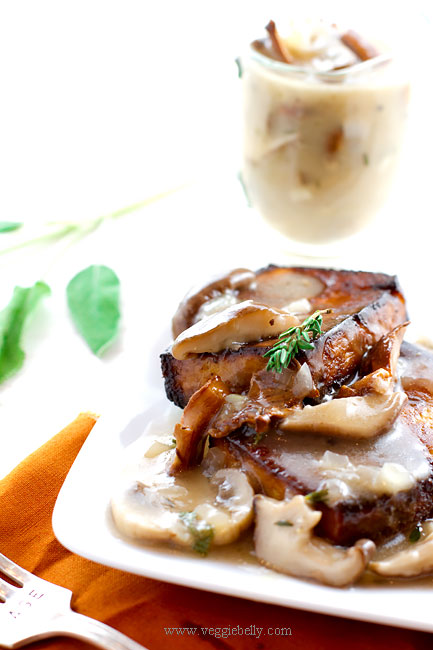 Baked tofu steaks and Mushroom gravy recipe
serves about 2
One 14 oz block extra firm tofu, drained
1 tiny garlic clove, peeled
For the marinade
1 tablespoon vegetable oil
3 tablespoons light soy sauce
A pinch of dried Italian seasoning or poultry seasoning, optional
Cracked black pepper
Cut the tofu vertically in half. Then cut each half widthwise into two pieces. You will have 4 tofu pieces. Using a kitchen towel, pat the tofu pieces to absorb as much moisture as you can.
Make 2 small slits on top of each tofu piece. Thinly slice the garlic clove into 8 slices. Insert one slice of garlic into each slit on the tofu. Skip this step if you don't like garlic.
Whisk together all marinade ingredients and pour into a dish. Place the tofu slices in the dish with the marinade. Carefully flip the tofu pieces so they are covered all over by the marinade. Let the tofu marinade for about 15 minutes.
Pre heat oven to 350f
Remove the tofu pieces from the marinade and place on a non-stick baking dish. Bake for about 1 hour and 15 minutes, flipping the tofu pieces every 20 minutes. Cooking times will vary depending on your oven and thickness of tofu slices.
Tofu is done when it is firm and browned all over.
Mushroom gravy with thyme and sage
makes about 3 cups
12oz  fresh mushrooms (a mix of white, crimini, shiitake, chanterelle etc)
2 tablespoons olive oil, butter or margarine
1 onion, finely chopped
3 cloves garlic, peeled and chopped
2 sprigs fresh thyme
3 large sage leaves, chopped
3 splashes sherry or red wine
For gravy
½ teaspoon balsamic vinegar
2 cups vegetable stock or water (I used water)
2 tablespoons flour
Salt & pepper
Clean the mushrooms using a paper towel. Then slice them into even sized pieces. If using shiitakes, remember to remove and discard the stems.
Heat oil, butter or margarine in a large skillet. Add onions and cook on medium-low. When onions are soft, add garlic, thyme and sage. Stir for 30 seconds. Add chopped mushrooms. Increase heat to high and cook for about 3 minutes. Add the sherry or wine and continue cooking another minute or till the alcohol evaporates.
Whisk together all the gravy ingredients (balsamic vinegar through salt and pepper). Make sure there are no lumps. Pour this mixture over the mushrooms. Bring to a boil. Then reduce heat and simmer for about 5 minutes. Taste and adjust salt, pepper and balsamic vinegar if needed.
Comments
comments