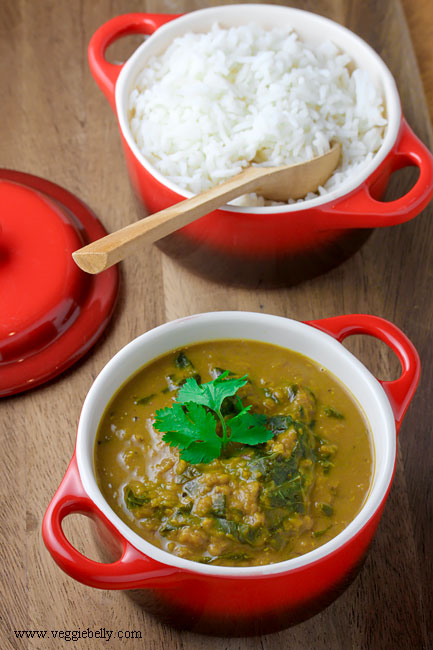 This wonderful bowl of palak dal or spinach dal curry is one of my favorite comfort food recipes for the winter. Just the smell of sizzling cumin, onion and garlic wafting through the house is enough to awaken anyone's appetite. Serve this easy, filling dish with rice, rotis or bread.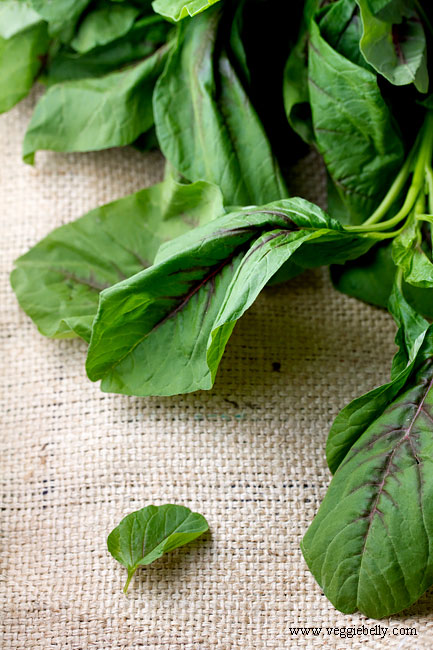 Red choy or red spinach tastes great in this recipe
Any kind of dal or lentils will work here. You can use red lentils (masoor dal) in this dish as well. I like yellow lentils or mung or moong dal. I often use red spinach (Asian red choy or choi) in this recipe. Red spinach tastes a lot like spinach, but has red colored veins, and takes just a bit longer to cook than baby spinach leaves.
Some more delicious spinach dal recipes..
Palak dal or spinach dal recipe from vahrehvah.com
Spinach dal recipe on Mahanandi
Spinach dal recipe using toor dal on Chow and Chatter
Spinach dal curry recipe on Spicy Tasty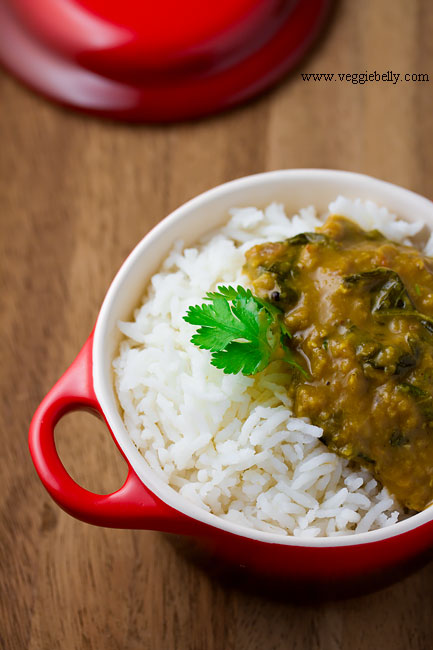 Creamy Spinach Dal or Spinach Lentils or Palak Dal Recipe
Serves about 4
1 teaspoon vegetable oil
¼ teaspoon cumin seeds
1-2 green chilies, slit (optional)
1 small onion, peeled and chopped
2 garlic cloves, peeled and chopped
2 plum tomato, chopped
1 cup yellow lentils (moong dal)
¼ teaspoon turmeric powder
Salt to taste
2 tablespoon heavy cream
1 cup fresh, washed, baby spinach leaves or red choy leaves, packed tightly
Heat oil in a medium sauce pan. Add the cumin seeds. When they sizzle, add the green chilly if using, and stir 30 seconds. Then add onion, garlic, and tomato. Stir on medium heat till they are soft, about 5 minutes. Add the lentils and turmeric and stir 2 more minutes.
Pour 3 cups water and add salt to the lentils. Bring to a boil. Then reduce heat to a simmer. Place a lid on the saucepan and cook till lentils are done, about 15 minutes. Using the back of a wooden spoon, lightly mash the dal, so that the tomatoes and onion pieces are mashed into the lentils. Add the heavy cream and spinach leaves. Stir the spinach leaves into the dal till they wilt, about 1 minutes. Add more water to the dal, if needed.
Serve hot with rice, rotis or bread.
Comments
comments