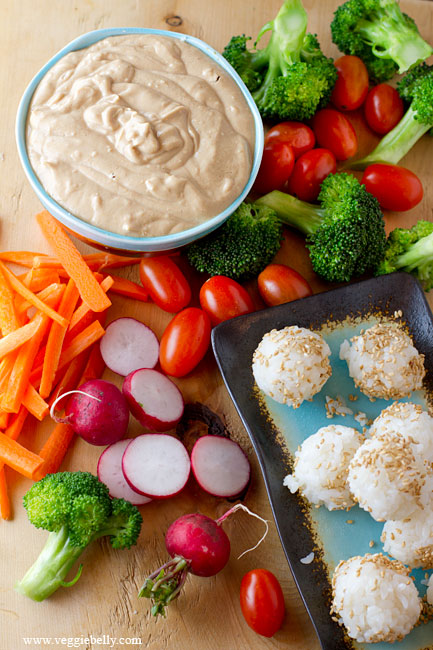 I fell in love with the flavors of gado gado when I first tasted it in Indonesia. It is a quick, easy, healthy salad that you can serve as an appetizer, as a salad course, or pack for office lunch. Typically, the vegetables and peanut dressing are tossed together, or the peanut sauce is poured over the vegetables. Here, I serve it deconstructed on a platter, with the peanut sauce or sambal kacang on the side for dipping.
In Indonesia, the peanut dipping sauce is prepared by pounding together roasted peanuts, garlic, palm sugar, chillies, and shrimp paste. I left out the shrimp paste to make the gado gado vegan. I used peanut butter instead of roasted peanuts – a great shortcut!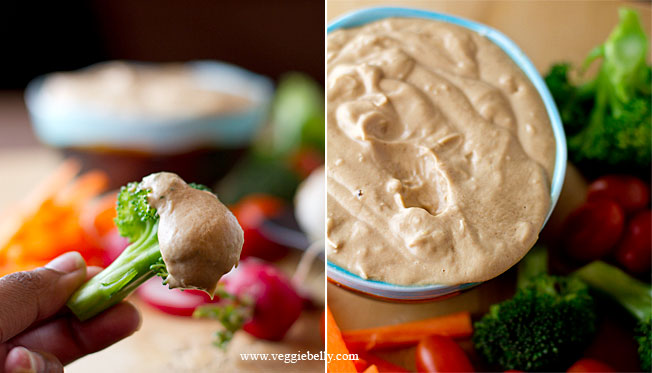 The gado gado I had in Indonesia was served with tomato wedges, beansprouts, tofu and boiled eggs. You can use absolutely any vegetable you like. For this recipe, I served the gado gado peanut sauce with steamed broccoli, cherry tomatoes, carrot sticks, baby radish and rice balls.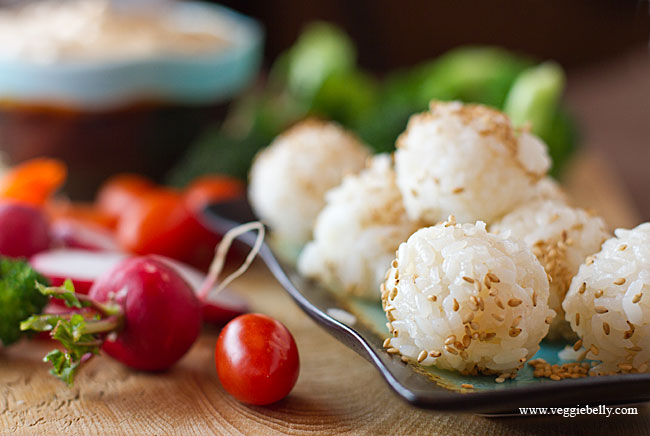 Lontong inspired rice balls
These rice balls are inspired by Indonesian lontong (or Ketupatin some parts of Asia). Lontong is cubes of compressed, cooked rice, that is sometimes served with gado gado. Traditional lontong is made by half cooking rice, packing it into a banana leaf lined mould, steaming the rice in the mould, and then cutting it into cubes or discs.
I love the taste of lontong, but wanted to make something quicker but similar for the gado gado. So I simple rolled cooked sushi rice into balls, and coated the rice balls in sesame seeds. Simple, and delicious!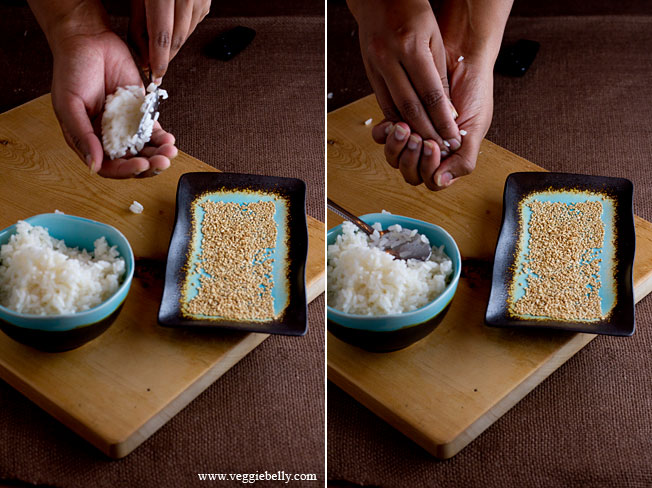 Oil your hands, and scoop a tablespoon of cooked sushi or sticky rice. Using your palm and fingers, gently squeeze the rice into a ball.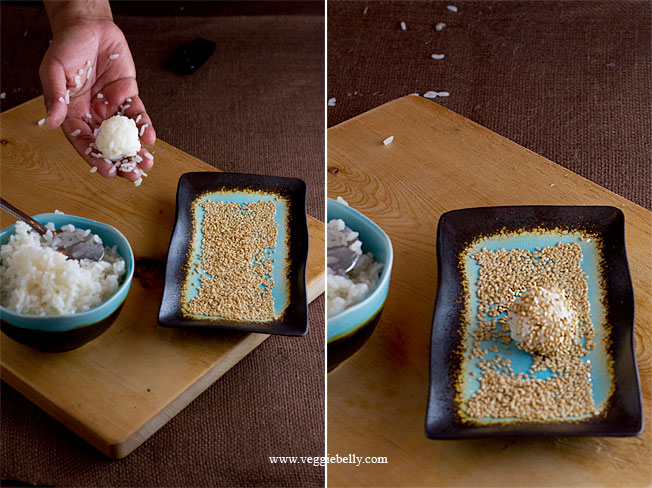 Roll the rice ball into a nice round shape. Roll ther ice ball in toasted sesame seeds.
More Gado Gado recipes
Indonesian Sambal Kacang recipe (peanut sauce for gado gado) from the book Indonesian regional cooking
Agado gado recipe from Rasa Malaysia
Gado gado surabaya style on Indonesia eats
Street sidegado gado making in central Java, Indonesia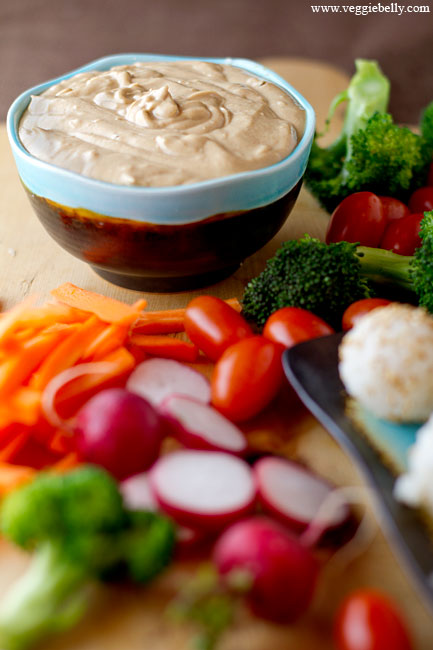 Gado Gado with Peanut Sauce Recipe
serves about 6
for Peanut Dipping Sauce (Sambal Kacang)
3-4 cloves garlic, peeled
1 fresh green chili chopped, (use 1/2 for milder sauce, or leave it out)
Salt
1 cup peanut butter
1 teaspoon jaggery or palm sugar or regular white sugar
2 tablespoon lime juice
2 cups hot water
Place the garlic cloves, green chili and salt in a mortar and pestle and pound into a paste.
In a small bowl, add the garlic paste, peanut butter, sugar and lime juice. Pour in hot water a little at a time, while whisking the peanut butter. Stop pouring the hot water when the peanut butter forms a smooth, dippable sauce. You may not need to use all of the hot water.
Taste the peanut sauce and adjust salt, sugar and lime juice if needed. Serve with vegetable crudites.
for Rice Balls with Sesame Seeds
makes about 6 balls
1/2 cup sushi rice (or other similar glutinous, sticky rice)
1 cup water
salt
1/2 cup toasted sesame seeds
1 teaspoon sesame oil
Place rice, water and salt in a pan. Bring to a boil. Then reduce heat to simmer, place a lid on the pan, and cook till rice is done, about 15 minutes. Let the rice cool a little.
Spread sesame seeds on a plate.
Rub a little sesame oil on your hands (so rice doesnt stick). Scoop about 1 tablespoon of cooked rice, and using your palms, form the rice into tight balls. Roll the rice balls in sesame seeds. Rub your palms with more sesame oil if needed. Repeat till you use up all the rice.
Serve rice balls with peanut dipping sauce.
the vegetables
Choose 5 items from this list, and serve about 1 cup each on a platter, along with peanut dipping sauce (recipe above)
Cubed, fried tofu
Pan fried Tempeh pieces
Tomato wedges or cherry tomatoes
Cucumber slices
Green and red pepper strips
Bean sprouts
Baby radish
Carrot sticks
Celery sticks
Boiled potato
Blanched green beans
Lightly steamed broccoli
Rice balls (recipe above)
Boiled egg
Tortilla chips
Pretzel sticks
Comments
comments