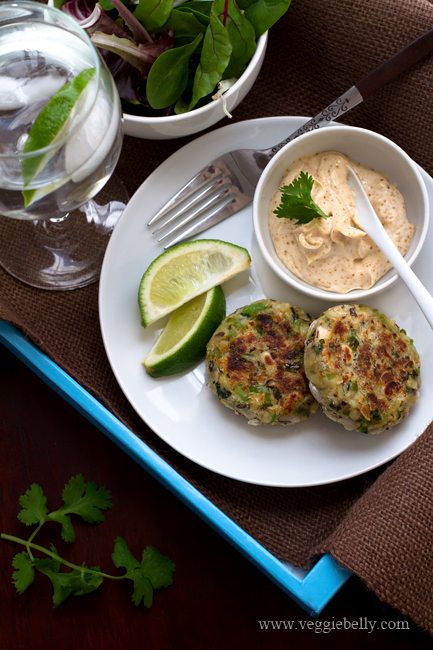 I had these wonderful black eyed pea cakes at Spotted Dog, a vegetarian friendly restaurant in Carrboro, NC. Their vegetarian black eyed pea patties had jalapenos, red pepper, celery, lime, and cilantro. I think my recipe comes pretty close to Spotted Dog's! Served with a green salad, this makes a satisfying lunch.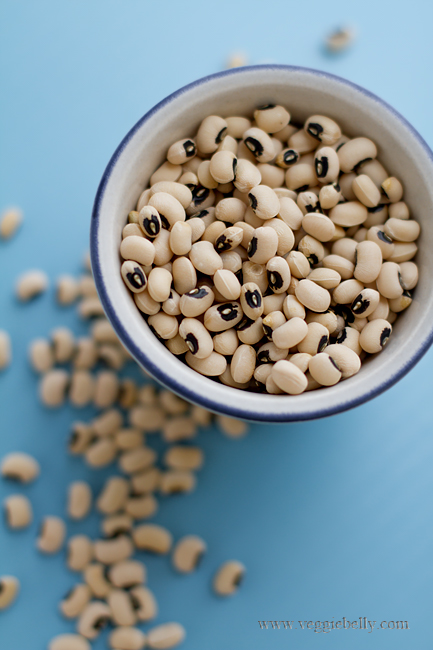 You can used canned black eyed peas as a short cut, but I prefer the texture of freshy cooked dry black eyed peas in this recipe.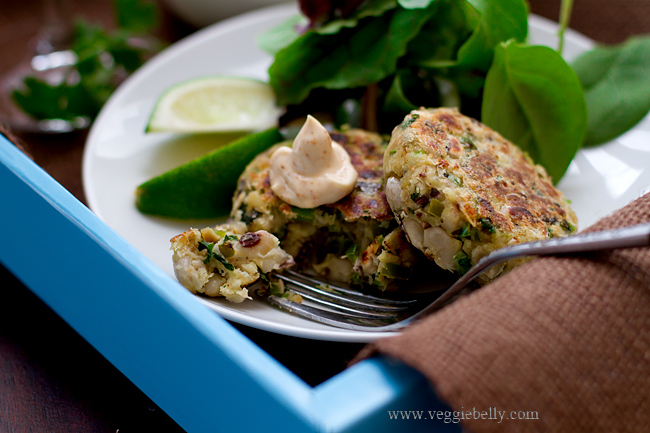 You could dip these cakes in butter milk, roll them in bread crumbs and shallow fry them. But this can get messy, and I didn't want to use too much oil. So to kept things on the simpler and lighter side. I just dusted the patties with a tiny bit of corn starch, and pan cooked them with just a little olive oil.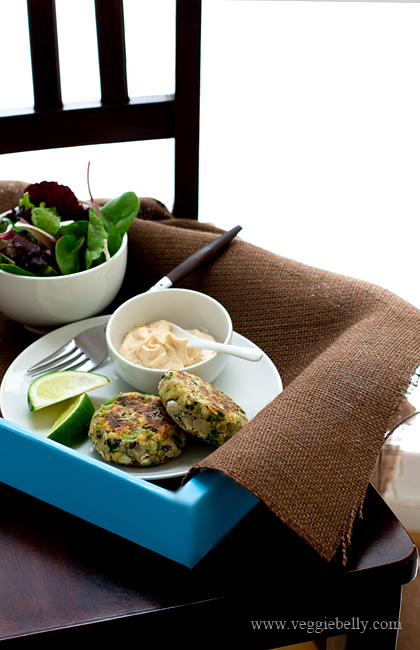 More black eyed pea cake recipes..
Black eyed pea cakes recipe with liquid smoke on Fat free Vegan
Black eyed pea cakes recipe with cumin, on Soup Spoon
Martha Hall Foose's Black-eyed pea cakes recipe on Ezra Pound cake
If the mixture is too wet, the patties will be difficult to form. So make sure your black eyed peas are drained very well drained.
Add more bread to a wet mixture, to make it more firm.
If the mixture is too dry, either mash the black eyed peas more, or sprinkle a little water
Using a wide spatula will make it easier to flip the cakes while cooking them
If you don't want to pan fry them, you could brush the black eyed pea cakes with oil, and broil them till the tops are browned and crusty. Carefully flip them over, brush more oil and broil the other side.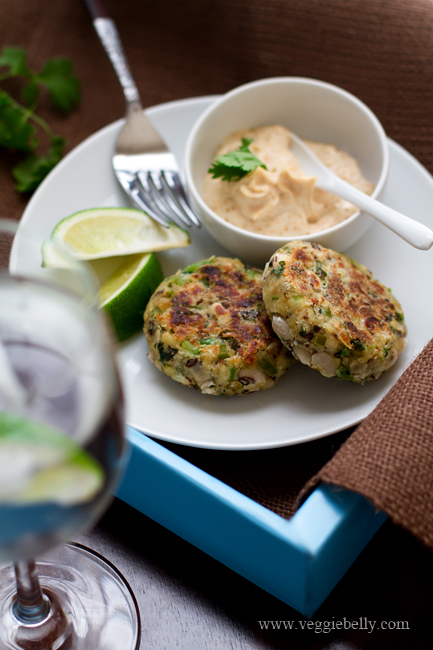 Black-eyed pea Cakes Recipe with Chipotle Mayonnaise
makes 4 cakes
½ cup dry black eyed peas*
1 teaspoon + 1 teaspoon olive oil
½ teaspoon or to taste, finely chopped jalapenos, optional
1 garlic clove, minced
½ a medium green pepper, diced small
½ cup slightly stale bread, torn into small pieces. I used left over challa bread.
Zest of ½ small lime
1 tablespoon lime juice
1-2 tablespoons chopped cilantro
¼ teaspoon or to taste Seasoned salt (I like Lawry's and McCormick's)
1 tablespoon Corn starch
Soak the dry black eyed peas overnight in water. Drain. Then boil plenty of fresh water in a medium pot. Salt it generously. Add soaked peas, and boil till cooked, about 20 minutes.
Drain the peas well. If they are watery, the cakes won't hold together.
*I prefer dried black eyed peas that have been freshly cooked. But if you don't want to use dry beans, use canned black eyed peas instead. Rinse and drain them well. Then measure out 1 1/4 cups for this recipe. You may need to use more bread, because canned beans can be wetter than cooked dried beans.
Heat a medium sauce pan with 1 teaspoon oil. Add jalapeno, garlic and green pepper and sauté on medium heat till pepper is soft, about 2 minutes. Add the bread, lime zest, lime juice, cilantro, seasoned salt, and mix well. Turn off heat.
Add the cooked drained black eyed peas. Mix well. Using a potato masher, or the back of a wooden spoon, mash the black eyes peas. The mixture doesn't have to be completely mashed, some whole black eyes peas (about 30%) will give the cakes a nice texture. Taste and adjust seasoning.
When the mashed peas mixture is cool enough to handle, divide it into 4. Roll each section into a ball. Place the 4 balls on a plate.
Sprinkle corn starch on another small plate. Dust your hands with the corn starch. Using both your corn starch coated hands, pick up a black eyed pea ball and gently flatten it to form a disc like patty. Dust your hands again, and repeat with the other balls.
Heat a medium non-stick skillet with ½ teaspoon oil, add 2 patties, and cook on medium-high heat till the patties are golden on one side. Carefully flip them and brown the other side. Remove to a plate.
Add another 1/ 2 teaspoon oil to the pan, and cook the other 2 patties.
Serve like a burger with chipotle mayonnaise burger buns, tomato slices, lettuce, pickle etc. Or serve over salad greens with chipotle mayonnaise.
Chipotle Mayonnaise Recipe
¼ cup mayonnaise (vegenaise, silken tofu or tahini for vegans)
¼ to ½ teaspoon chipotle powder. Substitute with smoked or regular paprika
½ teaspoon lime juice
Whisk everything together in a small bowl. Keep chilled.
Comments
comments