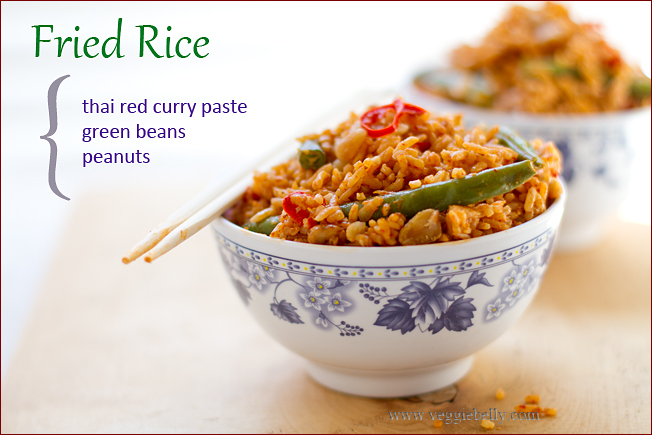 If you have left over rice, you can make this Thai red curry fried rice in 10 minutes. This is a quick, easy meal and a great way to use up left over rice and vegetables. Add some scrambled tofu or a couple of scrambled eggs to add extra protein to this fried rice recipe.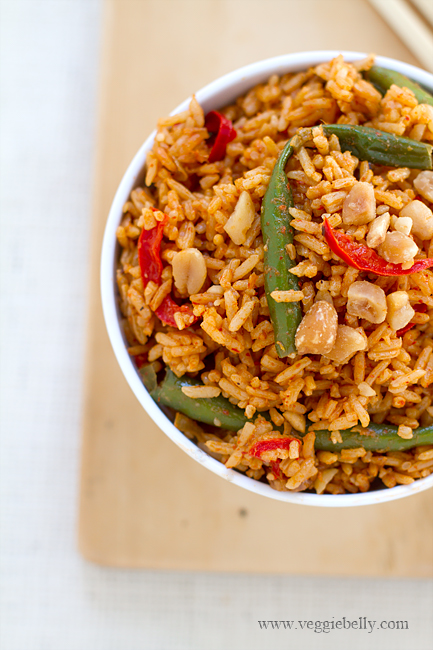 Blanched asparagus, or broccoli, or frozen mixed vegetables will also work in this instead of the green beans. I just happen to think green beans taste nice with Thai red curry paste.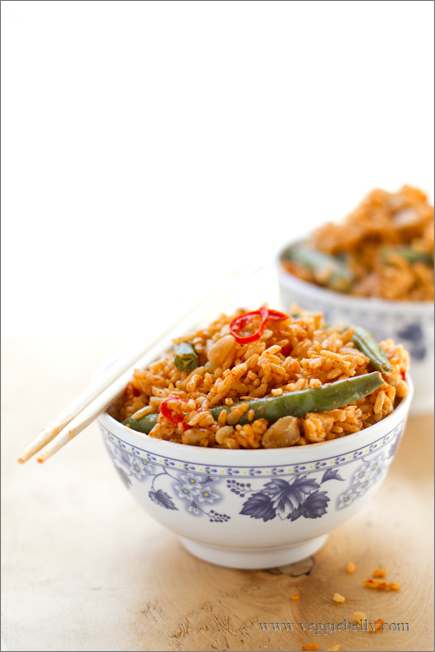 Day old rice is best for fried rice. Also called overnight rice, day old rice it is drier than freshly made rice, so it absorbs flavors nicely, and the rice grains stay separated. If you don't have left over rice from the previous day, make rice like you usually would (should not be mushy), then spread it out on a plate and place it under a fan or in the fridge till it is completely cooled.
Check out Jaden's secrets to cooking the best fried rice.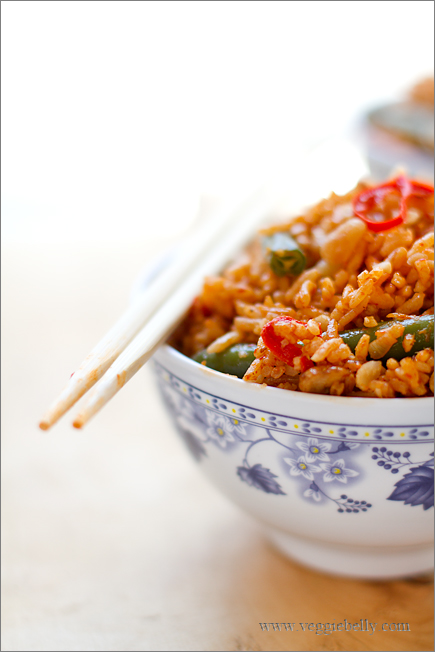 Fried Rice with Thai Red Curry Paste and Green Beans Recipe
serves 4-6
3 cups cooked jasmine rice, preferably a day old (brown rice, wild rice or basmati will also work)
20 haricots verts or green beans
1 tablespoon or according to taste, thai red curry paste
2 tablespoon soy sauce or tamari
1 tablespoon vegetable oil
1 small onion, diced
1 small red pepper, diced
2 tablespoons roasted peanuts, lightly crushed
Chopped cilantro, mint or thai basil for garnish
Trim the ends of the green beans, and cut them in half. Bring a medium saucepan full of water to a boil. Salt the water generously. Add the green beans, and boil for about a minute or till the beans tender but still a little crisp. Drain the beans. Fill the pot with cold water and enough ice cubes to make the water very cold. Dunk the beans in the ice water. This will stop the cooking process and keep the beans bright green and crisp. Drain well.
In a small bowl, whisk the red curry paste, soy sauce, and 2 tablespoons water together till they form a paste. Set aside.
Heat oil in a wok. Add onion and sauté till translucent. Then add red pepper, and sauté for about a minute. Add the drained green beans, and the whisked red curry paste. Stir on high heat for about 30 seconds.
Add cooked rice (must be cooled) to the wok. Using a wide spatula, gently and quickly stir the fried rice to incorporate everything.
Top with crushed peanuts, fried garlic slices, chopped cilantro or mint or thai basil.
Optional: add 2 scrambled eggs to the fried rice.
This fried rice tastes better the next day!
Comments
comments