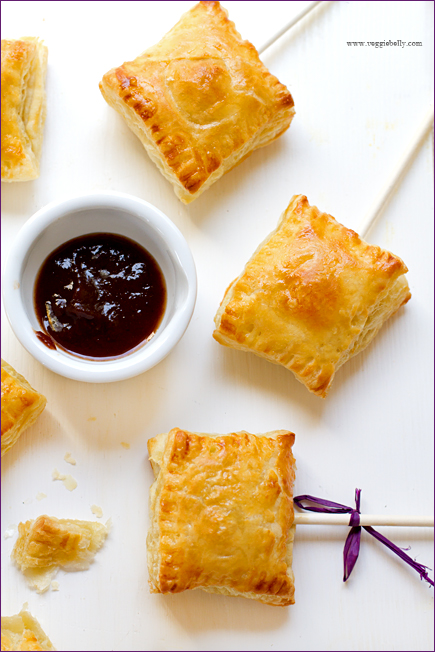 It seems like pops (food on sticks) are every where. Starbucks recently came out with cake pops. And the amazingly talented Bakerella has made cake pops into an art form . I'm jumping on the pop band wagon with this savory sweet potato samosa pops recipe! Yay! for samosa on a stick!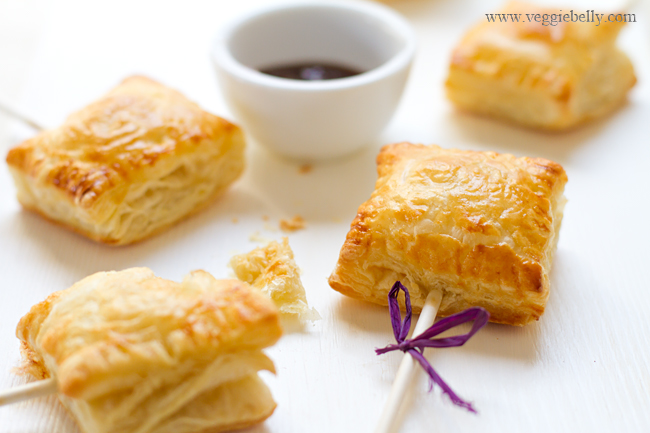 Im modernizing the Indian samosa by using sweet potato, making it mini sized, and putting on a lollipop stick.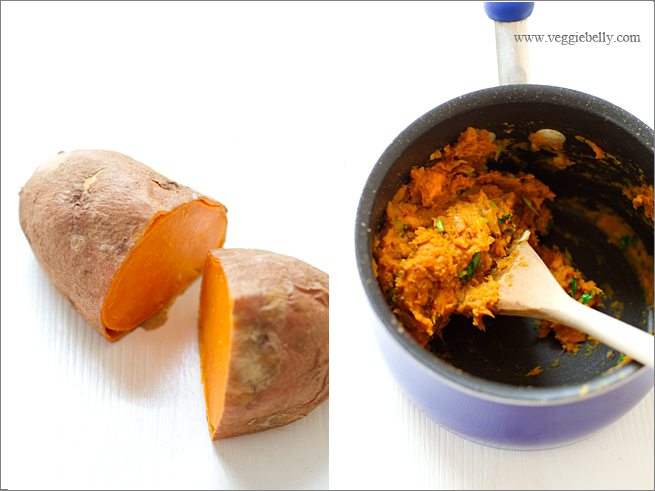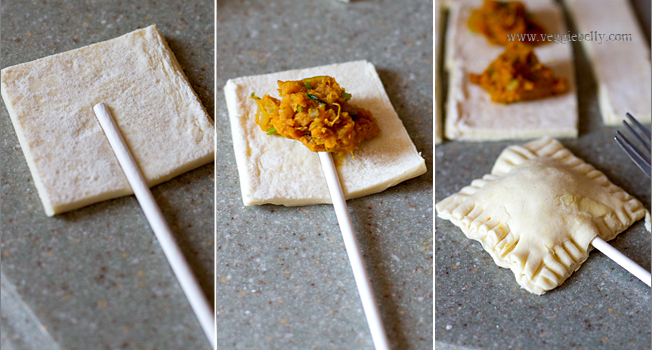 You could also use this recipe for making regular potato samosas, green pea samosa, or pumpkin samosa. Whatever samosa filling you use, make sure you dont over stuff the puff pastry. Also make sure your lollipop sticks are oven-safe before baking! 
I use puff pastry because it's so delicious and easy (and its vegan). You could ofcourse use your favorite samosa shell recipe if you have one.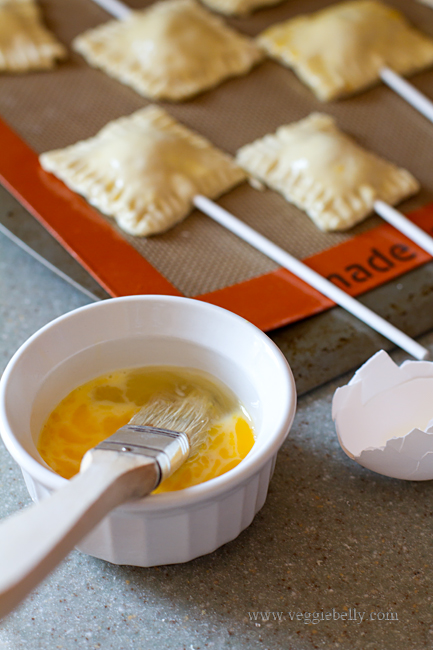 An egg wash will make the surface of the samosa pops beautifully golden. Vegans can leave out this step and still get great tasting samosas.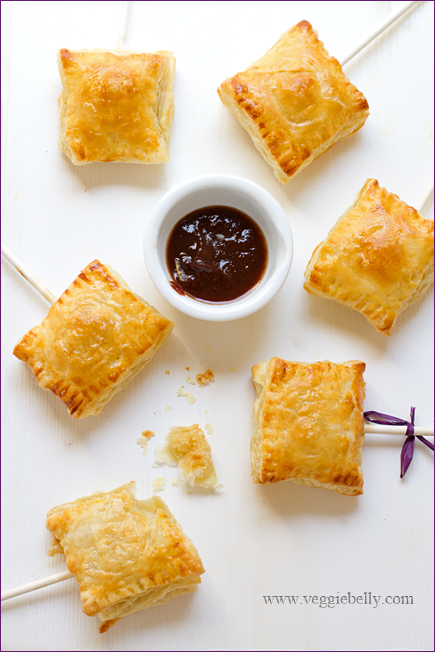 I serve samosa pops with the same sauces one would use for regular samosas – tamarind chutney and mint chutney. This recipe goes to the Chez Cayenne's House Favorites: Vegan event.
Sweet Potato Samosa Pops Recipe
Makes 20 pops
1 large Sweet potato (substitute with regular potato or ¾ cup peeled, cooked butternut squash or pumpkin)
1 tablespoon vegetable oil
¼ teaspoon cumin seeds
1 small onion, finely chopped
1/2 tablespoon minced garlic
½ tablespoon minced ginger
¼ teaspoon turmeric powder
¼ teaspoon, or to taste red chile powder
¼ teaspoon coriander powder
¼ teaspoon garam masala
1/8 teaspoon aam choor or mango powder (substitute with 1/2 teaspoon lime juice)
1 tablespoon chopped cilantro
Salt
2 sheets of puff pastry, thawed for about 30 minutes.
1 egg (vegans leave this out)
1 tablespoon milk (vegans leave this out)

20 six inch lollipop sticks (I used 'Candymaker' brand; it is oven-safe)
Pre heat oven to 400f
Wrap the sweet potato in a paper towel and microwave on high for about 4 minutes or till the sweet potato is cooked through. When it is cool enough to handle, peel the skin and lightly mash.This is the easiest way to cook and prepare a sweet potato for this recipe. Alternatively, you could peel, cube, and boil the sweet potato in water till tender. You need about 3/4th cup of cooked and peeled sweet potato.
While the sweet potato is cooking, heat the oil in a medium sauce pan. Add cumin seeds. When they start to sizzle, add the chooped onion and cook on medium heat till onions are lightly browned. Then add the ginger and garlic and cook for about a minute. Add turmeric, chilli, coriander powders, garam masala, and aam choor. Stir for about 30 seconds, taking care not to burn the spice powders. Turn off heat. Add the mashed sweet potato, cilantro and salt. Mix well. Taste and adjust salt and seasonings.
Lay out the thawed puff pastry on a clean work top. Measure out 2 inch squares. Using a sharp knife, cut the puff pastry sheets into 2 inch squares. You should have about 40 squares.
(If you have any odd sized bits of puff pastry left over after cutting, simply bake the scraps without filling, along with the rest of the samosas. You can snack on these!)
Press a lollipop stick onto the center of 20 of the squares. Mound 1 teaspoon of the sweet potato filling on top of the squares with the lollipop sticks. Don't over fill.
Cover these with the other 20 squares of puff pastry. Gently stretch them a little so they fit over the filling mound. Using the tines of a small fork, press down and seal all the edges. Make sure they are sealed well. (Look at photos above).
(If you wish to freeze the samosa pops, you can do so at this point. Lay out the samosa pops on a single layer and place in the freezer. Once they are frozen hard, remove the samosa pops and put them in a zip lock bag, and return to the freezer for future use.)
Lay the samosa pops on a baking sheet lined with parchment paper or a silicone baking mat. Whisk together the egg and milk in a small bowl. Brush this egg wash over the samosas.
Bake in a 400f oven, for 15 minutes or till puff pastry is golden.
Serve with store bought tamarind chutney.
Comments
comments