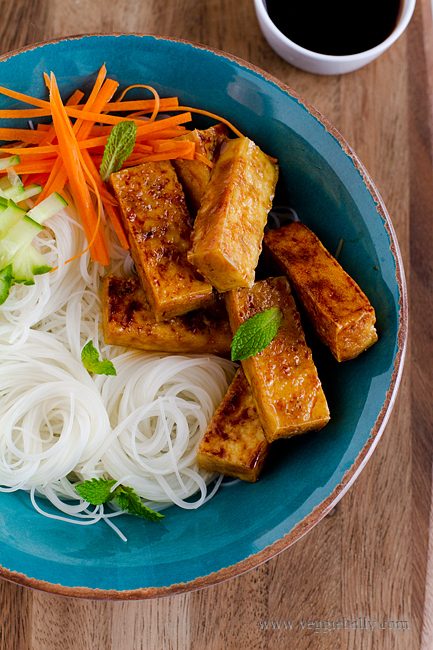 My dear friend Mahi loves my tofu recipes and recently requested a ginger tofu recipe. This is what I came up with. Mahi, this ginger teriyaki tofu noodle bowl recipe is for you ♥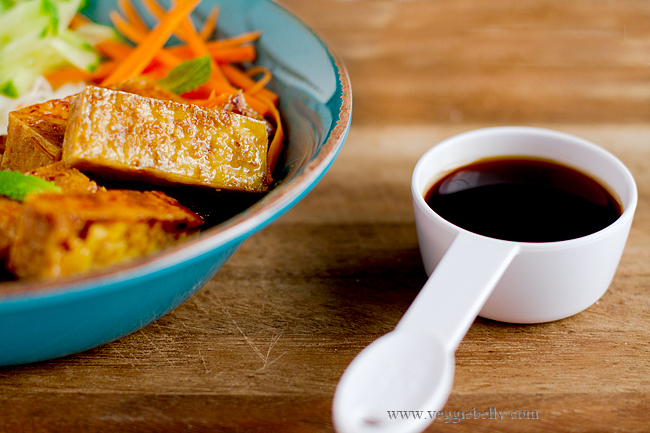 Teriyaki sauce is really easy to make at home. Just whisk together sugar, mirin and sake (or vinegar), and let it boil to thicken. You can use this sauce as a marinade on vegetables, brush it over anything you are grilling, or toss it in some rice or noodles. My ginger teriyaki sauce recipe is sweet, you could ofcourse adjust the sugar according to taste.
I love using thin rice noodles for this recipe. All you have to do is soak them in hot water till they have softened. You can find rice noodles or rice vermicelli in the Asian section of the grocery store. For a larger selection of rice noodles, head to an Asian store. When buying rice noodles for this recipe make sure that rice and water are the only ingredients. Some brands use corn starch in their rice noodles, and thats ok too.
Teriyaki Tofu Noodle Bowl Recipe
Serves 1 as a main dish
For the Ginger Teriyaki Tofu
Half of a 15 oz package of tofu, pressed. Read this post on how to press tofu.
4 tablespoons soy sauce
4 tablespoons brown sugar (this will produce a sweet sauce, use less if you dont want it sweet& remember mirin is sweet too!)
2 tablespoons mirin (look for 'mirin style seasoning' in the asian section of the grocery store ot substitute with 1 tablespoon rice vinegar+a pinch of sugar)
2 tablespoons rice vinegar
1 tablespoon minced fresh ginger
Cut the tofu into 1 inch long pieces. Lay the tofu pieces on a non stick skillet and brown each side on medium heat (no oil needed).
Place all remaining ingredients in a non stick sauce pan, and bring to a gentle boil. Reduce heat and simmer for about 2 minutes or till the sugar dissolves and sauce thickens slightly. Take care not to boil the sauce too much and burn the sugar. Taste the sauce, and adjust sugar or rice vinegar if needed.
When the tofu pieces are browned, pour half the teriyaki sauce over the tofu. Save the other half of the teriyaki sauce to serve for dipping.
Turn the tofu pieces so all sides are coated with sauce. On low heat, let the sauce bubble away and thicken (but be careful not to burn the sauce), about 1-2 minutes.
Serve ginger teriyaki tofu over rice noodles (recipe below) and the remaining teriyaki sauce on the side for dipping.
For the Rice Noodles
2 oz dry rice noodles or rice vermicelli
1/4 cup carrots peeled and cut into thin sticks
1/4 cup of cucumber cut into thin sticks
1 teaspoon sesame oil
1 teaspoon rice vinegar
½ teaspoon dried chili flakes, optional
Salt
1 tablespoon chopped mint or cilantro
Soak rice noodles in very hot water for 10 minutes, or prepare according to package directions. Drain well.
Gently toss the noodles and all other ingredients together in a bowl. Top with ginger teriyaki tofu. Serve reserved teriyaki sauce on the side for dipping the noodles.

Print
Comments
comments