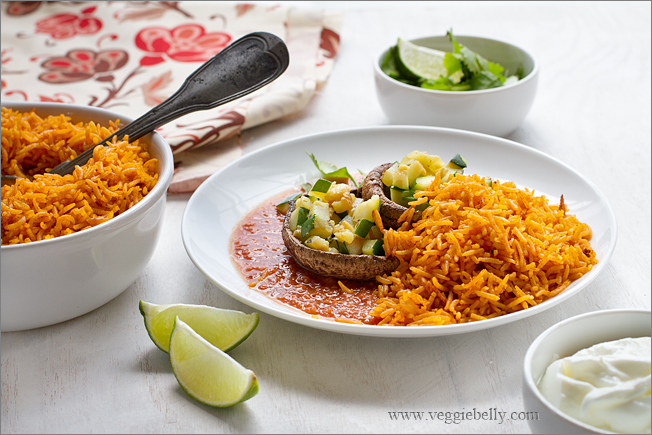 A traditional Mexican chile relleno (stuffed chile) is usually a poblano chile stuffed with meat and cheese, dipped in batter and deep fried. My Portobello mushroom and zucchini relleno recipe is a little different. It is a lighter, simpler, vegetarian, vegan relleno, and it requires no frying. This recipe can get even simpler if you use store bought ranchero or enchilada sauce.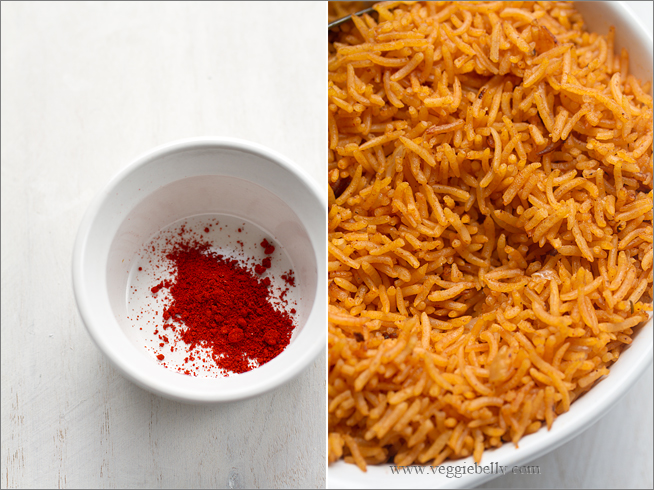 Ground annatto gives the rice its brilliant orange-yellow color. Annattos are the red seeds of the Achiote tree, often called 'lipstick tree' because of Annattos coloring properties.
This is a good make ahead recipe. You can make the ranchero sauce and the Mexican yellow rice ahead of time. Simply cook the vegetables the day of, heat up the sauce and rice and assemble everything!
Watch this video to see how to make Portobello rellenos stuffed with peppers and rice. It's in Spanish, but the method is simple to watch and follow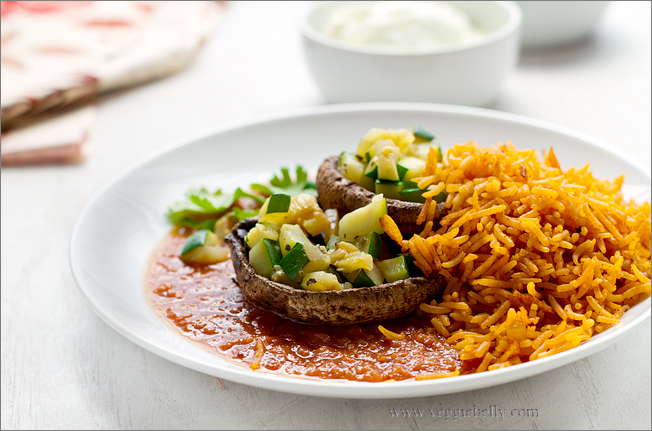 Happy Cinco de Mayo!
Portobello and Zucchini Rellenos in Ranchero Sauce with Mexican Yellow Rice
Serves about 4
For the ranchero sauce
1 teaspoon olive oil
1/2 medium onion, diced
2 cloves over garlic, minced
½ jalapeno, or according to taste
½ teaspoon scant, ground cumin
½ teaspoon dry oregano
One 14 can crushed tomatoes OR 2 cups fresh chopped tomatoes
Salt
Heat oil in a medium saucepan and add the onions. Cook on medium heat till they are soft. Add the garlic, and jalapeno and stir 2 minutes. Then add cumin, oregano, tomatoes, and salt. Cook the same on medium heat for about 3 minutes. If you are using fresh tomatoes, they will take longer to cook.
Serve the sauce chunky or puree it in a blender. I pureed it.
You can make this sauce up to 3 days ahead.
For the vegetables
6 small portabello mushrooms (weighing about 8oz total)
1 teaspoon + 1 teaspoon olive oil
1/2 teaspoon dry oregano
1 large zucchini, cut into small cubes
½ cup cotija cheese (feta, grated pepper jack or cheddar will also work)*
Salt
* I didn't use the cheese
Wipe the portabellos with a paper towel. Then using a small spoon, gently scrape out the dark gills. Using a small, sharp knife, remove the stem.
Brush a little oil all over the mushrooms.
Heat a skillet on medium high, and cook the mushrooms, gill side down, in a single layer for 2 minutes. Then flip the mushrooms and cook the other side another minute or till cooked through. While the second side is cooking, sprinkle salt and half the oregano over the mushrooms cavities.
In a same skillet, heat a little more oil, add the zucchini and remaining oregano. Saute on high heat for about 2 minutes or till the zucchini is tender but still a little crunchy, and not mushy. Sprinkle salt, and the cheese.
For the yellow rice
1 large or 2 small vegetable bouillon cubes*
2 cups warm water
1 tablespoon butter or olive oil
1 small onion, diced
1/2 teaspoon achiote powder, also called ground annatto (substitute with ¾ teaspoon turmeric or saffron)
1 cup long grain rice
Chopped cilantro for garnish
*I used 2 small Herb Ox brand vegetable bouillon cubes; they are tasty and have no MSG. Maggie or Knorr stock cubes will also work.
Dissolve the bouillon cubes in warm water and set aside.
Sauté the onions in butter or olive oil in a medium saucepan. When the onions are soft, add the Achiote powder and rice. Stir on low heat for a minute.
Pour in the bullion water, and bring to a boil. Reduce heat to a low, cover the pan, and let the rice simmer for 10 minutes or till the rice is cooked, but the grains are still separate, and not mushy. Cooking time may vary depending on the rice.
Fluff rice with a fork. Garnish with cilantro.
To assemble and serve
Spread ranchero sauce on a platter. Arrange the mushrooms, gill and stem side up, over the sauce. Spoon a little zucchini and cheese into the mushroom cavities.
Serve the yellow rice on the side, along with sour cream (optional), extra cheese and extra chopped cilantro.
Comments
comments