A quesadilla recipe doesnt get simpler than this. Only 10 minutes and 4 ingredients, and I promise you will love this easy cheesy quesadilla!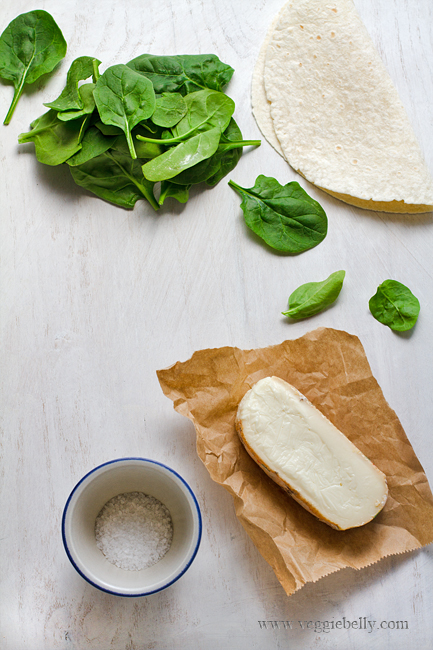 Taleggio is a soft, Italian cows milk cheese. It has a strong fruity smell, but a wonderful mild flavor. You can substitute taleggio with fontina or brie. Since this recipe is simple, and uses very few ingredients, I like to use a "special" cheese like taleggio, where its flavor and creaminess can shine through.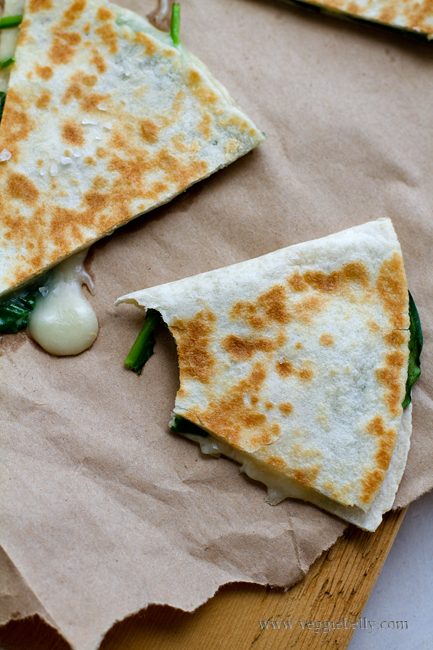 I also like to use asparagus instead of spinach in this recipe. Asparagus and taleggio cheese were made for each other!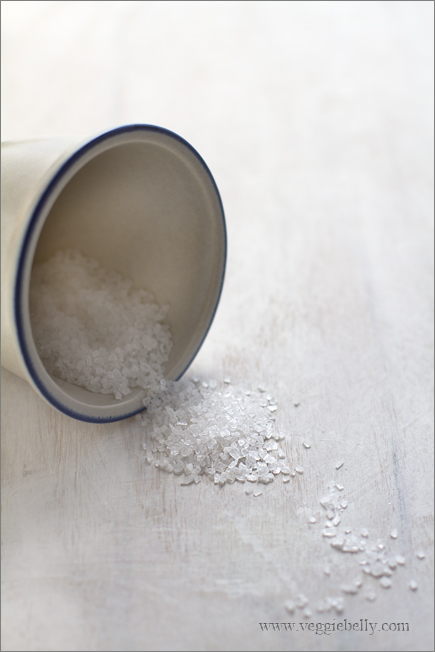 Sea salt is a beautiful thing. It has a coarser grain than table salt, and gives you a pleasant burst of saltiness. Because sea salt is more granular it is perfect for sprinkling over food, or using it in quick recipes, where it doesnt have a chance to dissolve. I used a beautiful bag of salt crystals from the Trapani Saltpans of Italy that I picked up at Eataly in New York.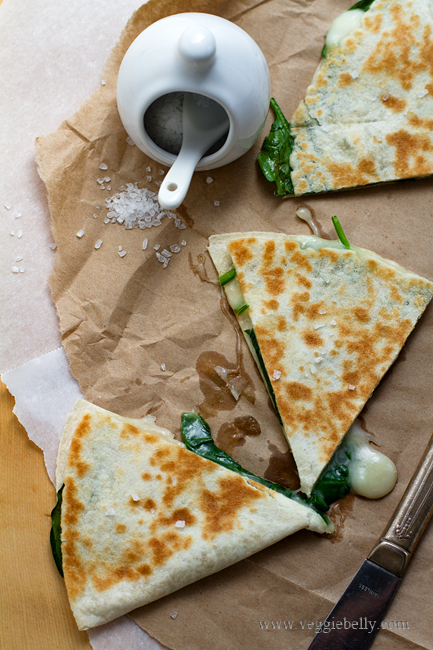 Easy Spinach and Taleggio Cheese Quesadilla Recipe
makes 1 quesadilla
1 eight inch flour or wheat tortillas
1 oz taleggio cheese (substitute with fontina or brie)
1/2 cup fresh baby spinach leaves loosely packed
1/4  teaspoon olive oil
Sea sat
Lay out a tortilla on a work surface. Trim away the rind of the cheese, and cut into into small pieces. Put the cheese pieces all over one half of the quesadilla. Place spinach leaves on top of the cheese. Fold over the other half to form a half moon shaped quesadilla.
Heat a non stick pan on medium heat, drizzle a little oil. Place the folded quesadillas in the pan, and cook on medium heat for 1 minute or till the tortilla is light brown and cheese is just about to melt. Turn the quesadilla over and lightly brown the other side, about 45 seconds. Dont over cook the tortillas, the cheese will get oily.
Cut into wedges and sprinkle a tiny pinch of sea salt on top. Serve with a lettuce, tomato, cucumber salad and your favorite salad dressing.
Comments
comments