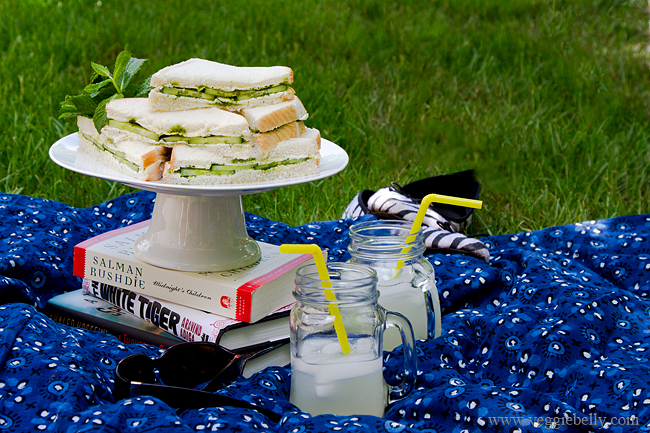 When the weather is nice, we will pack ourselves some sandwiches and lemonade and have a little picnic in our back yard. These cucumber, cream cheese, cilantro-mint chutney sandwiches are our favorite. I've made these for several picnics and I really dont know anyone who doesnt like them.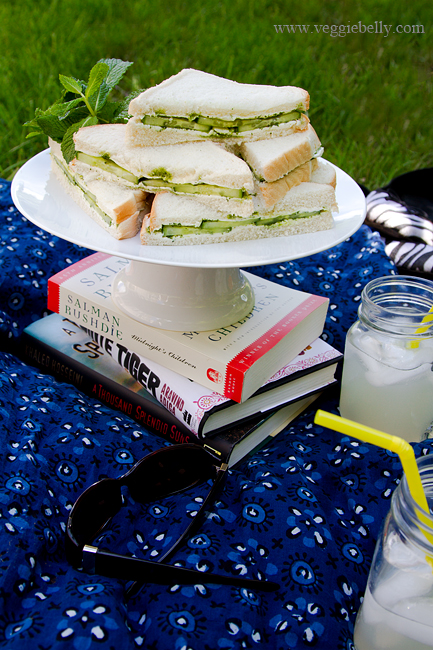 We used to get these sandwiches in India – white bread spread with a little butter, cilantro mint green chutney, and cucumber slices. It is India's version of English tea sandwiches. I like to use cream cheese in this sandwich recipe; it goes great with the cucumbers and chutney.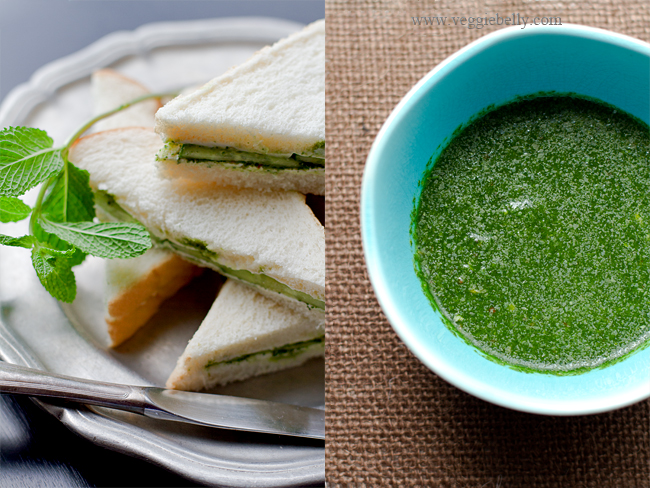 Cucumber Cream Cheese and Cilantro-Mint Chutney
Sandwich Recipe
Makes 4 whole or 8 half sandwiches
½ an English seedless cucumber (the one with the plastic wrap)
8 slices of white or soft wheat bread
8 tablespoons cream cheese at room temperature, I used the low fat kind.
½ cup cilantro mint chutney. Recipe below.
Salt
Cut the cucumber into thin rounds.
Take 2 slices of bread. Spread 1 tablespoon cream cheese on one slice. Spread 1 teaspoon (or more if you like) chutney over the cream cheese. Arrange 4-5 slices of cucumber on top. Sprinkle a tiny pinch of salt over the cucumbers.
Spread one tablespoon cream cheese and then one teaspoon cilantro mint chutney on the other slice of bread. Place this on top of the cucumbers, to make a sandwich. Repeat for all bread slices.
Spreading the cream cheese first, and then the chutney will prevent the chutney from soaking through the bread. Serve immediately.
Cilantro Mint Chutney Recipe
Makes about 1/2 cup, enough for 4-6 sandwiches
1 cup cilantro leaves, tightly packed
1/2 cup mint leaves, tightly packed
1/2 fresh green chili or Thai hot pepper, chopped*
1/8 teaspoon cumin seeds
1 garlic cloves, peeled
1/2 tablespoon lemon juice
Salt
2 tablespoons water
*This makes a spicy hot chutney. Use less chili or leave it out if you don't want it spicy.
Place all ingredients in a food processor and process into a smooth sauce, scraping down the sides of the food processor now and then.
If you are using a blender, you may need to use a little more water. Store the chutney in an air tight container in the fridge.

Print
Comments
comments