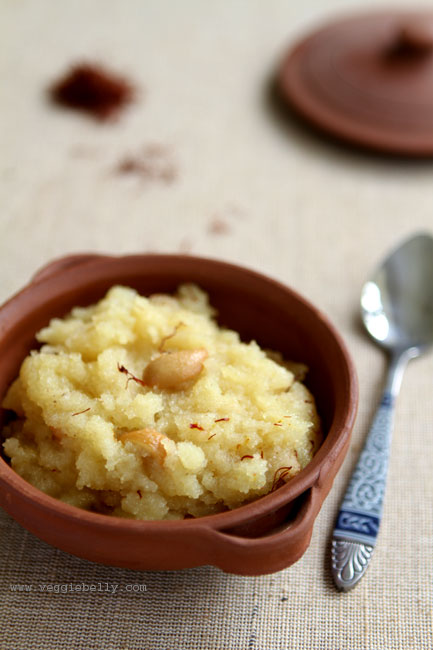 When I need a quick fix dessert recipe, I always resort to kesari – a semolina pudding with ghee, cashewnuts, and saffron. The ghee, nuts and saffron make this dessert exotic and special; but nobody will know you only spent 15 minutes making it!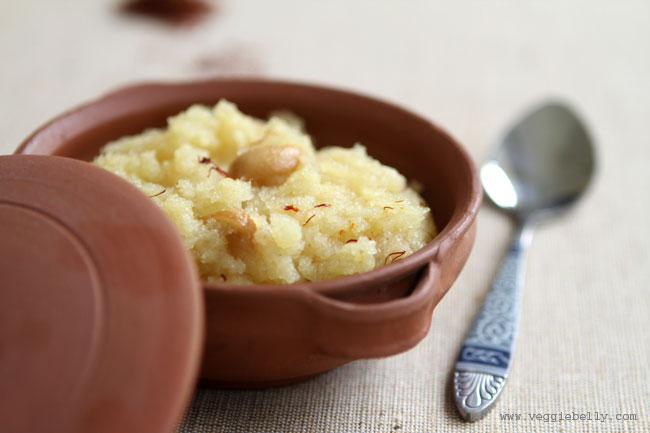 I am delighted with this variation on regular kesari (also called sooji halwa). Pineapple juice adds a hint of fruity flavor to kesari, making it unique. Be sure you read my note on sugar** before you make this recipe.
Pineapple Semolina Pudding or Pineapple Kesari Recipe
serves about 8
Ingredients
4 cups fresh or canned pineapple juice*
1/4 cup + 2 tablespoons ghee
1/2 cup cashewnuts
1 cup semolina (rava or sooji)
1 cup sugar**
a pinch of saffron threads
* To make juice from fresh pineapple, blend 2 cups chopped fresh pineapple, with about 3 cups water to make a puree. Strain the juice, and measure out 4 cups.
**This will make a not-too-sweet dessert. If you want it sweeter, feel free to use more sugar, but keep in mind that how much sugar you need will vary slightly depending on how sweet your pineapple is. You may need to use less sugar if you are using canned pineapple juice.
Method
Heat a heavy bottomed wok or saucepan with 1/4 cup ghee. Add cashewnuts and fry on low heat till the nuts are golden. Using a slotted spoon, remove the the cashews from the ghee and place in a bowl.
Add semolina to the ghee. Stir on medium-low heat for about 3 minutes or till the semolina is toasted. Remove the semolina into a bowl. Wipe the pan clean.
Pour in pineapple juice and sugar. Bring to a boil. Boil for 1 minute. Reduce heat to low, and add the toasted semolina. Cook, stirring constantly on medium heat, till the pudding thickens – about 5 minutes. Cooking time will vary depending on how coarse your semolina is.
When the pudding starts to thicken, add 2 tablespoons ghee and stir. Remove from heat. Stir in fried cashew nuts.
Sprinkle saffron on top.
Comments
comments