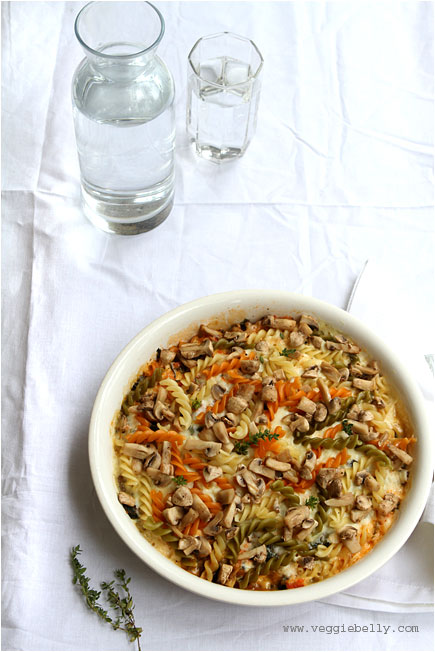 I always enjoy the time I spend with my cousin Meena. She is such a pleasant and genuine person, and the time we spend together is always special. When we met last week (after more than a year!), we spent lazy afternoons gossipping, playing pallankuzhi, and cooking.
 This delicious vegetable, pasta and paneer bake recipe comes from Meena. She makes this vegetarian bake recipe for her post-swim meal. It is filling, and delicious without being heavy.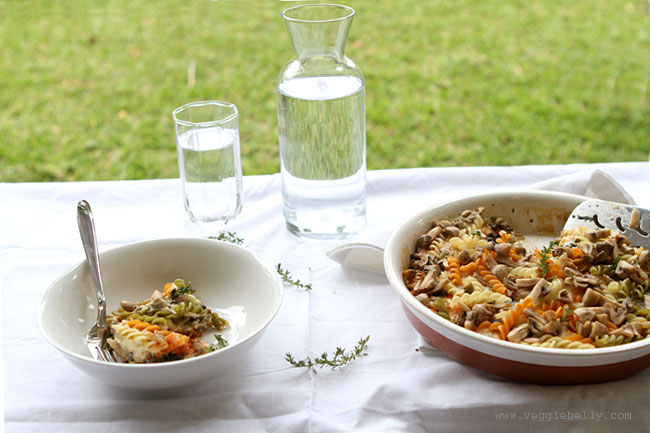 Meena didnt use cheese in this recipe, to keep it on the lighter side. But you can add some cheese on the top before baking. Vegans can use soy milk and tofu cubes instead of paneer (althought, I havent tried making the vegan version of this bake).
Meena microwaves the bake, which makes things very quick and easy. You can bake it as well, see instructions below. Remember, all the ingredients here already cooked – you only want to bake or microwave this dish just till the sauces bubble and the mushrooms cook.
Thanks meena, for your precious friendship, and for this delicious recipe that I know I will be making again and again.
There are multiple steps in this recipe, but dont let that put you off. Its well worth the effort. And you can make a big batch of this vegetable, paneer and pasta bake and freeze it.
Watch a step-by-step on how to make vegetable paneer and pasta bake
Vegetable Paneer and Pasta Bake Recipe
serves 3-4
Ingredients for the vegetables & paneer

6 oz paneer (substitute with drained, pressed, firm tofu)
3 cups fresh spinach, tightly packed
3.5 oz white button mushrooms (about 15 medium sized mushrooms)
Method
Cube the paneer and set aside.
Wash the spinach, and chop it. Place the washed, chopped spinach on a small wok. Cover it with a lid. Heat the wok on low heat, just untill the spinach wilts. Then remove from heat and sprinkle a little salt. Set aside.
Wipe the mushrooms clean with a paper towel. If the mushrooms have too much dirt, wash them in water, and drain well.
If the mushrooms are large, cut them in 4, if they are small, cut them in half. Set aside.
Ingredients for the pasta
1 1/2 cups cooked pasta*, such as elbow macaroni, shells, fusili, or penne
*Make sure the pasta is cooked al dente – it should not be over cooked or mushy.
Ingredients for the tomato sauce
4 small tomatoes
1 small onion (1/4th cup when chopped)
4 garlic cloves
1 tablespoon olive oil
1/4 teaspoon dried Italian seasoning
Salt & cracked pepper
Method
Core the tomato, chop it roughly and puree it in a blender.
Peel and chop the onion and garlic finely.
Heat olive oil in a small skillet. Add the chopped onion and garlic. Saute on medium heat till the onion gets translucent, about 2 minutes.
Add the pureed tomatoes and 1/4 cup water to the skillet. Bring to a boil. Now add Italian seasoning, salt and pepper. Let the sauce gently boil, till it thickens a little, about 3 minutes.
Ingredients for the white sauce
1 1/2 tablespoons olive oil or melted butter
1 1/2 tablespoons all purpose flour (maida) or wheat flour
1 cup room temperature or cold milk, preferably whole milk
1/4 teaspoon or to taste, dried Italian seasoning
Salt and cracked pepper
Method
Place the oil or butter in a non stick sauce pan (without heat). Sprinkle the flour over the oil or melted butter. Using a whisk, stir the flour into the oil or butter to incorporate. Place the pan on a stove over low heat. Immediately, pour in milk. Whisk again till the flour dissolves.
Increase heat to medium. Cook the sauce, whisking constantly, till the sauce thickens, about 2 minutes. Now add Italian seasoning, salt, and pepper. Turn off heat.
To assemble and cook the vegetable paneer and pasta bake
Take a medium baking dish, about 8 inches in diameter. Line the bottom with the paneer cubes. Layer the wilted spinach on top of the paneer. Pour the tomato sauce all over. Next, pour the white sauce. Arrange the mushrooms and pasta on top of the white sauce.
Optional step: sprinkle 1/2 cup grated cheddar or mozzarella cheese on top. Meena didnt use cheese in this recipe.
Place the bake in a 400 f oven and bake for 15 minutes or till the sauce is bubbling. If you are baking this in the oven without cheese, you need to pour the white sauce on top of the pasta, so that the pasta doesnt dry out in the oven.
Alternatively, microwave the bake on full power for 5-8 minutes or till the sauce bubbles. Microwave ovens vary.
Serve warm with a green salad.
Comments
comments