A week ago, we rented our house in Virginia, packed our stuff into our car, and began a 3,000 mile road trip across America, to move to Portland OR. My husband is working on a project there and we have decided to make use of the opportunity to move and explore the west coast.
In a series of posts in the next couple of weeks, I will be sharing with you pictures of what I'm doing, seeing, and most importantly – eating.
Before I tell you all the yummy things I've been eating and cooking (yes, make shift cooking on the road!), here are some notes photos from my travels.
Notes from the Road
Total miles traveled – 1,628
States covered so far – Virginia, Maryland, West Virginia, Pennsylvania, Ohio, Indiana, Illinois, Wisconsin, Minnesota, South Dakota
Cities visited - Cleveland OH, Chicago IL, Madison WI, Wisconsin Dells WI, La Crosse WI, Sioux Falls SD, Wall SD
Mood – grateful and excited
Random thoughts – South Dakota is huge and empty. Cruise control is your friend.
Best meal so far – Mushroom stroganoff at the Cheese Factory restaurant, Wisconsin Dells, WI
Craving – nothing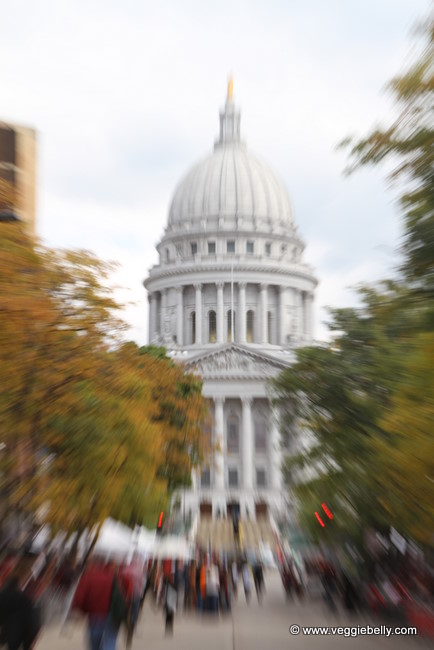 Madion capitol building, Wisconsin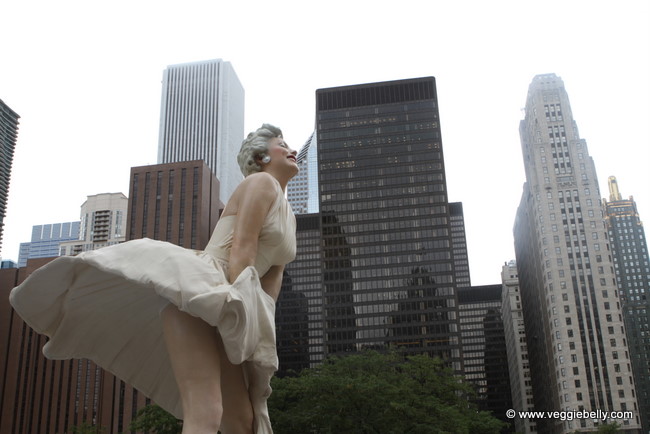 A gigantic Marylin Monroe statue in Chicago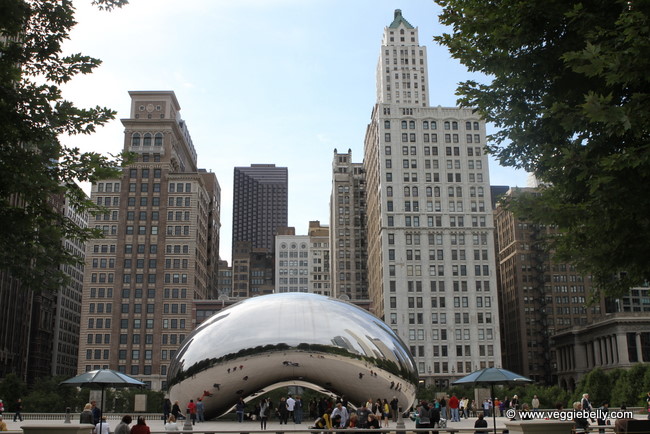 The bean cloud, Chicago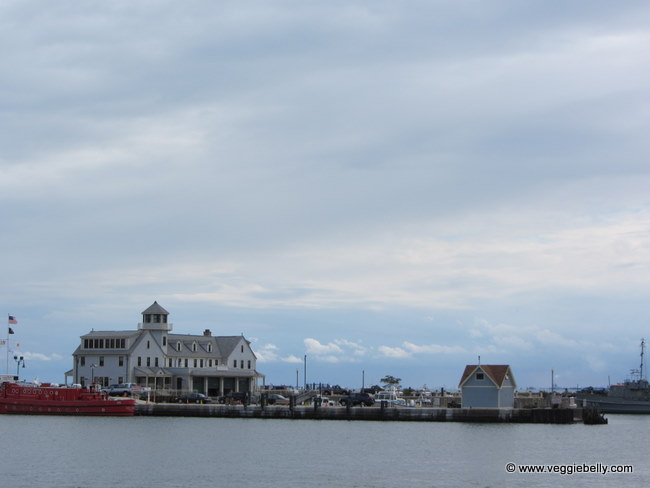 Chicago river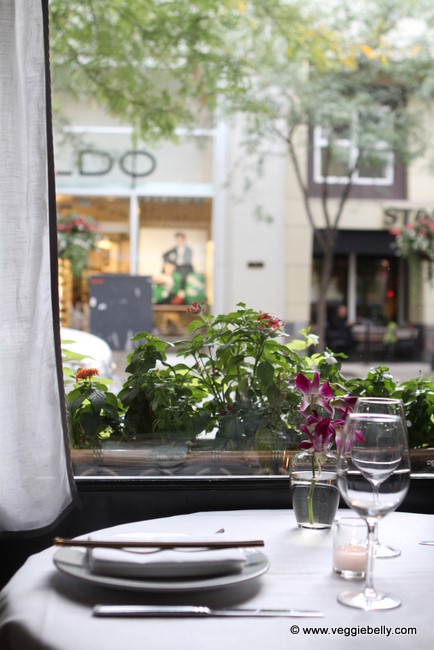 Le Colonial French Vietnamese restaurant, Chicago
Vegetarian Food on a Cross Country Road Trip – What I'm Eating
I'm eating at some amazing restaurants across America. Here is a sampling.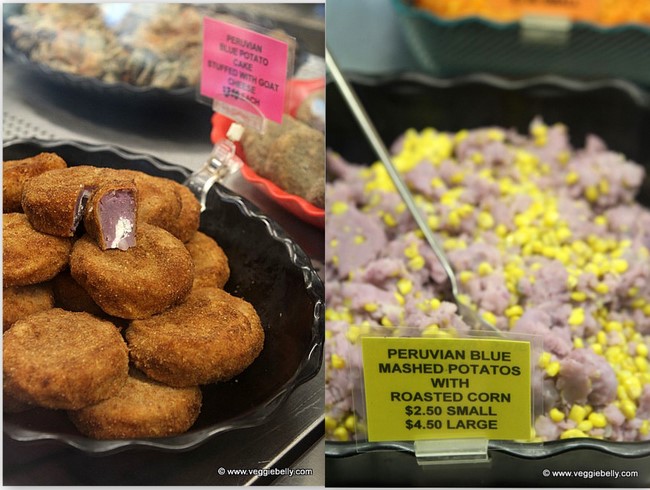 Peruvian blue potatoes featured twice at the Mexican stall.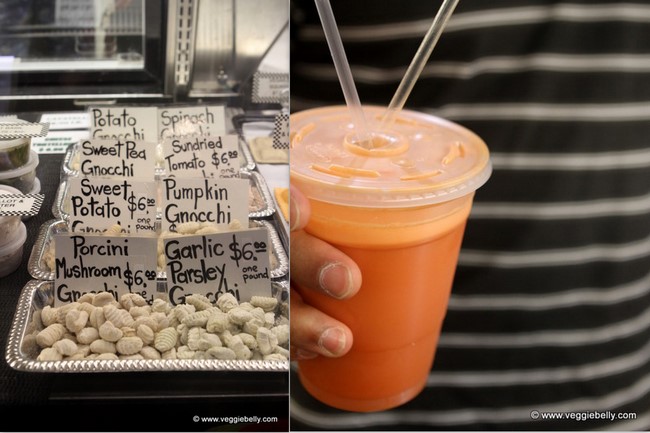 Tons of vegetarian pastas! We got a carrot, celelry + apple juice at the juice stall.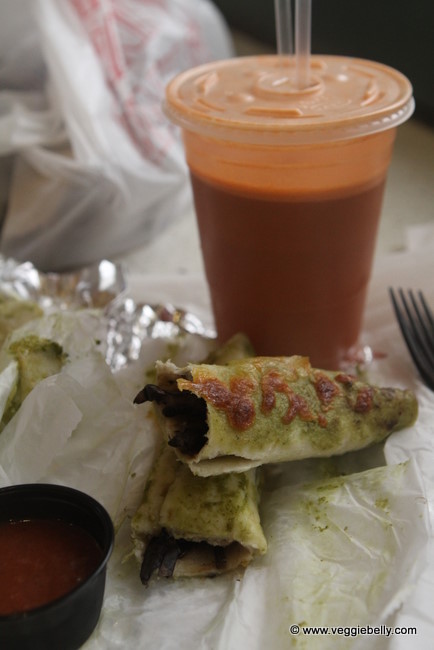 I was drawn to the Mexican stall at the market, and got these portobello and caramelized onion enchiladas for lunch.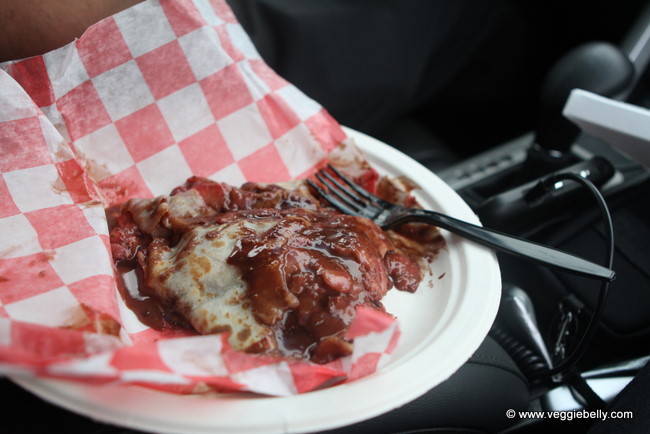 Doing crepey things in the car. Strawberry+nutella=heaven
Farmers Market & the Best Vegetarian Meal I've Had. Madison, Wisconsin
The farmers market outside the capitol building in Madison was just lovely. The whole square was buzzing with activity.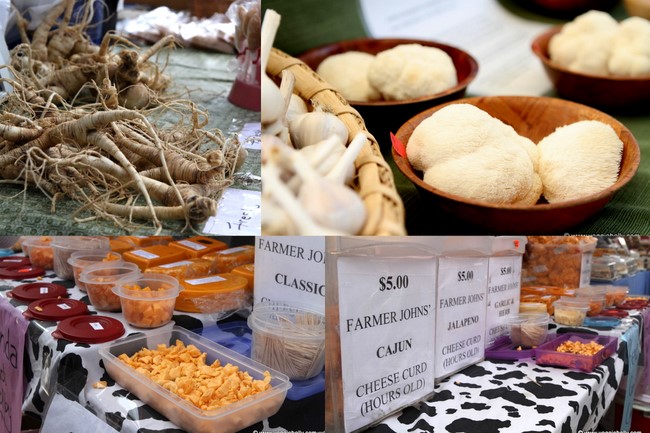 Clockwise from top left: fresh ginseng, pom pom mushrooms, cheese curds, more cheese curds..drool!!
I am no longer a cheese curd virgin! I tried my first cheese curds at the farmers market in Madison. Oh my god, they were so tasty. Chewy, and incredibly flavorful. I also tried deep fried beer battered chees curds (below) at the Old Fashioned restaurant in Madison, they were great but I think I prefer the plain cheese curds.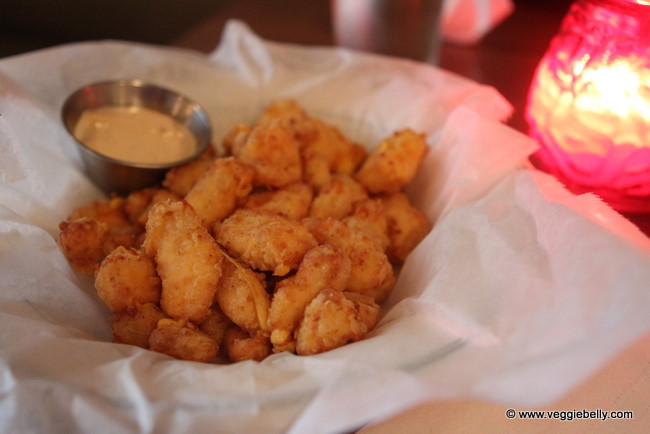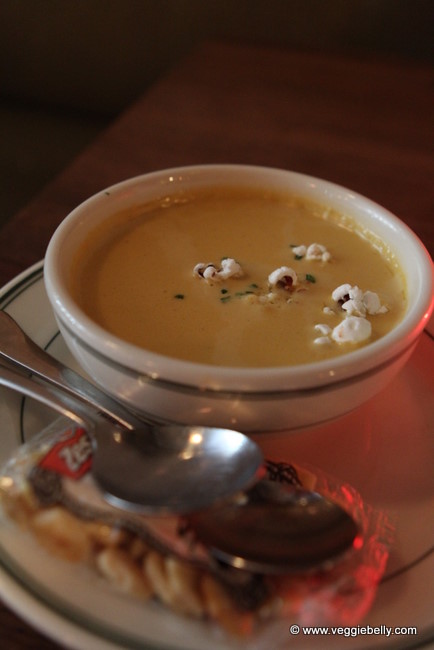 The best soup I've ever had – Wisconsin beer and cheese soup garnished with pop corn. What a great idea! Whoever thought of putting beer and cheese together in a soup is a genius.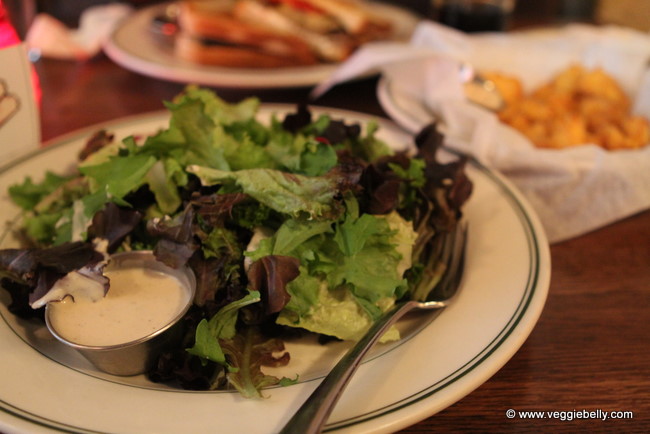 Brandy vinaigrette for my salad – creamy, tangy and unique.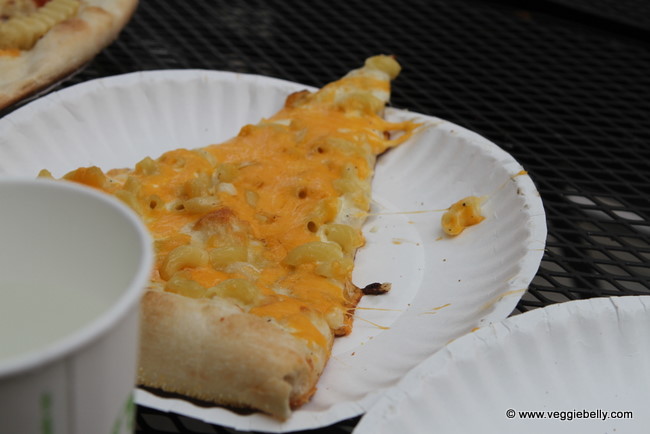 They put mac and cheese on a pizza! I didnt actually eat this piiza, but I walked by a family who were enjoying it and asked to take a picture becasue ive never seen anything like it before!
After an amazing meal at the Old fashioned restaurant in Madison, we walked around sightseeing, and then headed north to Wisconsin Dells in search of the Cheese Factory restaurant. Rachael Ray has been here and a lot of sources highly recommend it. I wasnt disappointed at all. I had the best meal of this trip here – a mushroom stroganoff – satisfying, and full of umami. The restaurant has a nice homely feel to it, the food is hearty and the flavors are clean.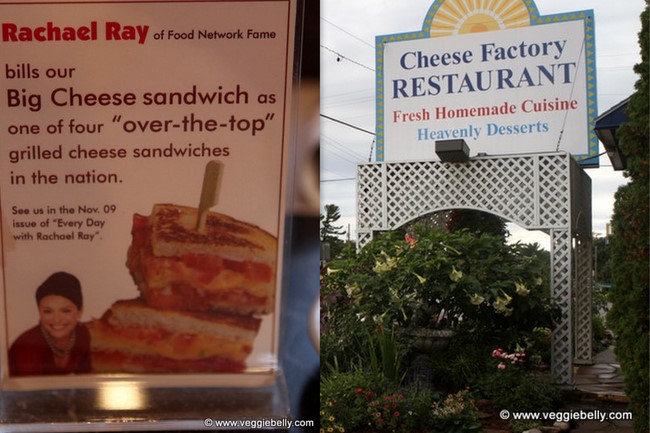 I HIGHLY recommend the Cheese Factory Vegetarian restaurant in Wisconsin Dells. It serves some of the best vegetarian food I've had recently.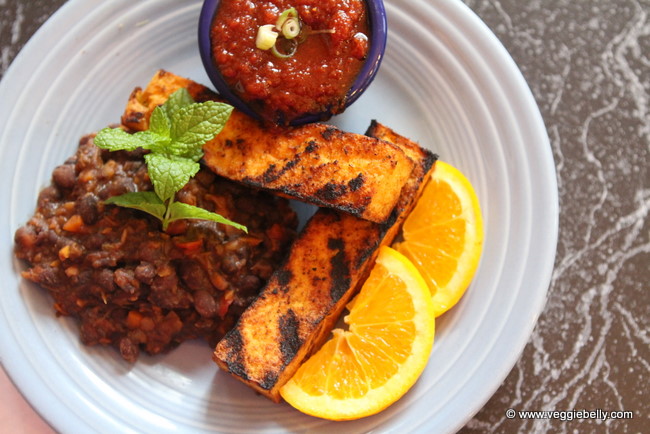 I started with the rattlesnake tofu – two fingers of marinated tofu, grilled to a smokey flavor, served with spicy beans and fresh homemade barbeque sauce.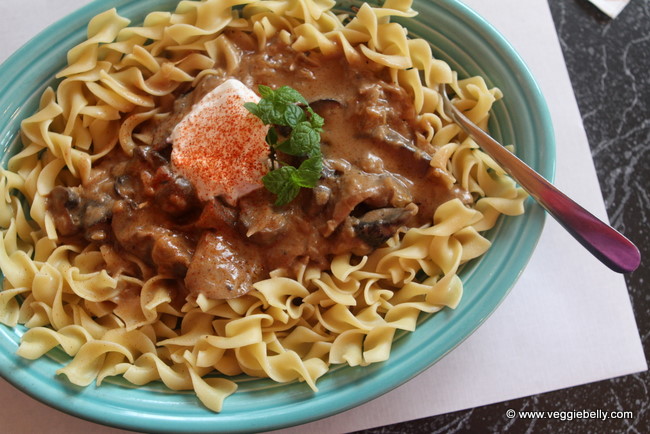 ..and this my friends was the best dish I've had recently – an incredibly flavorful mushroom stroganoff full of super fresh mushrooms. I am drooling now just thinking of it!
Chicago – Stunning Architecture and Elegant Restaurants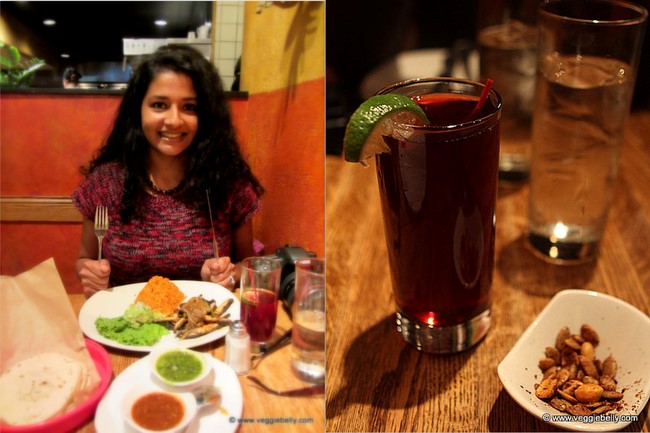 Frontera Grill in Chicago was everything I imagined it to be. I loved the food and decor. I am a huge fan of Rick Bayless, and was so excited to eat at Frontera! Above: I'm digging into my wood fired mushroms, achiote rice, guacamole, home made corn tortilla, tomatillo salsa and tomatillo and roasted chipotle salsa. To the right is my drink, agua de jamaica (hibiscus juice) and nuts (peanut, pumpkin, fava beans) roasted with guajillo chile.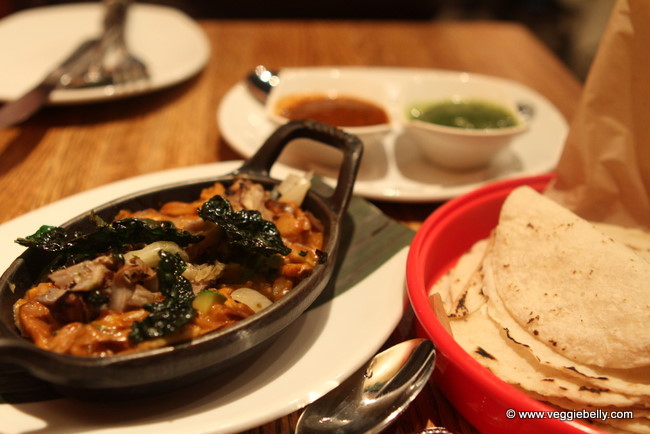 Hongos chipotlados at Frontera – wild mushrooms, smoky creamy chipotle, squash and fried kale. All served with the softest homemade tortillas I've ever had.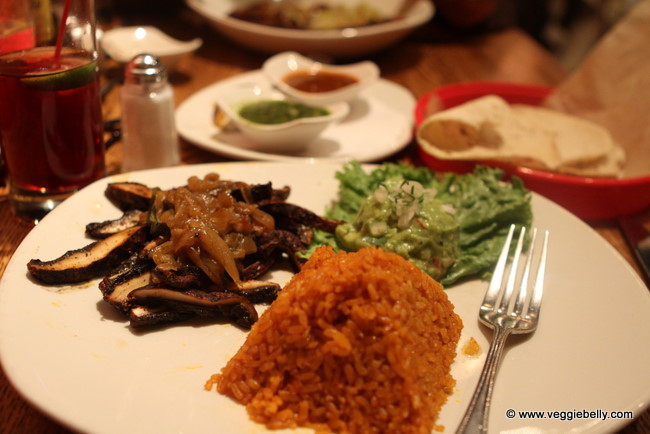 More mushromy goodness at Frontera – wood fired mushroom tacos with achiote rice and guacamole
Our dinner that night was at a beautiful little French Vietnamese restaurant in Chicago called Le Colonial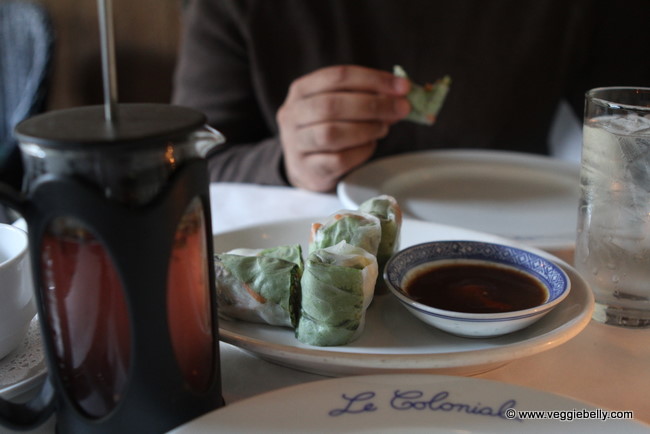 Vietnamese rice paper rolls and plum dipping sauce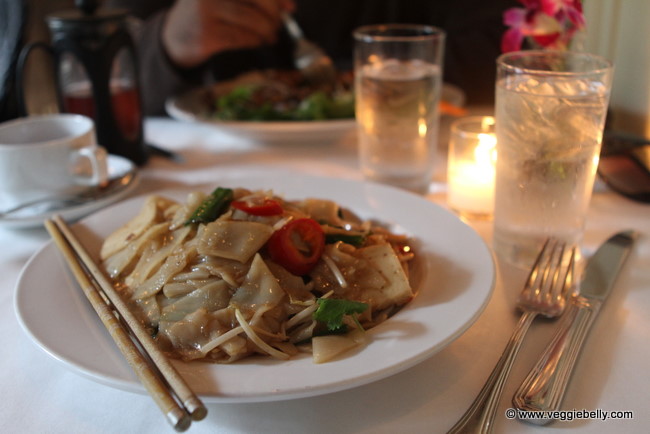 Banh Pho Xao – Rice noodles with soy sauce, chili garlic oil, tofu, and bean sprouts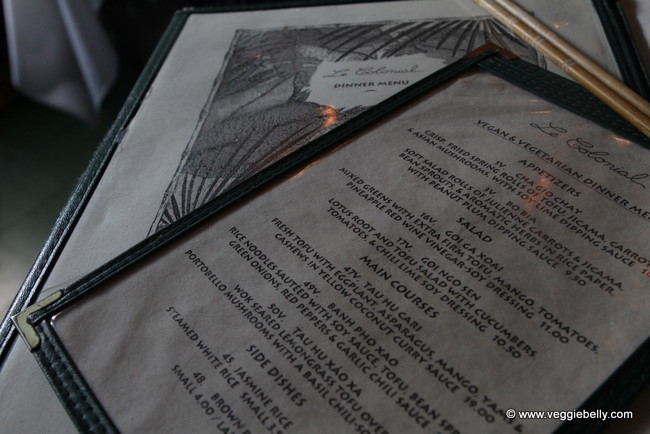 They had a whole vegan vegetarian menu, I was beyond thrilled!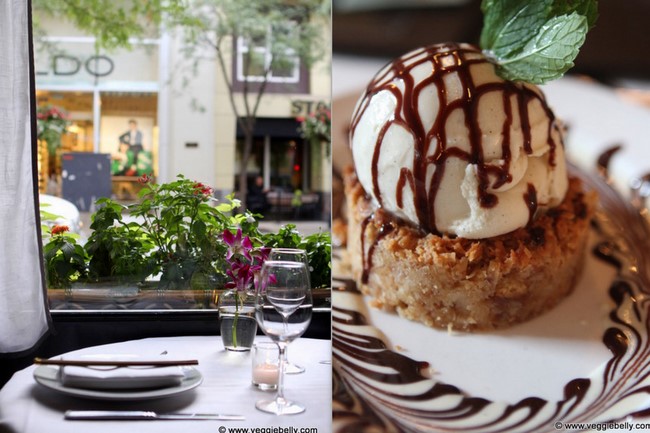 We ended this wonderful meal with a coconut macaron and vanilla ice cream.
I have never met a deep dish pizza I've liked. But I couldnt come to Chicago and not try a deep dish pizza pie. This Chicagoan delicacy in a very thick pizza with a ton of cheese, topped with another crust and then pizza sauce. Its sort of like an inside out pizza.
We ordered take out from the famous Giordanos pizza, because we were tired from a day of walking around and wanted to eat in our hotel room.
It was ok, and I dont see whats so famous about it. Maybe the pizza didnt taste as good because it was take out. But I didnt like the cheese, crust or the sauce. Besides it was too heavy. I prefer my thin crusts.
Making Vegetarian Meals on the Road – How I Prepared
As you can see, I've found some incredible places to eat all across America. But I don't want to live on outside food alone while I'm traveling, so I am also making myself fresh, simple meals on the road – need to keep that digestive system happy!
I could drive across this country and live on pizza and fries. But I'd be miserable if those were my only vegetarian food choices while traveling 3,000 miles. So I decided I should eat as much fresh, tasty vegetarian food as I can on this road trip. And sometimes that means making it myself.
There have been some places on this trip where the only vegetarian food I could get at local restaurants was a salad. There have been other times where I have driven 400 miles and stopped in the middle of nowhere, tired and starving. At these times, I was able to open up my cooler and easily make myself a quick, healthy vegetarian meal or snack.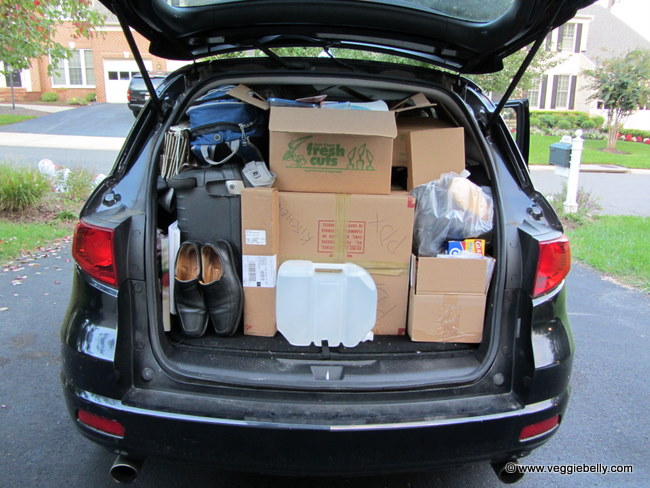 A few things that I packed:
- Cooler and some gel ice packs so I can store salad, baby spinach, fresh fruits etc. I'm so glad I did, because this cooler has come in very handy!
- Snacks and nuts (great on their own or in a salad made with cooler contents)
- Condiments and seasonings like sesame oil, pesto and Italian seasoning
- Soy sauce, red pepper flakes, salt and pepper packets all from take out. Their little size is perfect and far less messy than using a huge bottle of soy sauce in a rest area
- Couscous,  it cooks in no time and all you need is boiling water
- Rice noodles,  all it needs is a soaking in boiling water
- Instant rasam paste to satisfy that Indian food craving on the road
- A kettle so I can quickly make couscous, rice noodles or instant soup or rasam
- Disposable plates, cutlery, napkins
- A thermos for taking instant soup in the car
Salad Wrap – On the Road Snack Recipe
makes 1 wrap
We were driving in Ohio and stopped at a rest area where I quickly made a few of these wraps for a snack. We ate this along with some carrot and celery sticks, cheese cubes and pretzels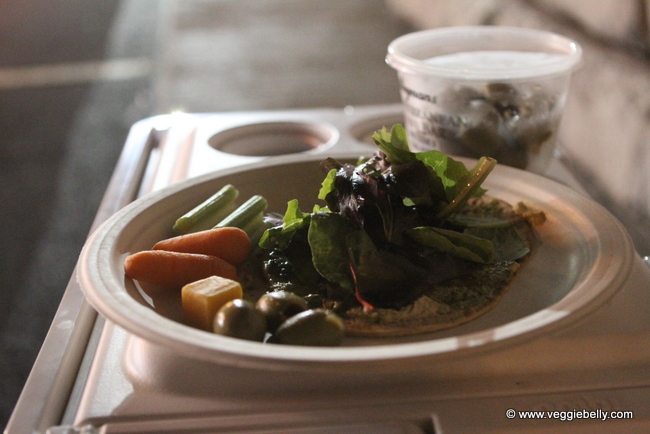 Ingredients
1 stone ground wheat wrap or tortilla
1-2 tablespoons hummus
1 tablespoon pesto
A few olives
2 hand fulls of salad leaves
Method
Spread the hummus and pesto on the wrap. Scatter some olives on top. Then add the salad leaves. Roll it up.
Comments
comments