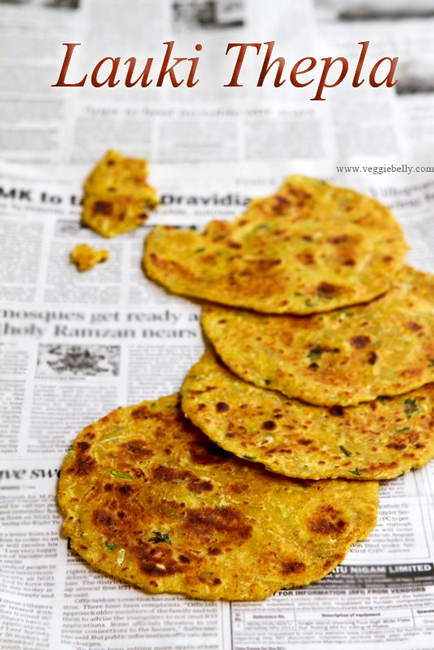 Theplas remind me of long train journeys in India. Because this spiced Indian flat bread keeps so well, it is perfect to take along for a trip. We wrap them in thin cloth towels and munch on them on our train as we watch the country side go by. Theplas are also ideal for picnics because they dont need refrigeration.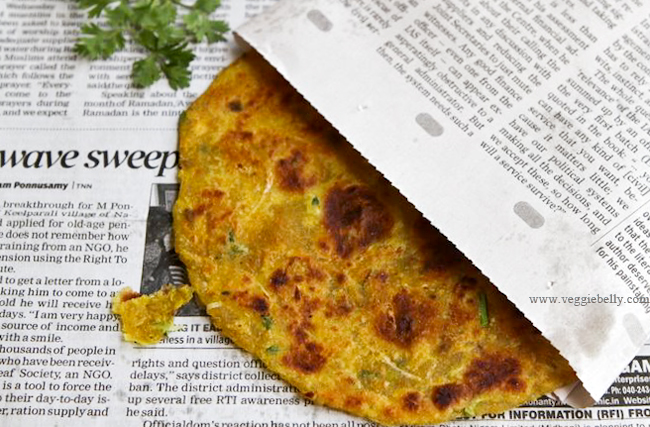 You can make theplas with or without oil. But the oil less ones wont keep as long. If you want to make theplas without oil, just put one on your skillet, and then press a bundle of cloth on it, dabbing it everywhere (see picture below). This will distribute the heat and cook the theplas evenly.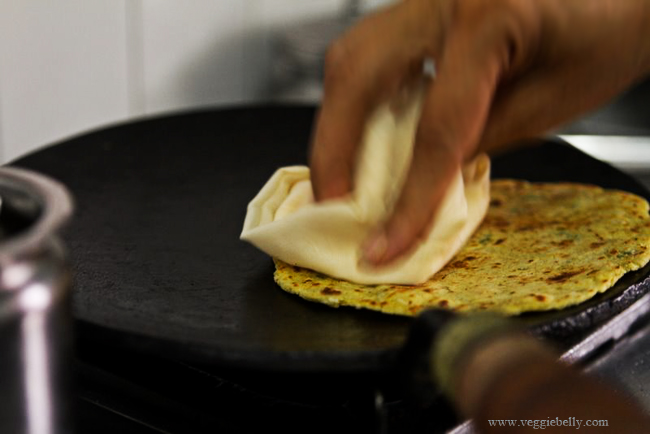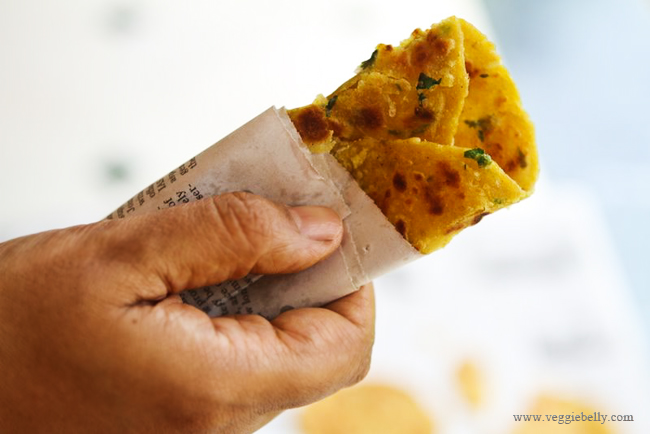 If youve never made thepla before, it might take a bit of practise to get the dough right. You will need to vary the amount of water you use depending on how much water content your lauki has. But in general you need very little water for this recipe – just a few sprinkling. The lauki will release enough water when kneading to make a nice, soft dough.
For a great variation on this lauki thepla recipe, add grated radish or fresh methi leaves to the dough. You will need to use a little more water when kneading if you use grated radish or fresh methi leaves.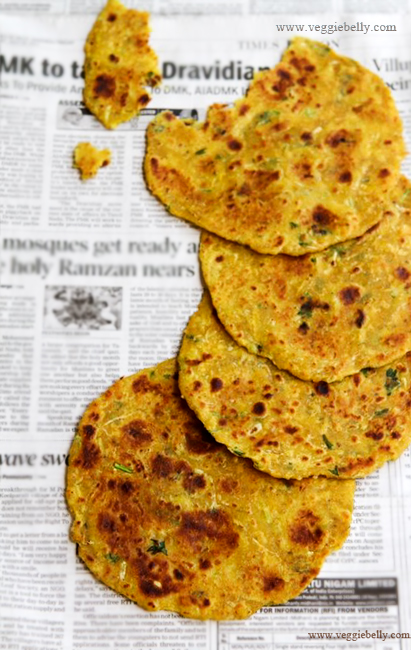 Lauki Thepla – Spiced Indian Flat Bread Recipe
makes 20 theplas
Ingredients
3 cups wheat flour (atta)
2 tablespoons vegetable oil
3/4 teaspoon or according to taste, salt
1/2 teaspoon turmeric powder
1/2 teaspoon ajwain (carom) seeds
1 teaspoon white sesame seeds
6 green chilis, or according to taste, ground into a paste
1/2 teaspoon ginger paste
1/2 teaspoon garlic paste
1 cup grated lauki (bottle gourd). Substitute with grated radish or fresh methi leaves
3 tablespoons yogurt
1/4 cup or more, chopped cilantro
a small bowl of water
Method
Place all ingredients except the water in a large bowl. Knead for about 1 minute. Sprinkle a little (about 1 tablespoon) water and knead 10 times. Sprinkle a little more water and knead again. Continue kneading and sprinkling water when needed till the dough is no longer sticky and has formed a soft ball. It should take approximately 5 minutes of kneading for the dough to reach this stage.
Remember: You may need to use a little more or less water depending on how 'watery' your lauki or bottle gourd is.
Roll out the thepla dough into a long log. Cut the log into 20 even pieces. Form each piece into a ball.
Place a ball of dough on a flat surface. Using a rolling pin, roll it out like you would a chapati. Sprinkle flour on the thepla as when needed so it doesn't stick.
Heat a heavy skillet, griddle or tava. Place the rolled out thepla on it. Cook till brown spots appear, about 45 seconds. Turn the thepla over, pour 1/4 teaspoon oil around it and let it cook till golden on both sides.
Repeat for all the dough.
Store Lauki Thepla in an air tight container for upto 1 week. It will also freeze well.

Print
Comments
comments