..a guest post by Radhika of Food for 7 Stages
I have been reading Radhika's mouth watering blog,  Food for 7 stages right since its inception. I am excited to invite her to guest blog today, because her recipe for aloo gobi (Indian potato and cauliflower curry) tart is ingenious. We usually eat al00 gobi with rotis, but radhika puts this classic curry on a puff pastry shell to make it a spicy, decadent meal.
And make sure you read my travel posts, about my vegetarian road trip across america part1 and part2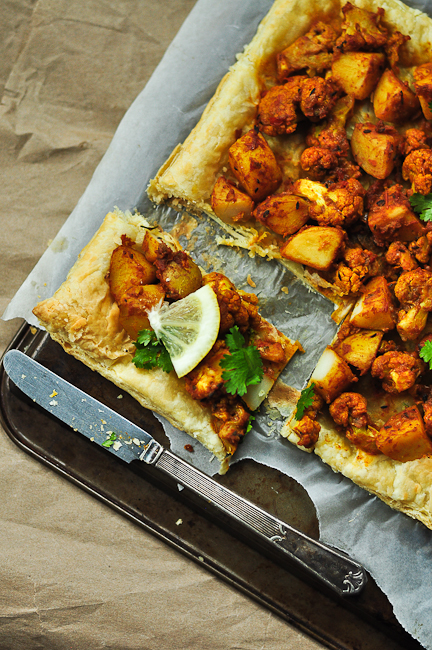 You need inspiration and then some motivation to pursue a task. When it comes to blogging I draw the inspiration from bloggers like Sala of Veggie Belly. Her eye candy pics, storytelling and her love for traveling makes me feel connected with her though I don't know her personally. But that is what a good blog and good blogger do to you.
When I came to know that Sala was looking for bloggers to guest post whilst she was traveling across the country, I immediately wrote to her. And she graciously accepted my request to guest post in her beautiful blog. Though it is hard to express my gratitude through words, I thank Sala wholeheartedly for giving me this opportunity to write this guest post in Veggie Belly.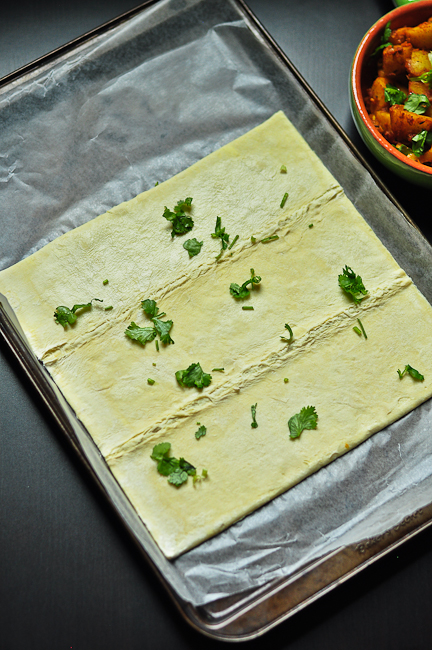 The tree in front of my home warned us well ahead of time about the changing season. Though I am happy to see those bright orange leaves am not really prepared to face the  aftermath. The thought of unpacking the long forgotten boxes filled with our jackets and winter clothes makes me nervous. I couldn't believe that one brutal winter can change my love for this season. However, I have to accept the fact and move forward. Before the temperature drops further I have to move all my plants indoor, paint our deck and rearrange my home. Sigh.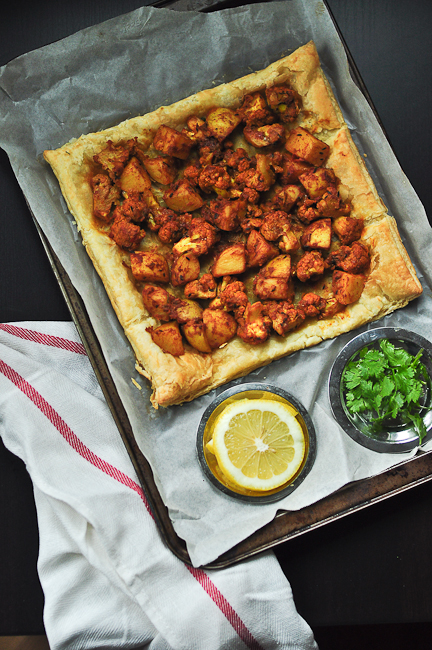 As there is always a blessing in disguise, it is the right time to turn on my oven and get started with baking again. The nip in the air made me crave for something hot yet spicy and I got reminded of the gluten free fusion tart I baked few months ago. Though I was not very happy with the tart crust as the sweetness of almond meal was overpowering the better half seemed to like it. And Aloo Gobhi tart it is. This time I wanted to whip up something real quick and I didn't have patience to make the tart crust from the scratch. Ding… The idea of using puff pastry popped in my mind and viola I had a delicious savory tart to share it with you all. Flaky buttery crust forms a perfect base for this spiced Aloo Gobhi Masala and I would never think of using another crust recipe. Yumm.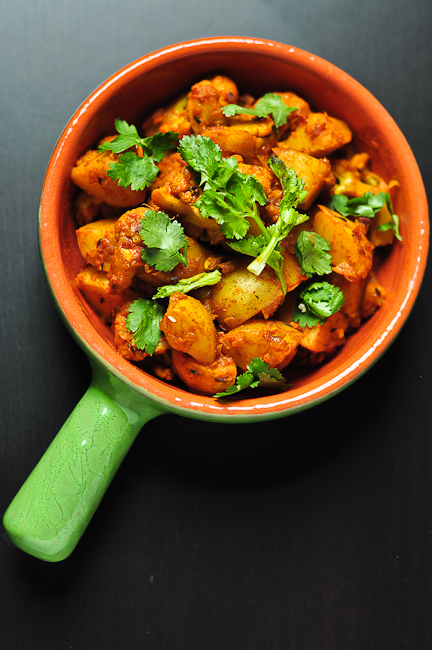 There are very few vegetables that marry well with each other. Cauliflower (Gobi) and Potatoes (Aloo) are the right candidates for this perfect marriage. When these two vegetables are blended together with the right spices they create wonders and Aloo Gobhi is one such popular dish from India. The very thought of combining this popular curry with flaky puff pastry makes me weak at the knees. If you are a savory lover like me, go ahead and make this Aloo Gobi tart. I am sure you will enjoy this fusion savory tart as much as my family did.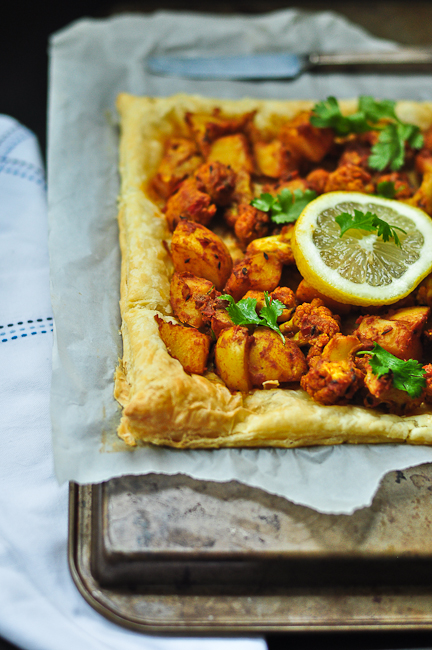 Aloo Gobi Tart Recipe
serves 2-3
Ingredients
2 cup Cauliflower florets
2 Potatoes (medium size)
1/2 teaspoon finely chopped ginger
1/2 cup finely chopped Onion
1/4 cup finely chopped Tomato
3 teaspoon Canola Oil (or any cooking oil)
1/4 teaspoon Cumin Seeds / Jeera
2 Cardamon pods
1/4 teaspoon Turmeric Powder
1/2 teaspoon Chili Powder
1/2 teaspoon Kashmiri Chili Powder or red chili powder
1/2 teaspoon Cumin Powder
1/2 teaspoon Coriander Powder
1/4 teaspoon Garam masala
2 teaspoon Yogurt
2 cup + 4 teaspoon Water
Salt to taste
1 Puff Pastry Sheet (preferably Pepperidge farm), substitute with home made or store bought pie crust
1/4 tablespoon Butter (Optional)
2 tsp Dried fenugreek leaves / Kasuri Methi (Optional)
Method
 Preheat oven to 400 F.
Line a baking tray with wax/parchment paper or foil. Brush it with butter/oil. Place 1 frozen puff pastry sheet on it and allow it to thaw.
Wash cauliflower florets. In a sauce pan, add 2 cup of water, 1/2 tsp salt. Bring it to boil. Turn off and add the cauliflower florets. Let it stand for couple of minutes. This step will cleanse the cauliflower.
In another sauce pan, boil Potatoes until it is 95% cooked (fork tender). I prefer to steam the potatoes. I cut them into equal size chunks and put it in my steamer for 5-6 minutes.
In a wok/kadai, add oil. When it is hot add cumin seeds and allow it to sizzle. Add cardamon, finely chopped ginger. Add onion. Saute until it turns translucent, for 2-3 minutes on medium flame.
Then add tomato, 1/2 tsp salt and saute for another 3 minutes or until it becomes mushy. Add turmeric powder, chili powder, kashmiri chili powder, saute. Add 2-4 tsp water to prevent it from sticking.
Add cumin powder, coriander powder and saute. Add 2 tsp yogurt, potato and cauliflower. Mix well. Adjust salt as per taste.
Then add garam masala, mix and close the kadai with a lid and let it simmer for couple of minutes. This will allow the flavors to marry well. Do not forget to stir in between to avoid sticking to the pan.
Open the lid, if there is any liquid left cook for couple of minutes until the water evaporates. Turn off and allow it to cool.
Place the baking tray in oven and bake the puff pastry sheet for 10 minutes. Remove it from the oven and reduce the temperature to 350 F.
Spread the Aloo Gobhi Masala on the tart. Add few swirls of butter and bake for another 10-15 minutes.
Serve it hot.
Comments
comments