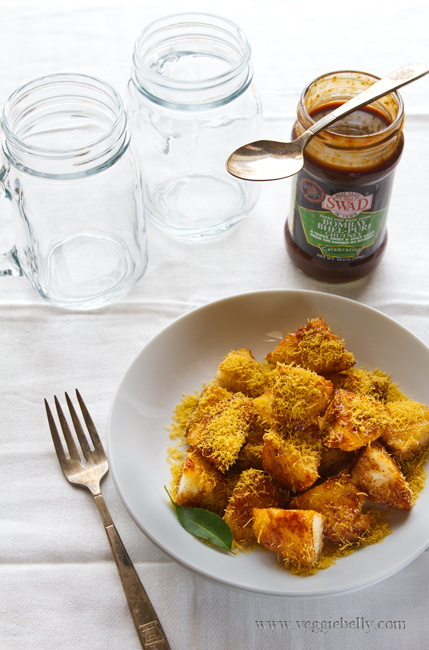 I don't fry foods very often. But when I do, I make sure its damn good – like this Indian street food inspired idli chaat. This Idli chaat recipe turns fried idlis into a crispy on the outside, fluffy on the inside, sweet and tangy snack.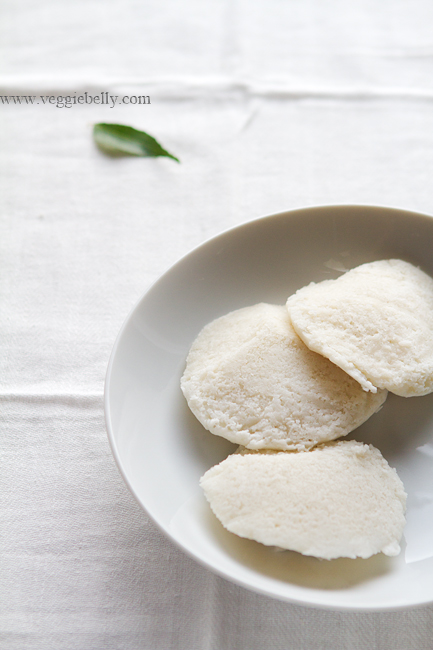 An idli is a fluffy, steamed rice cake from India. It is a common breakfast item in South India. Chaat is the umbrella name for Indian street food.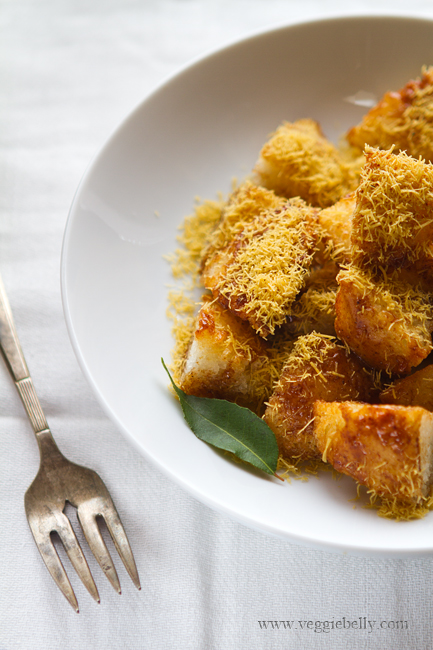 This idli chaat recipe is best made with left over idlis. Don't use fresh idlis, they will get too oily. If you must use freshly made idlis, leave them out for a few hours so that they are thoroughly cool and dry before using.
It is important to use medium-high heat when frying idlis. If your oil is not hot enough, the idlis will absorb too much oil and get soggy. So use medium-high heat and fry the idlis till they are lightly golden.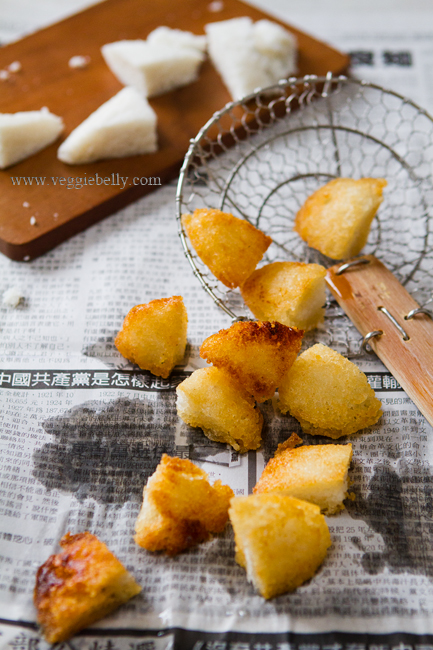 I'm giving you the bare bones version of this recipe – fried idlis tossed with tamarind (imli) chutney and sprinkled with sev (fried chickpea flour noodles). You can vary this recipe however you like by adding your favorite chaat garnishes. See the recipe below for suggestions.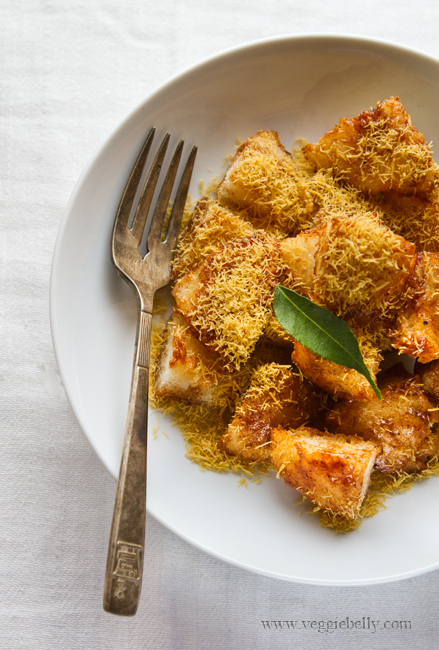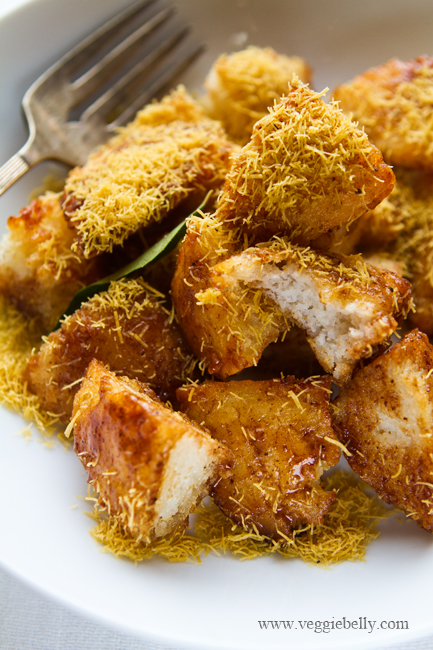 For a variation on this recipe try using cooked polenta. The kind that comes pre-cooked in a tube shaped package is best. Just cut it into discs, and shallow fry.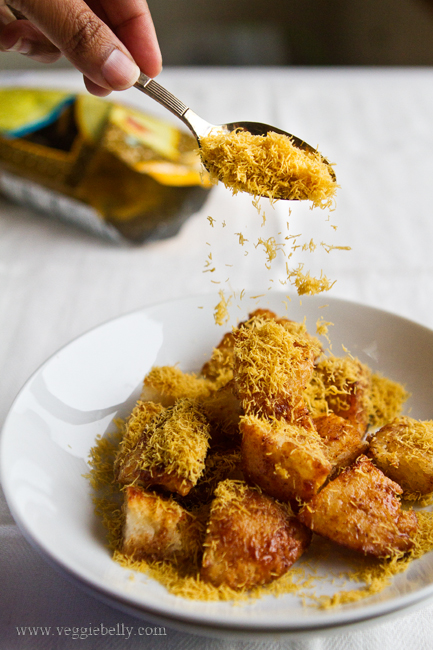 Idli Chaat Recipe
serves about 2
Ingredients
5 regular sized idlis*
vegetable oil for frying
Salt
2 tablespoons tamarind date chutney or tamarind sauce for chaat, available at Indian stores
2 tablespoons sev, available at Indian stores
*Left over idlis are best. Dont use freshly made idlis, they will get soggy. If you must use fresh idlis, cool them thoroughly before using. Idlis are available frozen in Indian stores.
Method
Quarter the idlis.
Pour enough oil in a heavy bottom or non stick skillet to coat the bottom. Shallow fry the idlis on medium high heat till one side is lightly golden. Gently flip the idli pieces and cook till the other sides is golden.
Make sure the oil is hot enough. When you put the idlis in the oil, they must immediately sizzle. If they dont, your oil is not hot enough and the idlis will become too oily. The trick to frying idlis so that they are crisp and golden on the outside, but fluffy on the inside is to use hot oil and fry them quickly.
Drain idlis on several layers of paper towels. Dab the fried idlis gently to take out the oil.
Sprinkle salt over the hot idlis.
Place them in a bowl, add the tamarind chutney and toss gently.
Arrange the idli chat on a serving dish and sprinkle sev on top. If you wish, also use a few of the below garnishes.
Optional garnishes
A sprinkle of chaat masala
Chopped cilantro
Chopped mint
Pomegranate seeds
Chopped tomatoes
Chopped red onion
Chopped cucumber
Roasted peanuts
************************************************************************************* 
A chance to win THREE complete Indian Recipe Kits from Veena's Market!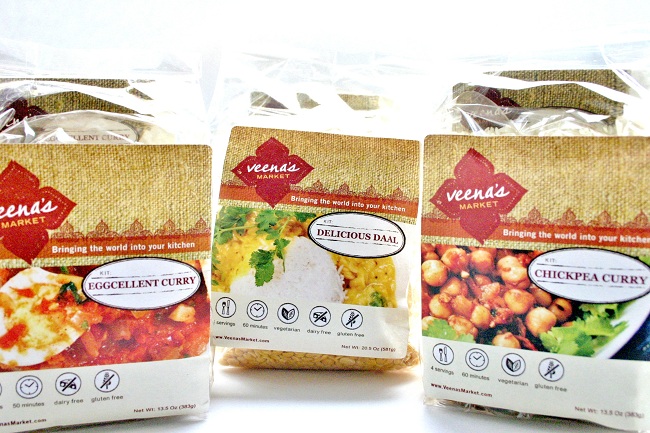 Kits include all the spices, rice, and recipe instructions. Veena's Market starts with the best quality spices, organic where available, and hand crafts each blend. The rice is certified Basmati rice from the foothills of the Himalayas.
The kits include the whole and blended spices, rice and a tested recipe. Since you get all the difficult-to-find ingredients, all you have to buy from your neighborhood grocery store or farmer's market are the vegetables and other easy-to-find ingredients.
One randomly picked lucky winner will receive three Indian recipe kits from Veena's Market - Eggcellent Curry, Delicious Daal and Chickpea Curry.
How to enter the giveaway
'Like' Veggie Belly on Facebook
Follow me on Twitter
Subscribe to my RSS feed
Do one or more of the above. Then come back here, post a comment and let me know that you have.
If you are already following me through facebook, twitter or RSS feed, just leave a comment telling me so and you are entered in the giveaway!
Giveaway ends Monday, November 21st 2011, 9pm PST.  One random winner will be picked. US residents only.
Comments
comments