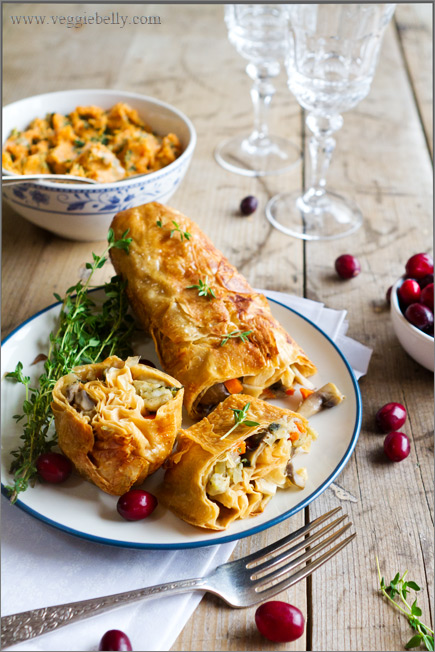 I wanted to come up with a vegetarian thanksgiving recipe this year that can be a beautiful centerpiece on the vegetarian thanksgiving table. Just because you are vegetarian doesnt mean you are doomed to eat a bunch of sides (or tofurky..ugh!) on thanksgiving day. Make this tofu skin roulade with sage mushroom stuffing a day ahead and reheat it by steaming it for 10 minutes or so.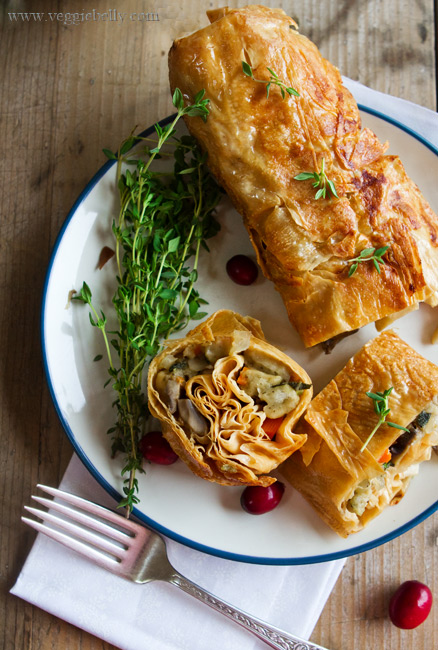 The tofu skin forms a golden exterior with great texture, and the stuffing inside is moist and mushroomy. Your very own, home made vegetarian tofurky for thanksgiving!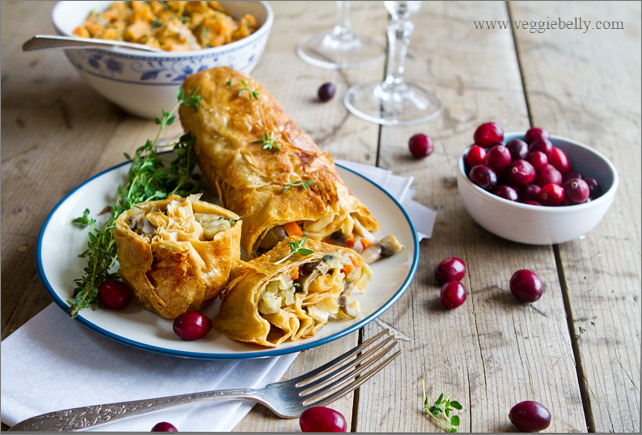 You will generally find tofu skin in Chinese restaurants, it is usually braised or stewed in a sauce.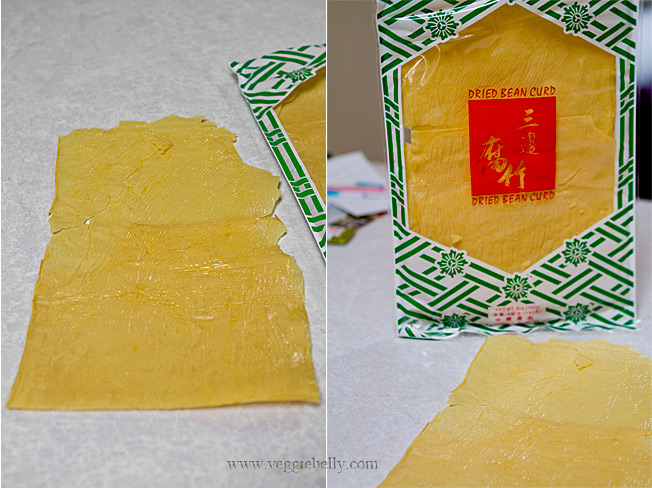 Tofu skin, also called beancurd skin or yuba is the skin that forms when simmering a pot of soy milk. It comes dried or frozen and is available in Asian stores. If using dried tofu skin or yuba, reconstitute it in hot water. If using frozen, simply defrost it for this recipe.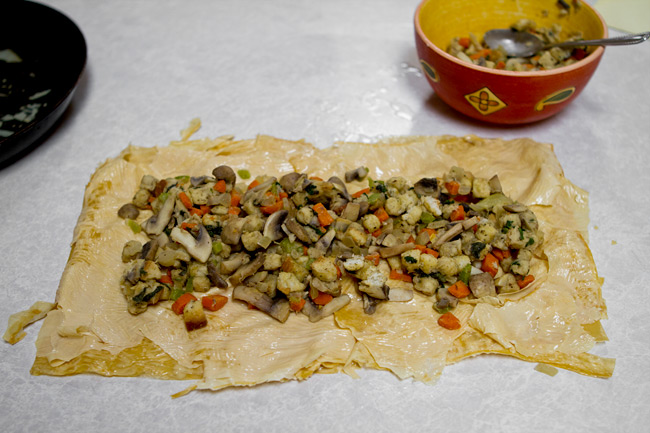 Tofu skin may look delicate, but it actually holds up very well to stuffing, rolling and steaming (which is what this recipe involves). If you cant find tofu skin or yuba, try making this recipe with seitan. See this recipe from the vegetarian times for seitan roulade or this recipe by vegan yumyum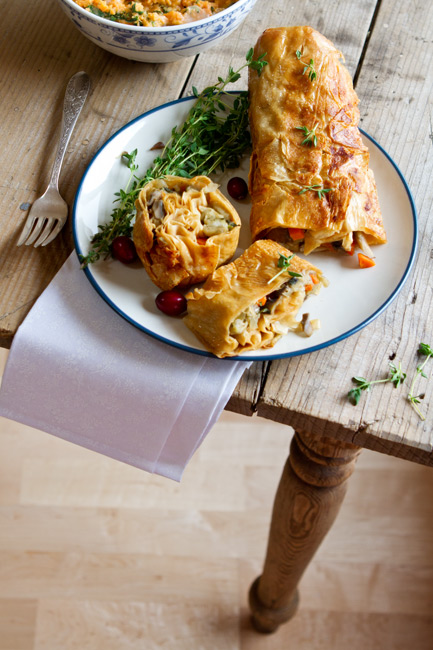 Serve this tofu skin roulade with sage mushroom stuffing, along with my red wine gravy, kale and goats cheese mashed sweet potato (recipe coming up next!), and steamed green beans or brussels sprouts.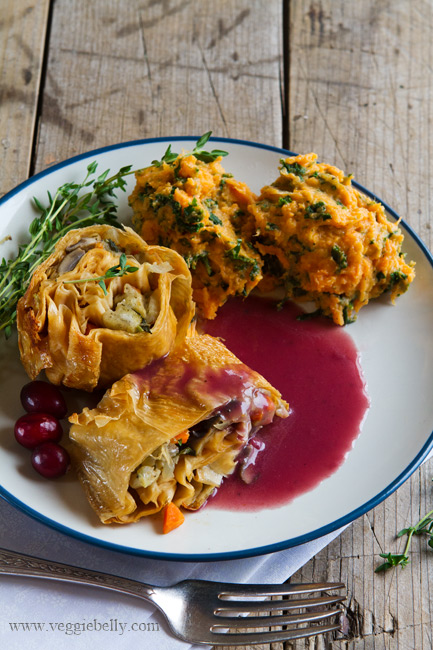 Tofu Skin Roulade with Sage Mushroom Stuffing
serves 2-3, with some left over stuffing to serve on the side.

Ingredients
three 9×12 inch sheets of dried or frozen tofu skin, also called yuba
1 tablespoon butter
1/4 cup diced onion
1/4 cup diced carrots
1/4 cup diced celery
6 large button mushrooms, chopped
1/2 tablespoon chopped fresh sage
2 sprigs of thyme
1/4 cup vegetable stock
1 cup store bought stuffing. I like pepperidge farm.
Method
If using frozen tofu skin or yuba, let it defrost before using. If you are using dried tofu skin or yuba, boil a large pot of water, turn off the heat, and put the tofu skins in the water. Let them soak for 15 minutes. Then gently pull them out of the water, letting all the excess water drip away.
Lightly oil a clean work surface, so that the tofu skins dont stick.
Lay 3 sheets of tofu skin, one on top of the other, so that their longest side is closest to you. If the tofu skins tear a little, dont worry, just patch them up.
Now work on the stuffing.
Heat butter in a skillet, add onion, carrot and celery and cook on medium heat till the onions are soft. Then add mushrooms, saute till the mushrooms are cooked, about 3 minutes. Add the sage and thyme, stir.
Add the stock and bring to a boil. Turn off heat, and stir in stuffing. Toss everything till the stuffing is mixed well, and absorbs all the stock.
Now put the stuffing on the tofu skin layers, leaving a 1/2 inch border (see photo above). You dont have to use all the stuffing if it doesnt fit. Its ok if the stuffing is a little dry, it will moisten up when you steam the roulade.
Gently fold over the right and left sides of the tofu skins. Then pick up the longer side closest to you, and roll away from you. Keep the right and left sides tucked in as you roll away from you. Roll gently but firmly.
Place the roulade on a sheet of aluminum foil. wrap the foil around the roulade to make a log. Twist the ends closed. Repeat this with a second layer of foil.
Now the roulade is ready to steam.
Heat water in a large pot. Place a colander over the pot. Its brim must fit over the pot, but make sure the bottom of the colander doesnt touch the water.
Steaming method 1 – Put the roulade log into the colander, and cover with a lid. Bring the water to a boil, and steam on medium high heat for 1 hour or till the tofu skin is soft. Add more water to the pot as and when necessary.
Steaming method 2 - steam the roulade in a bamboo steamer. Steam till the tofu ski is tender, about 1 hour.
Steaming method 3 – this is what I used. take a skillet large enough to hold the roulade, pour 1/2 to 1 cup water in it. Bring to a boil. Place the roulade in the skillet. Cover it. Reduce heat to medium-high, and let the roulade steam, adding more water as it evaporates. Steam till the tofu skin is tender and no longer rubbery, about 1 hour.
When the roulade has steamed, removed it from the colander, and let it cool a little.
Then removed the foil wrapping.
Heat 1 teaspoon olive oil or butter in a non stick skillet. Carefully place the roulade on the skillet and sear all sides of the roulade till they are lightly golden.
Serve with red wine gravy, and kale and goats cheese mashed sweet potatoes.
Red Wine Gravy
serves about 4
Ingredients
1 cup red wine
1 cup vegetable stock
1 tablespoon flour
1 sprig of thyme, optional
1 tablespoon butter
Salt, pepper
Method
Whisk the wine, stock and flour together. Make sure there are no lumps. Add the thyme sprig. Pour into a sauce pan and simmer till the sauce has reduced to half its original volume. Whisk in the butter, salt and pepper. Strain and serve with tofu skin roulade.
Comments
comments