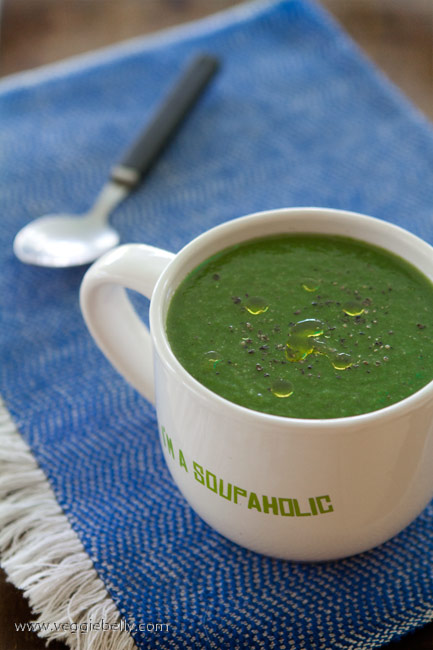 This easy spinach and mushroom soup makes me feel good that I'm eating my vegetables. It's packed with lots of fresh spinach and the great umami flavor of mushrooms. I allow myself a little butter in this recipe; but you can use olive oil instead and make it a vegan soup.
When I make pureed spinach dishes like this soup or palak paneer (Indian spinach curry with cheese), I like my spinach to remain green. But cooking spinach will turn it a dark color. The solution is easy. Add a pinch of baking soda when cooking spinach in water – it will help retain its green color. And don't overcook the spinach.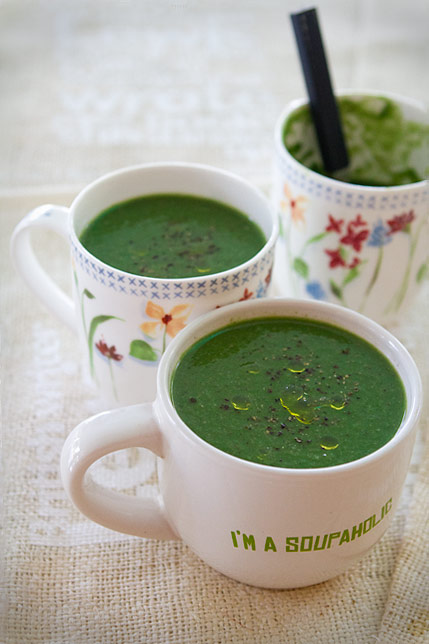 Spinach Mushroom Soup Recipe
Serves about 3
Ingredients
2 tablespoons butter
1/4 cup chopped onions
3 garlic cloves, peeled
1 cup peeled, diced potatoes
3 cups tightly packed fresh, tender spinach leaves
½ teaspoon dried oregano
A pinch of baking soda, optional
10 large button mushroom caps
Salt & freshly ground black pepper
Method
Heat a medium, heavy bottom sauce pan with the butter. Add onions, and sauté on medium heat till translucent.  Add the garlic cloves and cook 30 seconds or till the garlic is fragrant.
Add the mushrooms and sauté on medium heat till they brown a little, about 5 minutes. Then add the potatoes, a pinch of salt and 4 cups water. Bring to a boil. Then reduce heat and simmer till the potato cubes are cooked.
Add washed spinach leaves, oregano and salt to the pot (keeping mind you've already added a little salt to the soup in the previous stage). Immediately add a pinch of baking soda to the spinach; this will keep the spinach green when cooking; but this step is optional.
Boil for about 1 minute or till the spinach is wilted.
Turn off the heat. Using a hand/immersion blender, puree the soup till smooth. If you don't have an immersion blender, pour the soup into a regular blender and carefully puree. If the soup is too thick, add ½ cup water and blend again.
Serve warm, with a sprinkle of freshly ground black pepper.
Comments
comments