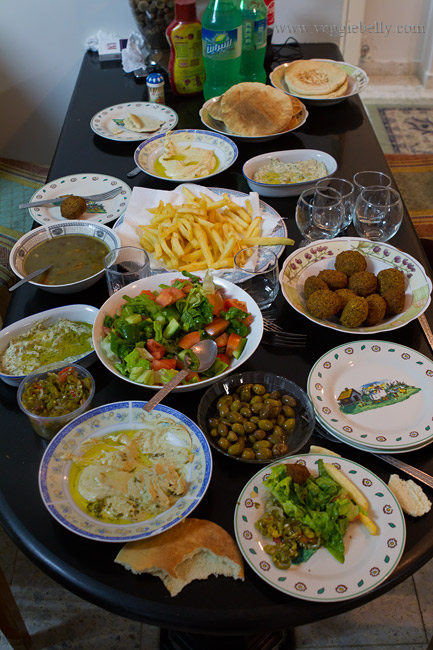 My first vegetarian meal in Bethlehem – dinner at Laila's house.
After a delicious and fun few days in Jerusalem, I headed to Bethlehem for Christmas. (Yes, I am that late with this post, but I've finally found the time to write it up!). In Jerusalem, I was already giddy with excitement that I was journeying through the holiest of lands. And spending Christmas with a Palestinian family in Bethlehem just made the trip even more special. I am so grateful and feel incredibly lucky that I could spend Christmas right in the very place where Jesus was born.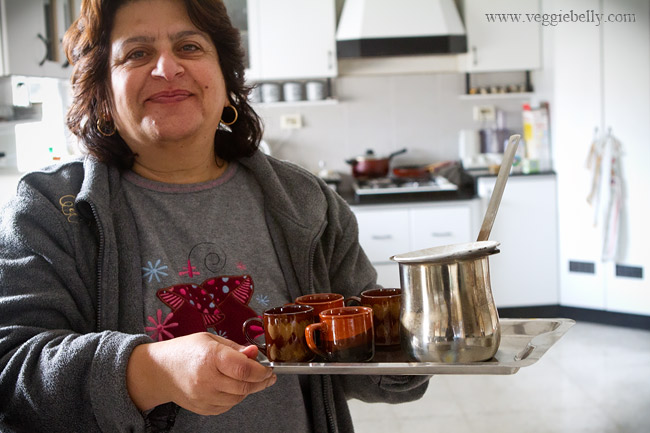 Laila showed me how to make Arabic coffee.
My home stay with Laila's family was arranged through the Holy Land Trust – an organization that has community outreach and non violence programs in Bethlehem. They also arrange home stays for foreigners – a great way to learn and see for yourself how locals live in Bethlehem. I told Holy Land Trust in advance that I was vegetarian, and they said that would be no problem at all. Laila cooked meatless food especially for me, and her whole family only ate the vegetarian food for the two days I was with them!
Laila, a mother of two sons and two daughters, and a grandmother of three, was a kind and hospitable woman. She patiently taught me how to make some of her simple, Arabic food. Recipes coming soon!
I walked into Laila's house in Bethlehem on a cold and drizzly Christmas eve. Her family greeted me warmly and with a lot of questions about India and the US. Do you know Amitabh Bachchan? How big is your house in America? What do they eat in India? Does your husband allow you to travel alone? Over fresh mint tea, I answered their questions about my culture and asked them questions about theirs. I knew right away this was going to be a memorable trip.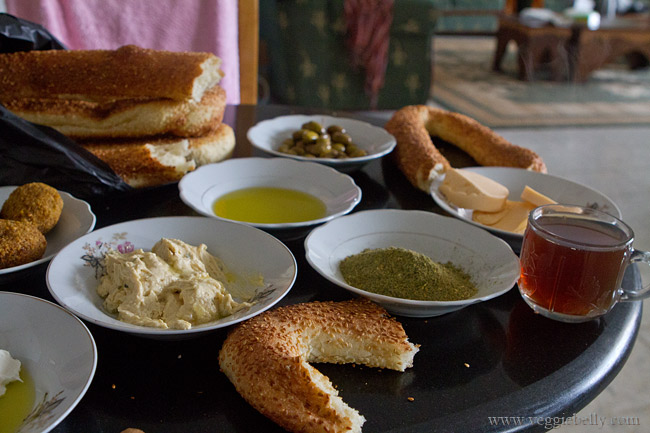 Dinner at Laila's house consisted of an elaborate spread of Falafels, soft pita bread, hummus, fries, salad, moutabel (and eggplant dip like babaganoush), and olives. There was only one rule at the dinner table – eat with gusto.
The next morning, Laila served eggs, and more amazing bread. I discovered Kaik that day – an oblong, chewy bread with sesame on top. It was perfect with the Arabic cheeses Laila served that morning! To top it all off, breakfast ended with Arabic coffee – strong, muddy and fragrant.
Next, I went off to explore Bethlehem. Here are some photos.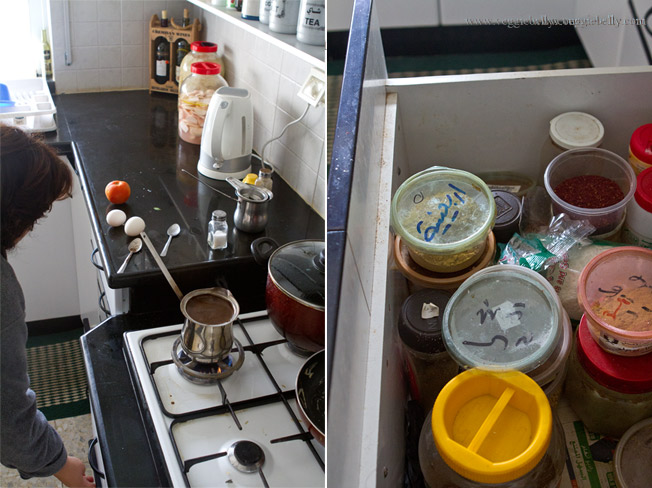 My hosts' kitchen in Bethlehem. Left – brewing Arabic coffee. Right – sumac, zaatar and other spices.
Scenes from Bethlehem at Christmas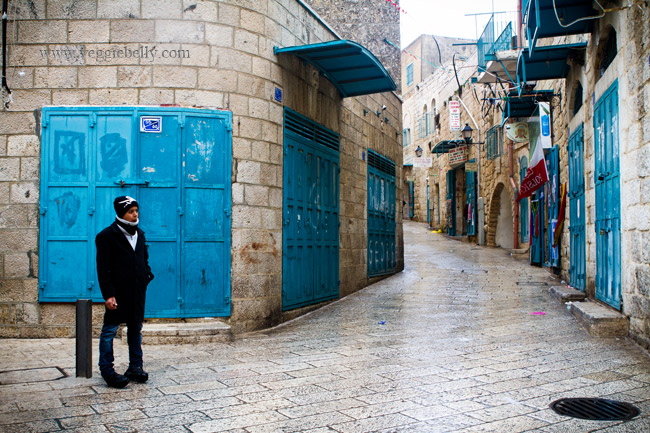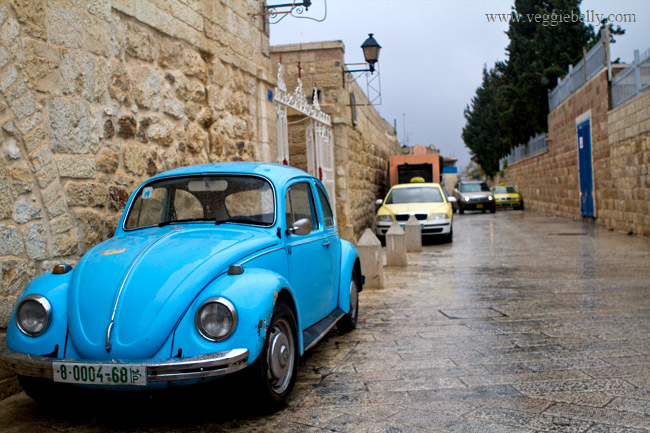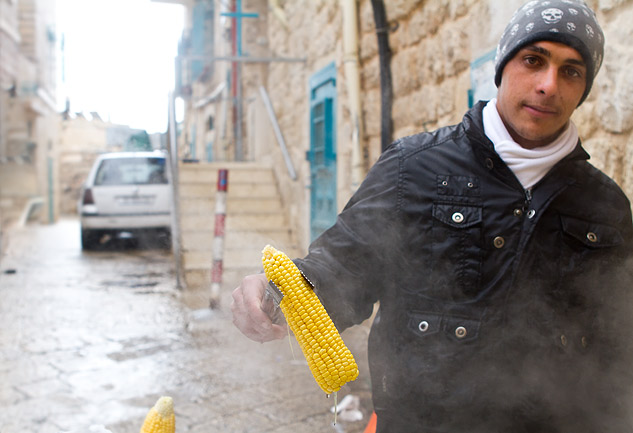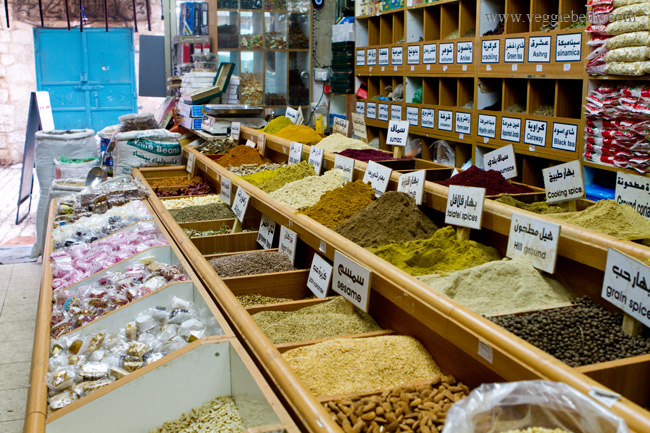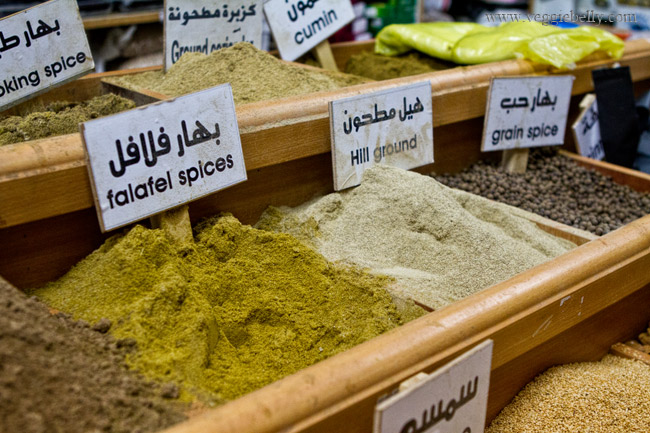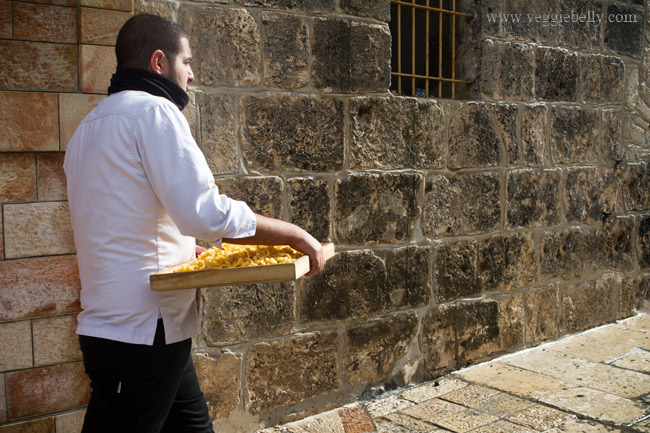 Pasta from the Franciscan Monastery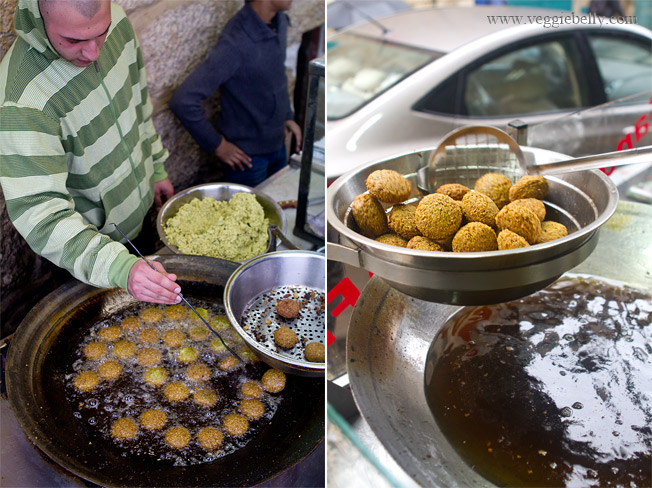 There were falafels being fried everywhere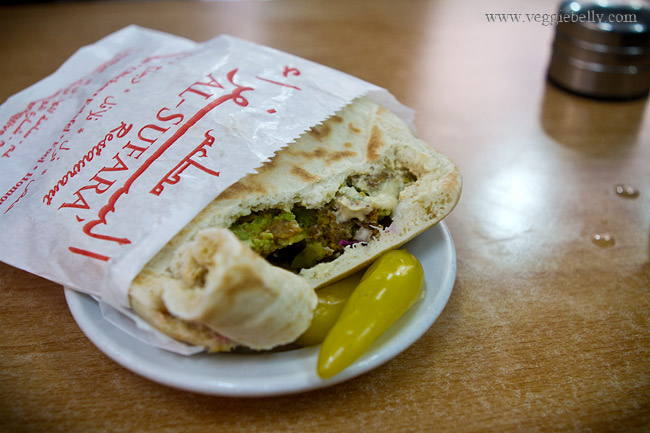 If you are in Bethlehem, grab a falafel  sandwich at Al Sufara – delicious! And the owner gives tourists free dessert!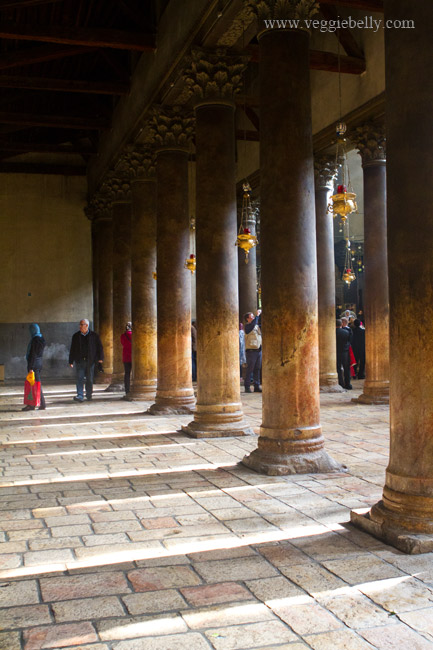 Church of Nativity, the spot where Jesus is said to have been born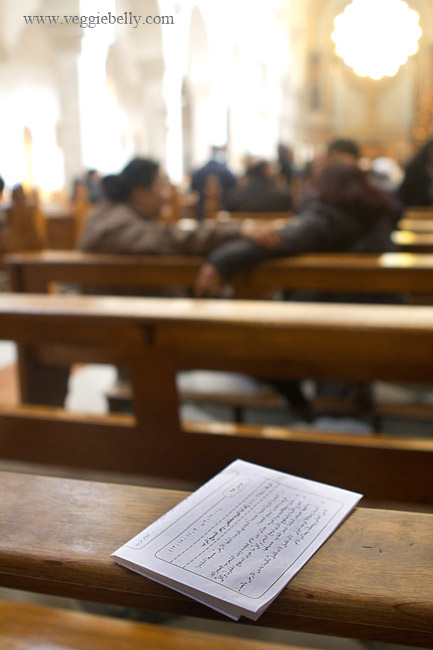 Prayers printed in Arabic at the Church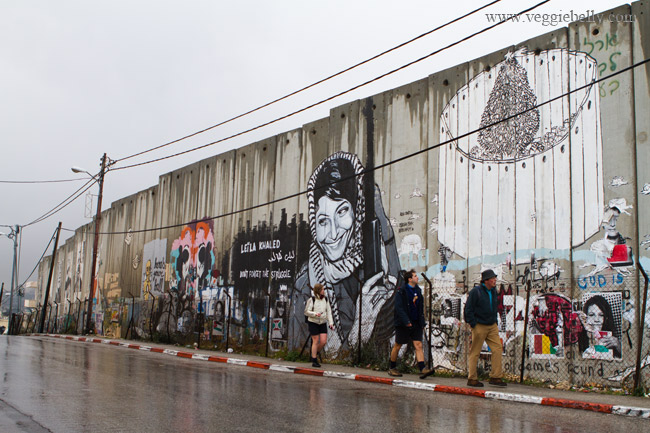 The 'security wall' in Bethlehem. Massive stretches of this wall cut off the West Bank from Israel. The Israelis I met said bombings have decreased since the wall was built and they feel safer. The Palestinians I met say they are prisoners in their own land because of the wall. I had to go through multiple check points to get from Israel to the West Bank. Its a short distance, but takes a long time because of the vehicle searches and passport checks by the soldiers. But despite the wall, the heavy military presence, and the politics, I felt generally safe in Bethlehem.
Bethlehem was an incredible, eye opening experience. Finding vegetarian food was no problem at all. I had plenty of fresh salad, bread, hummus, falafel, nuts and dessert. Laila also made me interesting vegetarian Arabic food. She made rice and vermicelli with nutmeg, a simple peas and carrot dish that she served with smoky shrak (thin bread), and a lovely lentil soup with cumin.
More Photos of Jerusalem
I've already written about my Jerusalem experiences in my post, 'The best hummus I've ever had and other stories from Jerusalem'. Make sure you read that post! Here are more photos from Jerusalem.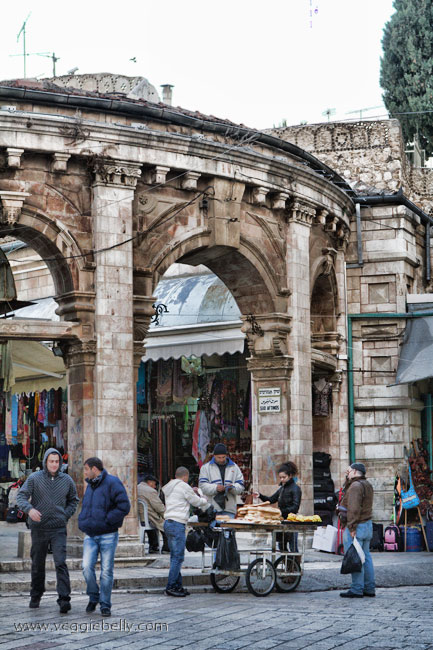 Bagel cart near Jaffa Gate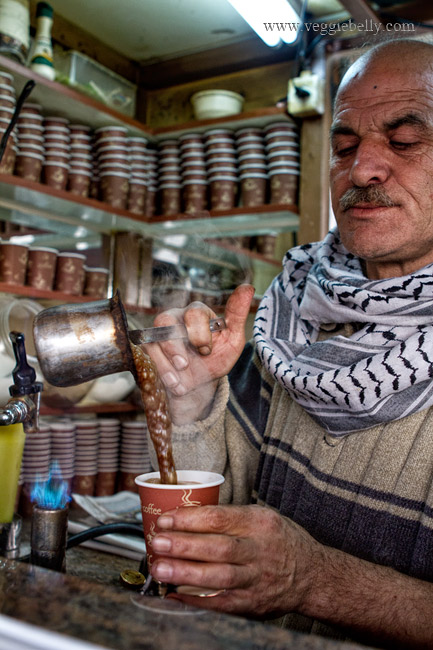 Arabic coffee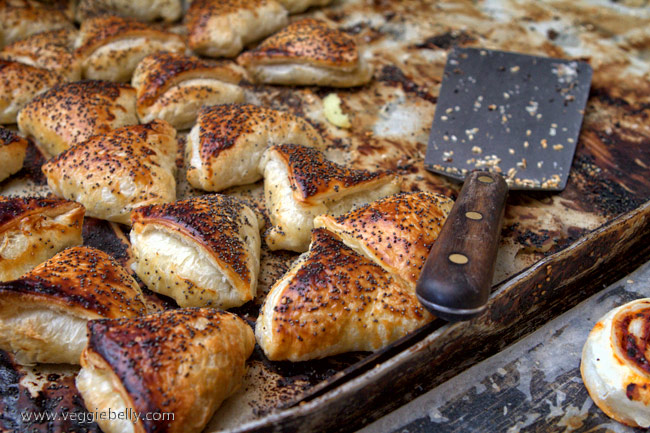 Cheese filled pastries at Mahane Yehuda market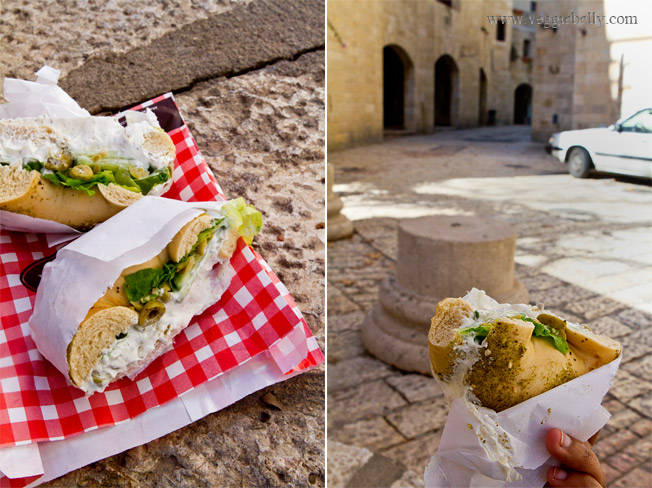 Loved the bagels in Israel! This one was a zaatar (yummy spice mix of sesame, sumac, hyssop or thyme) bagel with lettuce, cucumbers, olives, mushrooms, sweet corn and some kind of cream cheese. Israeli bagels were less dense and more moist that American bagels, which makes them perfect for bagel sandwiches.
Stay tuned for more posts from my Middle East trip, and some great recipes I learned there!
Comments
comments