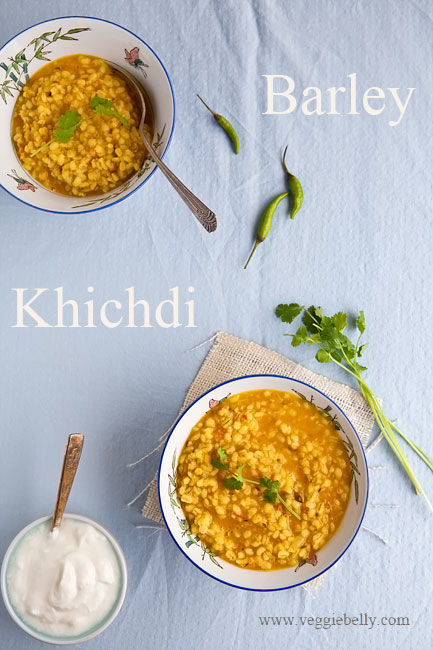 When I want a quick, comforting meal with no fuss, I turn to this barley khichdi. A traditional Indian khichdi is made with rice, moong dal (yellow mung beans) and turmeric and is cooked to a risotto like consistency. I use barley instead of the rice to create a curried Indian barley khichdi. This vegetarian barley khichdi is tasty, easy to make and will please the whole family! Plus, you can easily cut out the ghee and use oil instead to make this khichdi vegan.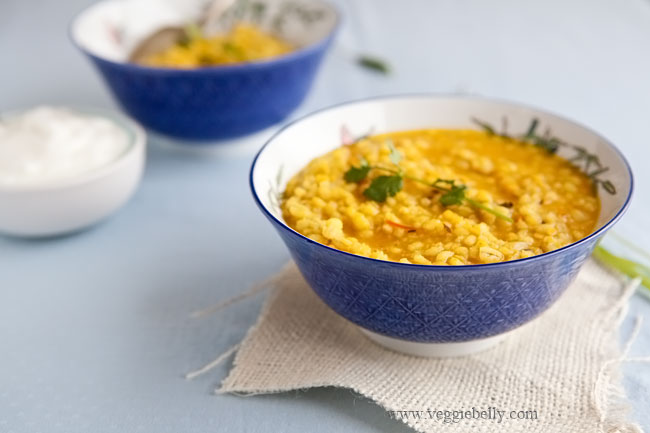 I recommend you use pearl barley in this recipe. Pearl barley cooks quicker than the non-pearled kind.  What's the difference between pearl barley and hulled un-pearl barley? Hulled barley has its outer husk on, so it takes longer to cook. Pearl barley has its outer husk removed, therefore it cooks quicker. If you use hulled barley for this recipe keep in mind you will need to give it more time and water to cook.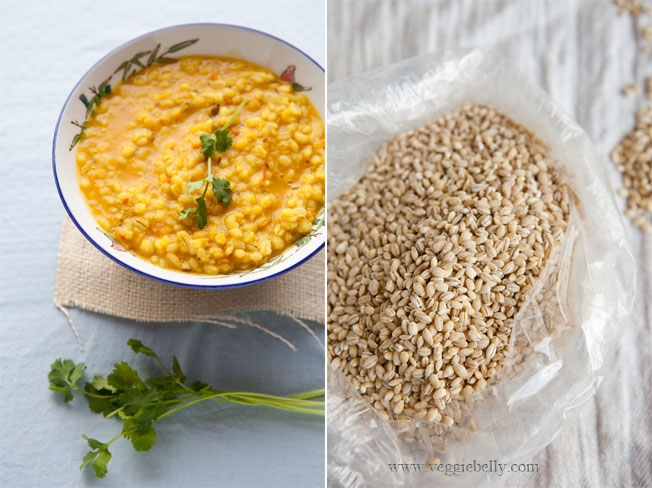 Add a handful of frozen mixed vegetables or a little cubed carrot and some peas if you wish. Also use less dal, according to your preference.  This is a very forgiving recipe. If you have a pressure cooker, feel free to cook this in a pressure cooker.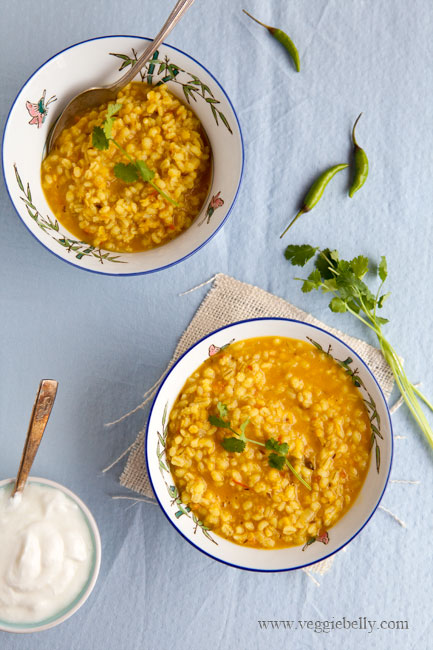 Barley Khichdi Recipe
serves about 2
Ingredients
1 1/2 tablespoons butter or ghee
¼ teaspoon cumin seeds
1/8 teaspoon asafetida, optional
1 green chili, slit. Optional
½ onion, minced
1 small tomato, chopped finely
¼ teaspoon turmeric powder
½ cup pearled barley
¼ scant cup yellow moong dal. Substitute with masoor dal
A squeeze of lemon, optional
Chopped cilantro for garnish
Method
1. Heat ghee in a medium sauce pan. Add the cumin seeds. When they sizzle, add asafetida and green chili. Stir for 30 seconds.
2. Then add onions. Sautee on medium heat till the onions are soft (don't let them brown).
3. Add the tomatoes, and cook till they are soft.
4. Add turmeric, barley and moon dal. Stir for a few seconds.
5. Add 3 cups of water and salt.
6. Bring the water to a boil. Then reduce heat to low, put a lid on the pan, and let it simmer till the barley is cooked. I like the barley to have a little bite to it, so I cook it for about 20 minutes.  If you want the barley to be softer, cook it longer. During cooking, if the khichdi dries up, add water as needed, 1/2 cup at a time.
7. Taste the khichdi and adjust salt if needed. Turn off heat, and add a squeeze of lemon, if using. (Taste the khichdi first before adding lemon juice. If the tomatoes are tart enough you may not need the lemon. This is by no means a lemony dish.)
Serve hot with garnished with cilantro and yogurt on the side.
Comments
comments