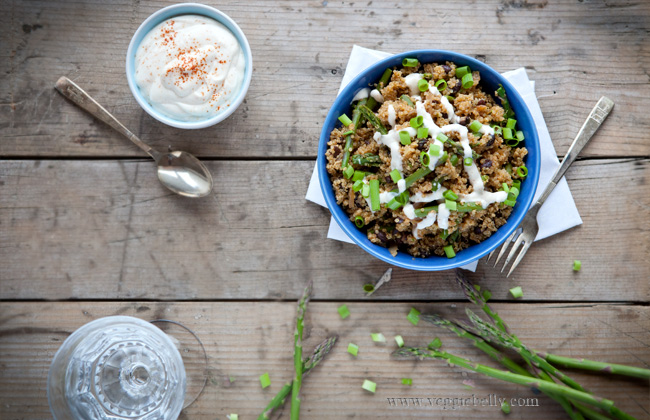 Who doesnt love an easy, healthy quinoa salad! This spicy quinoa, black bean and asparagus recipe is a variation to quinoa salad. Its served veggie bowl style, with toppings of your choice and a dollop of sour cream.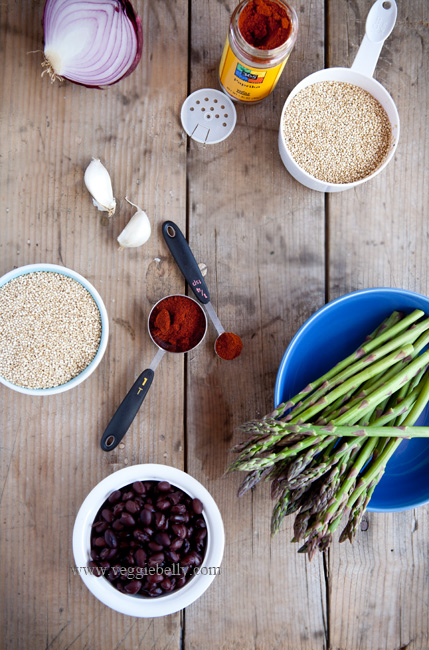 You can use pinto beans or chickpeas instead of the black beans if you like. The recipe says 1-2 chipotle peppers; use them according to your taste. For an extra spicy kick, I also add some paprika, but its totally optional.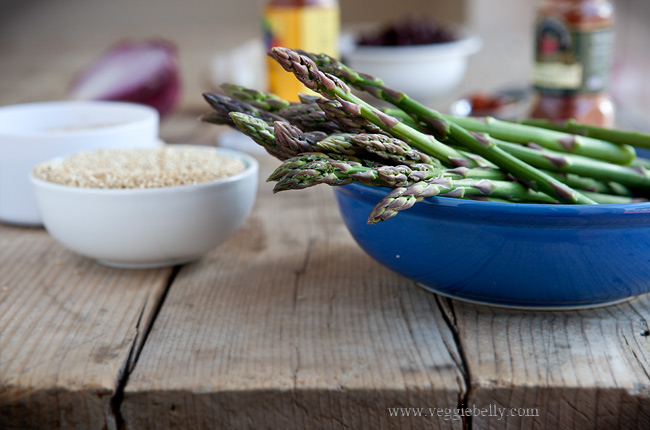 Select slim, tender asparagus, they will cook quicker. If you use thicker asparagus, make sure you cut them smaller.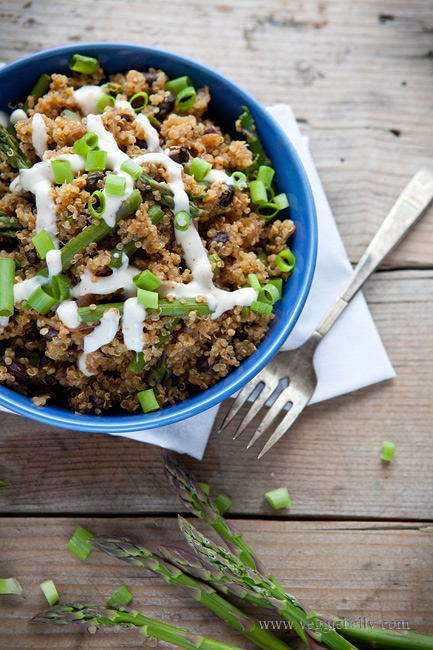 Spicy Quinoa, Black Bean and Asparagus Bowl Recipe
serves about 4
Ingredients
1 tabespoon olive oil
1/2 a red onion, peeled and sliced thin
1 red pepper, sliced
3 cloves garlic, minced
1 1/4  cups quinoa
½ teaspoon paprika, optional
1-2 chipotle peppers in adobo sauce, minced
1 teaspoon dried oregano
30 thin asparagus spears (about 8oz), each cut into three pieces
One 15 oz can of black beans, drained and rinsed (about 1 ½ cups)
1 cup sour cream, I used low fat
Method
1. Heat oil in a saucepan and add onion, red pepper and garlic. Saute on medium till the onion and pepper is soft.
2. Add the quinoa, paprika if using, chipotle peppers and oregano. Stir for about 30 seconds.
3. Add 2 1/2 cups water and salt to the quinoa. Let it boil. Then reduce heat to low, cover with lid and let it simmer for about 12 minutes.
4. Two minutes before the quinoa is done (at approximately the 10th minute), add the asparagus to the pot, cover again and let the quinoa and asparagus cook for about 2 more minutes.
5. Removed lid, add black beans, and fluff the quinoa with a fork.
6. Serve with a dollop of sour cream and any of the other toppings below.
Optional toppings  – pick what you like
Chopped tomato
Sliced avocado
Chopped green onion
Diced mango
Sliced Olives
Shredded pepper jack cheese or cotija cheese
Chopped cilantro or parsley or green onion
Chopped calnuts
Lime wedges
Comments
comments