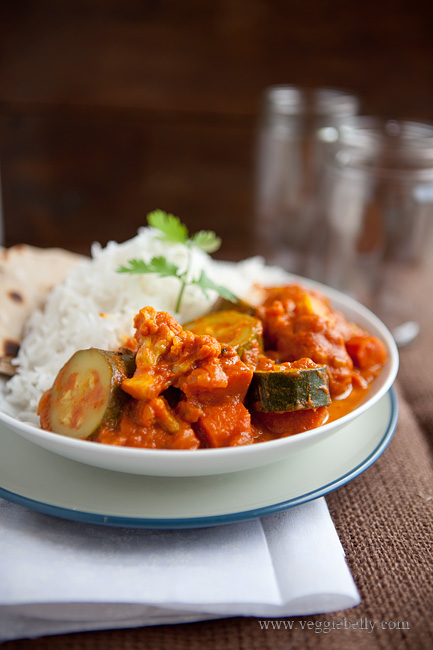 My husband loves this easy zucchini and cauliflower curry and requests it at least once a week. I will vary the vegetables depending on what's available and what we are in the mood for. I've made this curry with eggplant, green beans and potatoes. I've made it with pumpkin and kale. I've also made it with cubed paneer,  green peppers and baby corn. This recipe is versatile!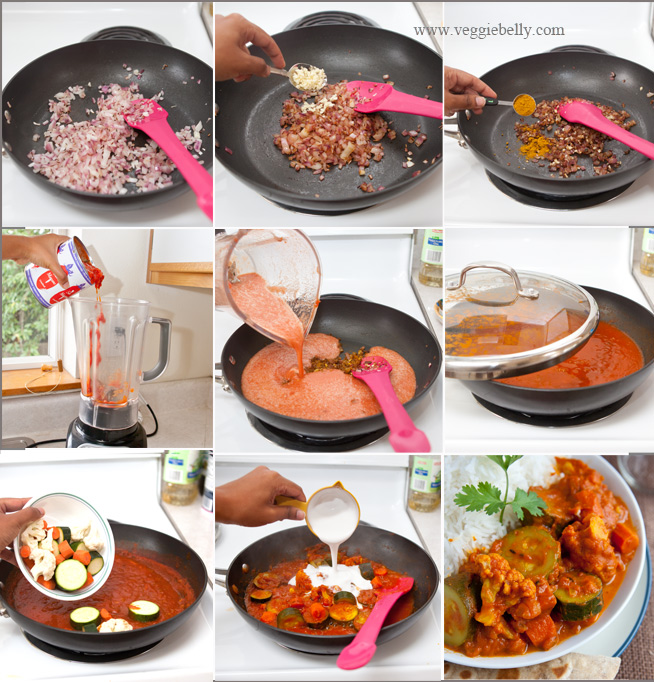 A make ahead tip: Because I make this curry so often (did I mention we love it?!), I've started making the curry sauce in bulk and freezing it. It's easy. Once you are done with step 5 in the recipe below, just spoon the curry sauce into ice cube trays and freeze it. When solid, put the frozen curry cubes in freezer bags and return to the freezer.
You now have a delicious vegetarian, vegan curry base sitting in your freezer to pull out anytime and heat up along with vegetables of your choice!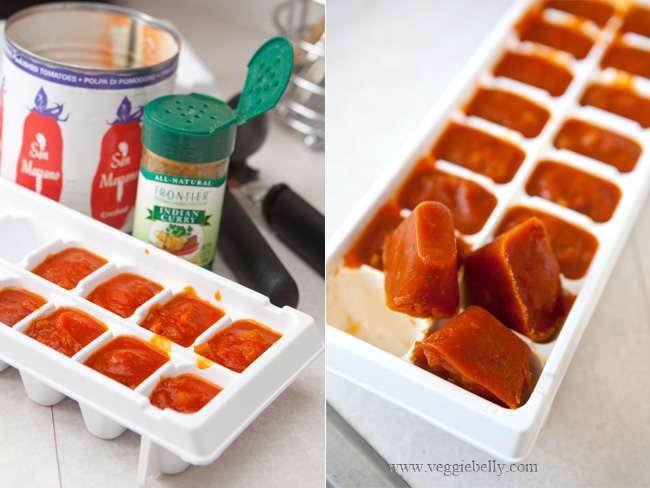 I prefer the taste and convenience of canned tomatoes for this recipe. If you want to use fresh tomatoes, core them, and puree them in a blender. You will need 3 cups freshly pureed tomatoes + about 1 cup water. If the fresh tomatoes make a tart curry, you will want to add a little sugar at the end of cooking.
My favorite tomatoes to use for this curry:
-          Muir Glen fire roasted diced tomatoes
-          San Marzano crushed tomatoes
-          Del Monte diced tomates with basil, garlic and oregano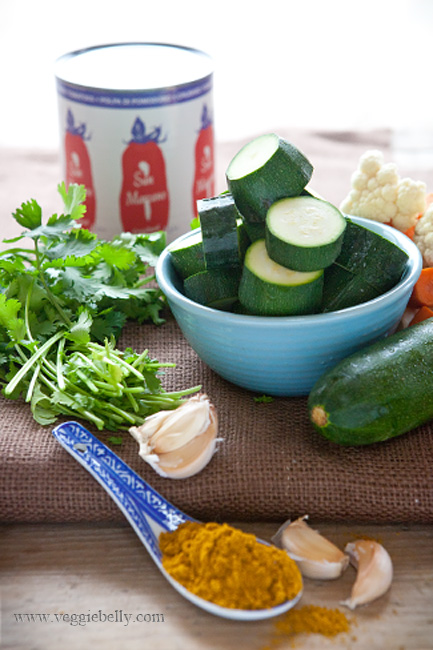 And the curry powder I used is Frontier Indian curry powder from Whole Foods, which is mild, very fragrant, tasty and has a hint of lemon peel. If you use a stronger curry powder, you may want to use less.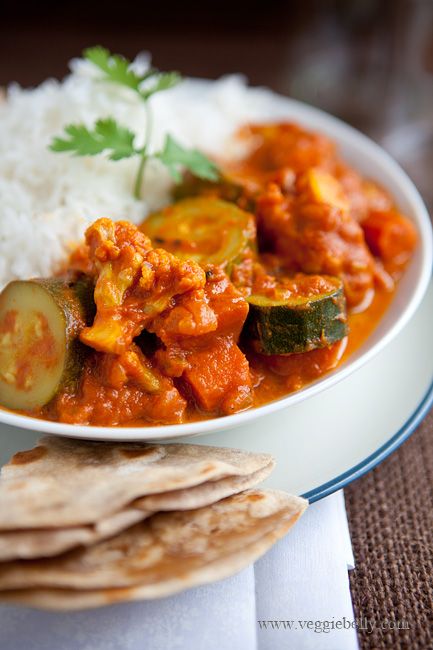 Easy Zucchini and Cauliflower Curry Recipe
serves 3-4
Ingredients
1 ½ tablespoons Oil
½ teaspoon Cumin seeds, optional
A pinch of asafetida, optional
½ large red onion, diced
2 garlic cloves, minced
2 teaspoons curry powder
One 14 oz can of diced or crushed tomatoes. I like San Marzano or Muir Glen.
2 zucchinis, about 12 oz
6 cauliflower florets (about 1 heaping cup of florets)
1 carrot
¼ cup coconut milk
Chopped cilantro or mint for garnish
Method
1.Heat oil in large sauté pan. Add cumin seeds if using. When they sizzle, add the asafetida if using.
2. Immediately add chopped onions. Cook on medium heat till the onions are lightly browned.
3. While the onions are cooking, puree the tomatoes. Place the canned tomatoes in a blender. Fill the empty tomato can with water, pour this into the blender as well. Puree well. You should have about 30 oz of puree now. Set aside.
4. When the onions are browned, add minced garlic and stir for 30 seconds.
5. Add curry powder and stir another 10 seconds. Then pour in pureed tomatoes and salt and bring to a boil. Reduce heat to medium-high, partially cover the pan with a lid and let the sauce simmer for about 15 minutes or till the sauce thickens a little. Careful, the sauce will bubble and splatter.
6. While the sauce is cooking, prepare the vegetables. Cut the zucchini into 3/4th inch rounds. Peel and cut the carrot into ½ inch pieces. Break up the cauliflower into florets.
7. Toss the vegetables in the curry sauce, cover and cook till the zucchini is soft, about 10 minutes.
Turn off heat and stir in the coconut milk. For an extra creamy curry, add 1/2 cup coconut milk instead of the 1/4 stated in this recipe.
Garnish with chopped cilantro or mint. Serve hot with brown rice or roti or pita bread. My grandmothers multi colored raita goes well with this dish.
Comments
comments