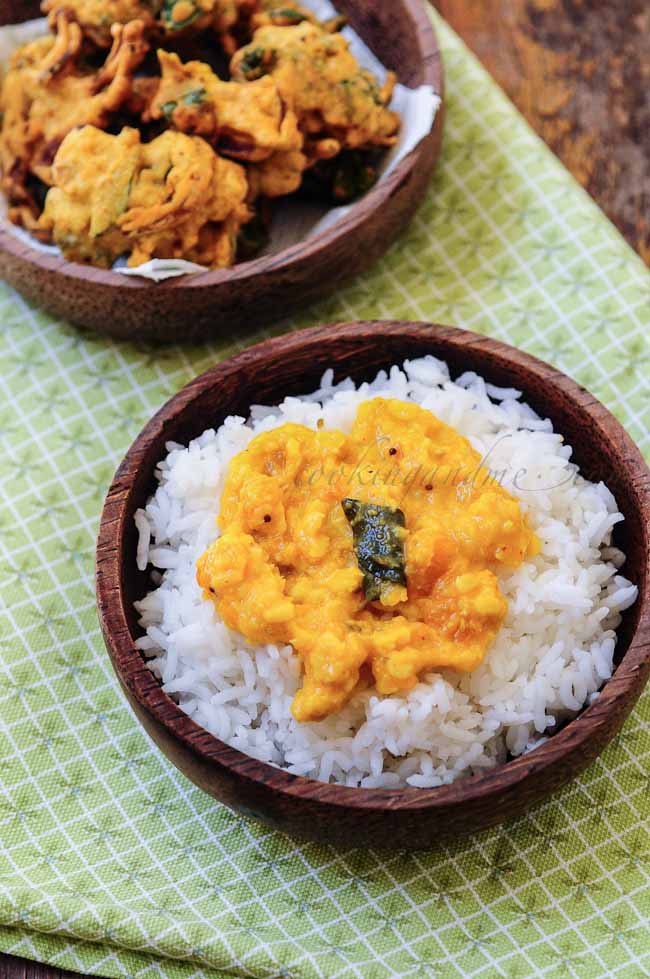 The very talented Nags of Edible Garden blog brings us this easy pumpkin kootu recipe today. A kootu is a side dish of vegetables cooked with lentils. And I cant think of anyone better than Nags to guest post about this traditional South Indian recipe. Her blog is full of everyday, fuss-free Indian recipes. Take it away Nags!
Hello everyone, I am Nags, the writer, cook, and photographer behind Edible Garden. I've been blogging for almost 6 years now but haven't done very many guest posts (this is my 2nd, actually) so please raise a glass with me to Sala's courage and trust!
It's been over 7 years since I moved away from home and started cooking to feed myself, but I have only cooked with pumpkin about 2-3 times in this entire period. I can't quite figure out why this is because pumpkin is a gorgeous vegetable by all means. It's a lovely orange-yellow, cooks quickly, lends a mild sweetness to the dish, and is generally well-behaved and easy-going. Well, I can only hope I can make up for my rudeness by cooking with it more, so here's a simple pumpkin kootu recipe to kickstart what I hope is a great relationship between me and the lovely pumpkin.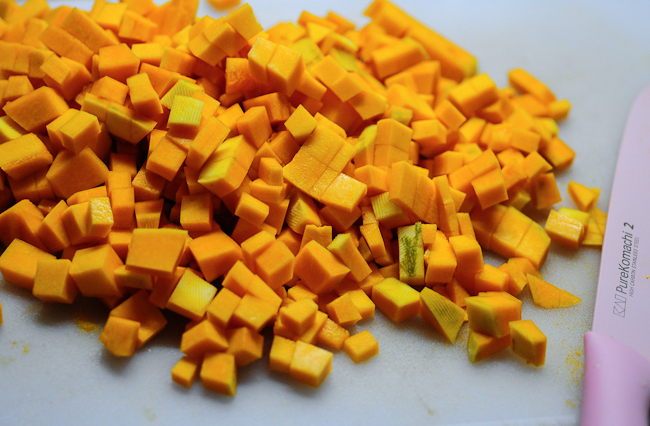 But before I go into the recipe, I must say what an honour it is to take up a small part of Veggie Belly. I've been in awe of Sala's recipes and pictures since the day I set my eyes on this website. She has a lovely eye for details, props, colours and food photography. She's also so very generous. I won a cookbook in a contest in Veggie Belly once but Sala sent me this entire package filled with goodies all the way from the US to Singapore.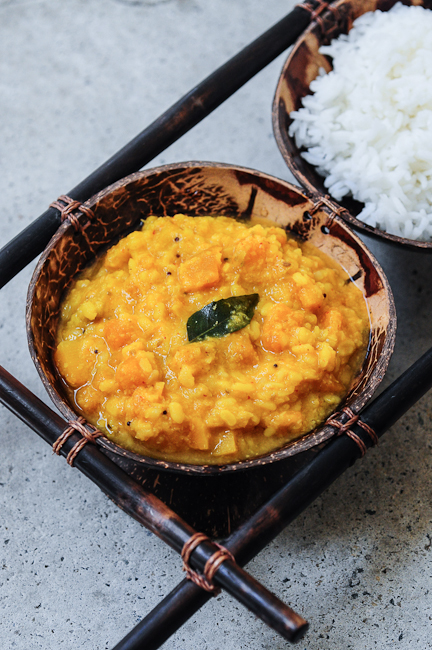 Pumpkin Kootu Recipe
Serves 4
Ingredients
3 cups pumpkin (or kabocha or butternut squash), cut into small cubes.
1 cup yellow moong dal
¼ tsp turmeric powder
Salt
Curry leaves
Grind Together to a Paste
½ cup grated coconut
½ tsp red chilli powder
1 tsp cumin seeds
1 clove of garlic
2 shallots, optional
For Tempering
2 tsp oil
¼ tsp black mustard seeds
¼ tsp hing, optional
Method
Add the pumpkin, dal, turmeric powder, salt and 4 cups water to a sauce pan and cook on low heat, covered, until the dal is soft and the pumpkin is very soft.
Add the ground paste to the dal and stir well. If the mixture is too thick, add a bit more water but not too much. I usually wash the blender jar and add that water in which should be sufficient. Throw in the curry leaves. Cook the kootu for about 3 mins. Remove from heat.
Heat oil for tempering in a skillet. Add the mustard seeds. When they pop, add the hing, if using. Add this to the prepared kootu. Adjust salt if required
Serve with steamed white rice and any dry vegetable curry
A variation of this kootu is to use channa dal instead of moong dal and green chillies instead of red chilli powder. Check out this Chow Chow Kootu, for instance.
Comments
comments