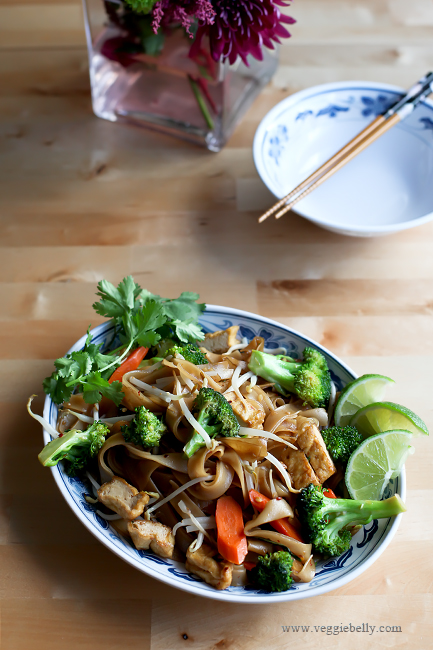 I love Pad Thai and have been experimenting with a recipe that is easy, vegetarian and something you can make with just your pantry ingredients (no tamarind or palm sugar!). When I eat Pad Thai at restaurants I always have to ask for it vegetarian and without fish sauce, and even then sometimes they give it to me with the fish sauce! Probably because the pad thai sauce is pre-made.
My Pad Thai is totally vegan and vegetarian, and the Pad Thai sauce is very easy to make!
But before we get to this delicious home made Pad Thai recipe, here's a story of how it happened..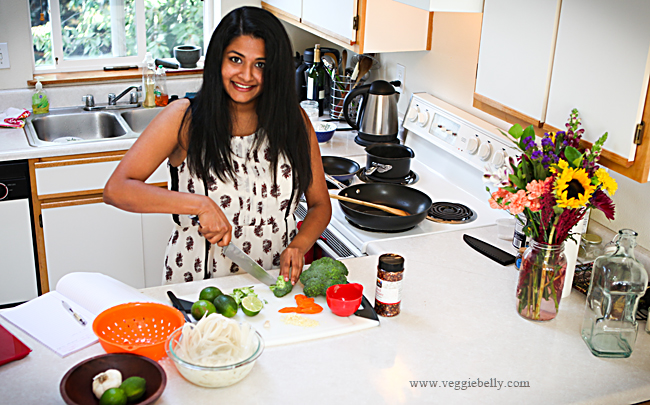 Emilee is a Veggie Belly fan and has been following the blog for a few years. She, her husband and new baby recently moved back home to Portland after living in Beirut, Lebanon.
As a special surprise for Emilee, her family arranged a cooking session for her with me! How sweet is that?! Emilee had no idea what she was in for until she arrived at my door! Imagine her surprise!
We made this Pad Thai together, and had so much fun chatting and cooking! We talked about food in Lebanon, adjusting to life with a new baby, how awesome Portland, OR is (it really is, trust me!)…all while chopping garlic, squeezing lemons and soaking noodles. My kind of evening!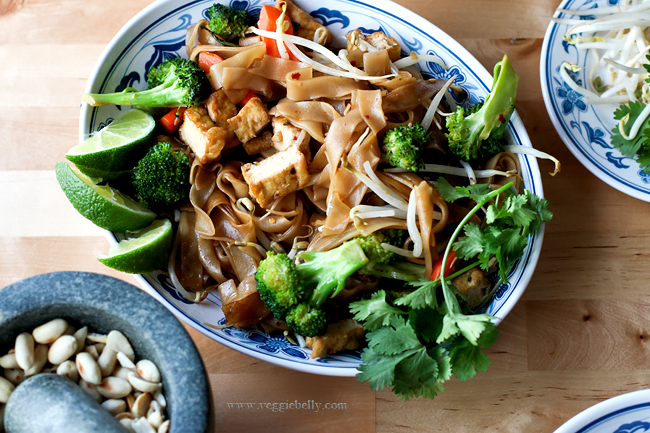 And the noodles turned out delicious! Below, Emilee squeezes a wedge of lime over her noodles because she likes it tangy.
Check out her nails, I love the color!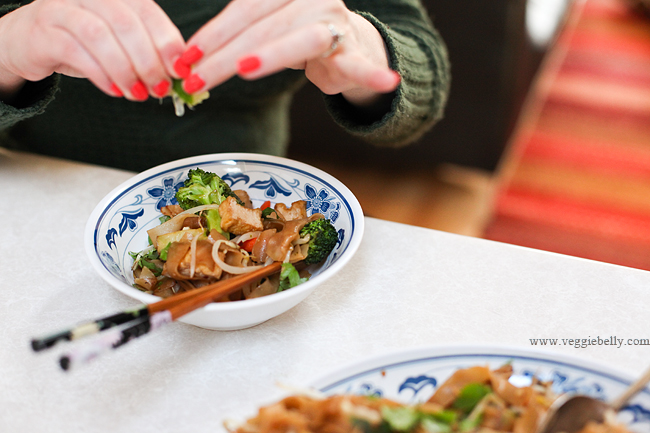 Thanks Emilee, for cooking with me!
I love hanging out with my readers!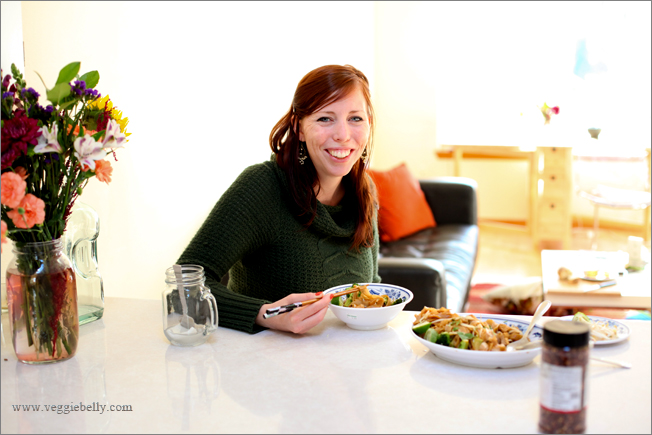 Some tips for making veggie Pad Thai
- The Pad Thai sauce needs to have a balance of sweet, salty and sour. Everyone likes it a different way. Follow my sauce recipe to start with, and then feel free to adjust the sugar (for sweetness), soy sauce (for salt) and lime juice (for sourness)
- Pad Thai noodles are called Banh Pho. Look for the flat wide ones, sometimes labeled as size "XL". The ingredients must only have rice or rice flour and water.
- Make sure you soak the noodles correctly (see package instructions). If they get too mushy, you've either soaked them too long or they've spent too much time in the wok. Or both. And if you don't soak them long enough they will be crunchy.
- When you soak the noodles, they don't have to soften all the way, but make sure they are soaked enough that they become pliable, and are no longer stiff.
- I like the boil the pad thai sauce. It gives it a deeper flavor, and caramelizes the sugar a bit. If you dont want to do this extra step, thats fine, simply whisk the sauce ingredients together and set aside.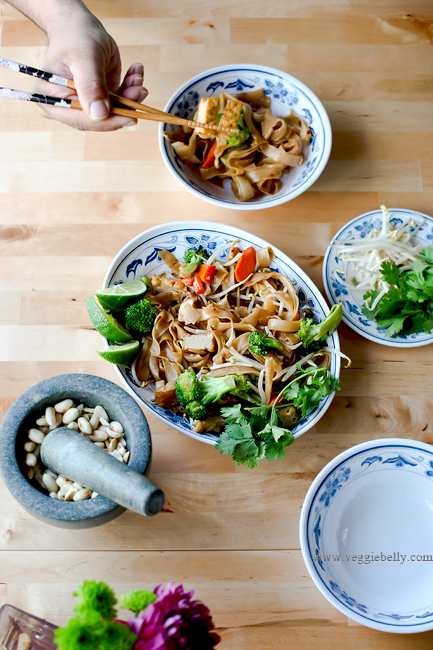 Easy Vegetable Pad Thai Recipe
serves 2-3
Ingredients
for the sauce
3-4 tablespoons light brown sugar
3 tablespoons fresh lime juice (about 2-3 limes)
4 tablespoons soy sauce
1/4 cup water
for the noodles
8 oz wide Pad Thai rice noodles, also called Banh Pho
2 tablespoons vegetable or peanut oil
crushed red pepper, as much as you like
4-6 cloves of garlic, minced
2 cups of broccoli florets
2 medium carrots, peeled and chopped into rounds
1 heaping cup of cubed fried tofu, available at Asian stores
a big hand full of bean sprouts
2 green onions, chopped
3 tablespoons roasted, chopped peanuts
3-4 cilantro sprigs, chopped
1/2 lime, cut into wedges
Method
1. Place all the sauce ingredients in a non stick sauce pan. Bring to a boil. Then reduce heat and simmer on low for about 2 minutes, or till the sauce has thickened just a little. Turn off heat and set aside.
2. Soak and drain the noodles according to package instructions. If the package does'nt have instructions, soak the noodles in warm water for about 15 minutes or till they become pliable. Then drain.
3. Heat the oil in a large wok. Add the crushed red pepper. As soon as they sizzle, add the garlic, broccoli and carrots. Toss on medium-high heat till the broccoli turns bright green and the garlic is fragrant, about 2 minutes.
4. Add the soaked noodles, tofu and the sauce. Toss on medium-high heat till everything is well combine and the noodles are cooked, but still a little chewy, and not mushy.
5. Turn off heat, and add the bean sprouts, and green onions and mix well.
6. Garnish with cilantro and peanuts. Serve with lime wedges on the side.

Print
Comments
comments