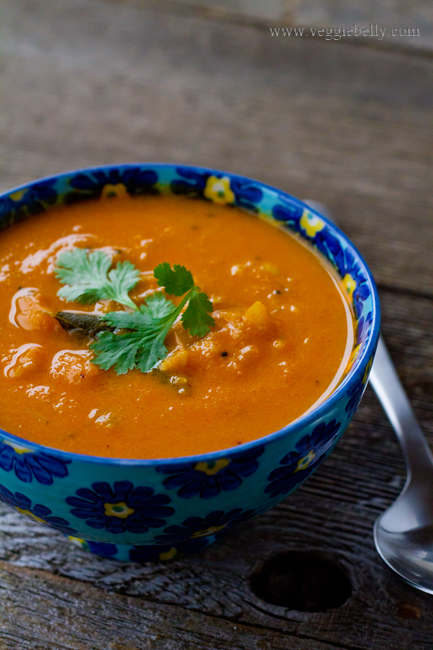 My paternal grandmother passed away a year ago this month. My grandmother raised me, and taught me a great deal. In her memory, I will be posting a series of her favorite recipes. The first in the series is this tomato stew with coconut milk. My grandmother relished this dish, often eating it with steaming hot idlis for dinner.
I've already written a little about my grandmother and what an accomplished woman she was in this post. In this series, I will share more memories of her through her favorite recipes. My grandmother was far ahead of her times. She pursued higher education, a career and a public life – something very few Indian women did during her time. She was a PhD in philosophy and literature, a public speaker, author of many books and an educationalist. And she spent a life time championing womens' education in India.
Not only was she a career woman, she also enjoyed hosting and entertaining guests in her home..
My grandmother's dinner parties were legendary and her hospitality impeccable. Although she never took an interest in cooking, she had a keen palate and a great love of hosting and feeding people. She would give her cook, Mariappan detailed instructions before the dinner parties. She would have the coconut trees in her lawn decorated with strings of light bulbs. She took care of every detail – the decoration, neatly folded napkins, extra large sized silver plates, polished cutlery, and a lovingly curated menu.
A typical menu made by the talented cook Mariappan would include tomato rasam and rice wafers for dipping, green pea rice scented with cumin, plump vegetable cutlets coated with golden bread crumbs, fried puris, fragrant garlicky cauliflower masala and delicate sweet polis made with lentils, cardamom and drenched in ghee. As a child, I looked forward to those balmy evenings when my grandmother would regale her guests, laughing, quoting poetry, and coaxing them to eat more. Nobody ever went home hungry after visiting my grandmothers house!
Even in her passing she found an opportunity to entertain people. Let me explain. Where I come from in India, it is customary to host a lunch in the honor of the deceased a few days after the funeral. My grandmother must have known intuitively that her death was near. So one week before her passing she wrote out the menu for the post funeral lunch, along with detailed instructions on how it should be served. Thats right, my grandmother made the menu and gave instructions for her own funeral lunch!
As per my grandmother's wishes, my family organized a multi course lunch, with four desserts (she had quite the sweet tooth!) served on the largest, freshest banana leaves on the very same lawn where she had regally presided over dinner parties for fifty years. It was the best send off we could have given to a woman who was so passionate about food, people and life.
It is an honor to have been raised by a woman who was so intelligent, beautiful and exuberant. Her life was grand and her love was abundant. This post is the first in a series of recipes I will be posting as a tribute to my grandmother. These recipes have all been tried and tested over decades. Every single recipe I will be posting was a favorite of my grandmother's. Each one brings back a flood of memories.
In creating these posts, I am filled with tremendous pride to have been part of this incredible woman's life, and at the same time I am filled with great grief that she is no more.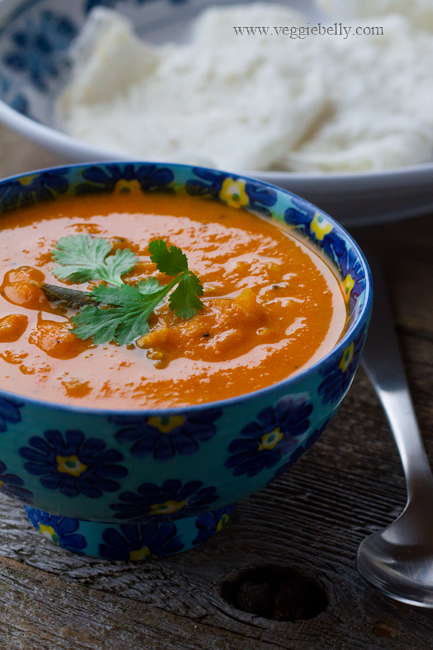 Tomato Coconut Stew
serves about 4 as an accompaniment/curry
Ingredients
1 lb ripe tomatoes
1 tablespoon oil
1/4th teaspoon mustard seeds
1/4th teaspoon urad dal
1 small onion, minced
5 cloves garlic, chopped
6 curry leaves
1/2 teaspoon tumeric
1 teaspoon chili powder
1 cup coconut milk
1 tablespoon chopped cilantro
Method
1. Bring plenty of water to boil in a saucepan. Drop the tomatoes into the water. Let them boil till their skins blister, about 2 minutes. Then drain.
2. When tomatoes are cool enough to handle, peel and discard the skins. Then puree the tomatoes without any water. Set aside.
3. Heat oil in a medium saucepan. Add the urad dal, and mustard seeds.
4. When the mustard seeds pop, add the onion, garlic, curry leaves and cook for about 2 minutes.
5. Pour in the tomato puree, chili and turmeric powders, salt, and 1 cup water. Bring to a boil.
6. Then reduce heat, and cook on medium-low heat, uncovered, till the sauce becomes thick. About 15 minutes.
7. Add the coconut milk, stir, and turn off heat.
8. Garnish with cilantro. Serve with roti, idlis, dosa, or neer dosa.

Print
Comments
comments