My recent trip to Sri Lanka was a dream come true. My grandfather as well as my husband's grandfather had business ties in Sri Lanka. When he was a young man, my grandfather worked in Colombo. I grew up hearing stories about this beautiful island – stories of colonial bungalows, lush tea estates, Hindu temples, and train rides. I am so excited that I finally was able to make the trip to the spice island and experience its magic for myself.
Vegetarian food in Sri Lanka was easy to find. I found plenty of delicious vegetarian local dishes. Food in Sri Lanka was comfortingly familiar. Rice and coconut feature heavily in Sri Lankan cuisine, just like in South India. But unlike India, they use pandan leaves in cooking, and treat it just like curry leaves.
If you are a vegetarian traveling to Sri Lanka, here are some must-eats..
A Vegetarian's Guide to Sri Lanka
Rice and Curry – This is a staple in Sri Lanka and you will find plenty of vegetarian options. During my trip, I had dal curry, jackfruit curry, snake gourd curry, potato curry, coconut milk curry scented with pandan, pumpkin curry, beetroot curry and cashew curry. If you are a vegetarian and you like rice and curry, you will never be hungry in Sri Lanka!
Sambal – Sambal is a spicy condiment made of crushed red chillies and is ubiquitous on the island at meal time. There are many kinds of Sambal. Lunu miris sambal is made with red chillies, onion, lemon and salt. Pol sambal is made with fresh shredded coconut and red chillies. Katta sambal contains caramelized onions and chillies.
Hoppers – I could eat Sri Lankan hoppers every meal of every day. These bowl shaped rice and coconut milk crepes (Appa) are an iconic breakfast item. Hoppers come in many kinds. I tried honey hoppers sweetened with local honey, egg hoppers, curry leaf hoppers, beet hoppers and spinach hoppers. String hoppers (Idiappa) are steamed rice noodles nests and a Sri Lankan breakfast favorite.
Stuffed Roti – Flatbread stuffed and folded with spicy fillings (vegetarian easily available) are a common street food. Roti is cheap, filling and a great snack.
Kotthu Roti – This street food was my all time favorite. Kotthu roti means "chopped" roti. Shredded rotis are mixed with vegetables and spices and stir fried. Watching street side kotthu roti makers is fun – they throw vegetables and shredded rotis on a griddle and chop them using special flat knives, making rhythmic sounds.
Sri Lankan Chinese – Yes, such a thing exists! Chinese dishes like fried rice, soups and spring rolls are common items on restaurant menus. Chinese food in Sri Lanka is adapted to suit local tastes and to use local ingredients like chillies. I particularly loved Sri Lankan Chinese chili paste – a sweet and hot paste made by sauteing crushed chillies, ginger, garlic, soy sauce and sugar. Its like a Chinese sambal! Some of these pastes contain shrimp, so ask first.
Tea – Sri Lanka is blessed with abundant rainfall and humidity that are conducive to tea growing. Not surprisingly, this tiny country is one of the world's largest exporters of tea. In Sri Lanka, you will find regular black tea, cardamom tea, ginger tea, and tea sweetened with condensed milk.
Spices – There is an abundance of spices in Sri Lanka. The country's cooking uses numerous spices like cinnamon, black mustard, cardamom, coriander, cumin, etc. Sri Lankan cinnamon is especially fragrant and tasty, so make sure you bring back a packet or two when you are visiting.

Wattalappan – A pudding of coconut milk, jaggery, eggs and cardamom



View of the library from our room. Vil Uyana eco-resort, Sigiriya.
Exploring Sri Lanka's Cultural Triangle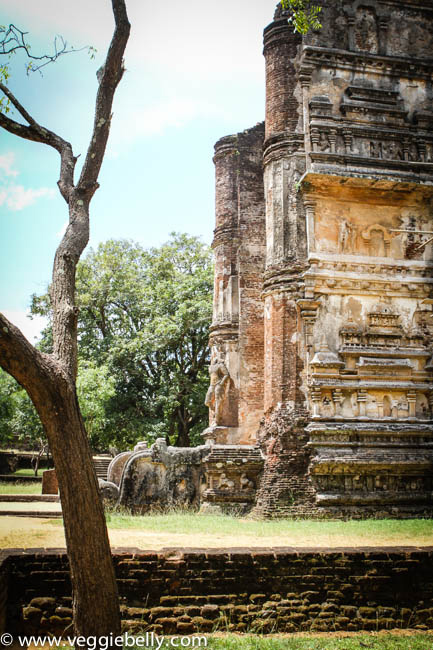 Coconut Roti (Pol Roti) Recipe

I had coconut roti or pol roti in Sri Lanka almost everyday for breakfast. It is the easiest flat bread you can ever make. And its vegetarian, vegan and gluten free too!
I recommend using fresh shredded coconut. There are so few ingredients in this dish, and the coconut is the highlight, so use the freshest coconuts possible. Good quality fresh frozen shredded coconut is a second option. Also remember to salt the rotis well. The salt will really enhance the coconut taste in these pol rotis.
The pol rotis I saw in Sri Lanka mostly had all purpose flour in them. But I prefer using rice flour, its lighter and tastier in my opinion.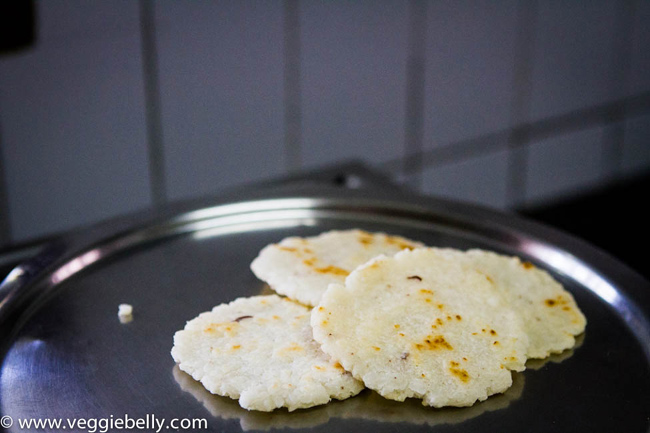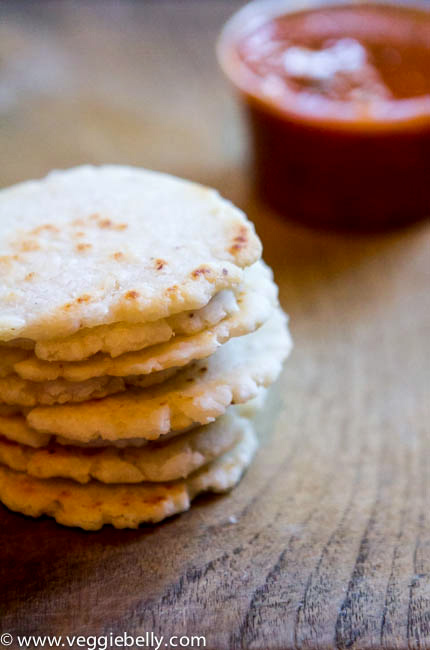 Coconut Roti Recipe
makes about 20 small (3 inch) rotis
Ingredients
1 cup rice flour. Substitute with all purpose flour
3/4 cup fresh shredded coconut
salt
oil
Method
1. Place all ingredients a large bowl. Using water, bind the flour and coconut into a slightly firm dough. When the dough is done, it should not be sticky, and have a consistency that is like chappati dough.
2. Form the dough into lemon sized balls. Take a piece of foil, a zip lock bag or a piece of fresh banana leaf. Spread it with a drop of oil. Oil your palm and fingers with a few drops of oil as well. Put a dough ball on the oiled foil/ziplock/banana leaf. Gently pat it and flatten it into a 0.3cm thick disc (see picture above).
3. Put the flattened roti on a cast iron skillet on medium heat. Put as many rotis as will fit on the skillet. Drizzle a few drops oil around the rotis. Cook, flipping a few times till both sides form brown spots. Remove from skillet and repeat for all the dough balls.
4. Serve with chutney, pickle or sambal.
_____________________________________________________________________
Enter for a chance to win a Sri Lankan Spice and Tea Hamper!
India shipping only!
I've bought back a ton of goodies from my trip to Sri Lanka and have put together a hamper for you!
One lucky winner will receive this gift hamper containing:
1. Red rice string hopper flour – so you can enjoy this Sri Lankan specialty at home
2. Unroasted curry powder – use it to make a curry for your hoppers
3. Roasted curry powder – perfect for Sri Lankan curries
4. Sri Lankan cinnamon – fat sticks of fragrant cinnamon from the island. A little goes a long way
5. Deviled cashew nuts – careful, they are hot!
6. Hand made paper bowl
7. Balisur Tea Book – Authentic Sri Lankan tea in a tin shaped like a book. You get your choice of black tea or Ceylon green tea with bergamot
8. "Rice & Curry " a Sri Lankan cookbook by acclaimed writer, S.H.Fernando  – so you can put your goodies to good use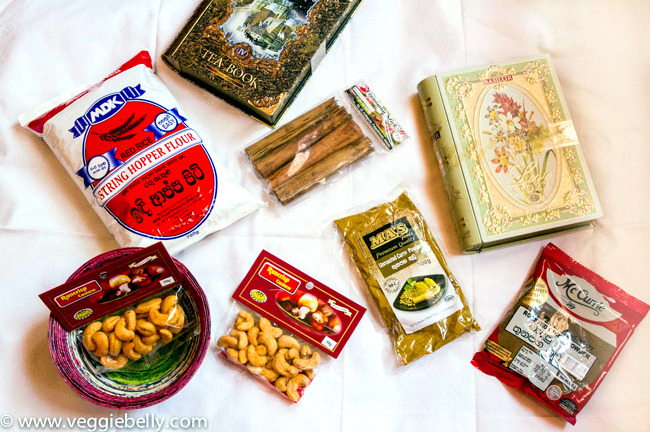 a Rafflecopter giveaway

If the Rafflecopter is not working, simply leave a comment below and you are entered!
Comments
comments