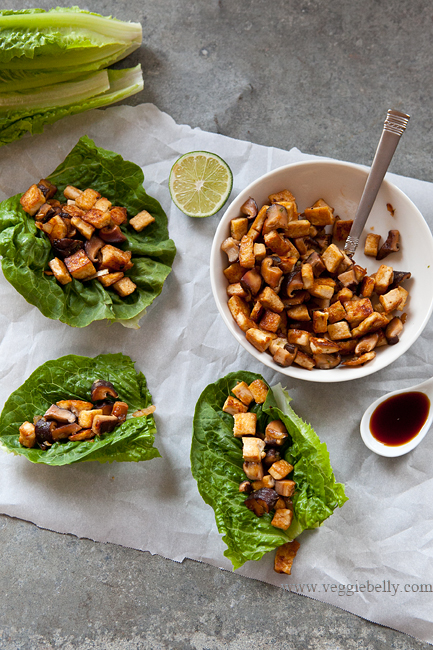 I can't believe I haven't blogged a vegetarian lettuce wrap recipe up until now! Its one of my go to quick and easy dishes. And now that the weather is getting warmer, I crave these light, crisp lettuce "boats" filled with a zesty tofu mushroom filling. And did I mention this is just an 8 ingredient recipe? Thats right, only 8 ingredients (not counting the oil, because everyone already has oil, right?)! And you probably already have all the ingredients for these lettuce wraps in your pantry!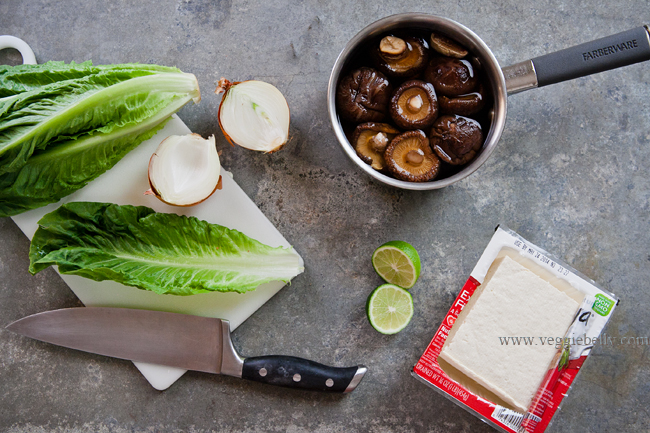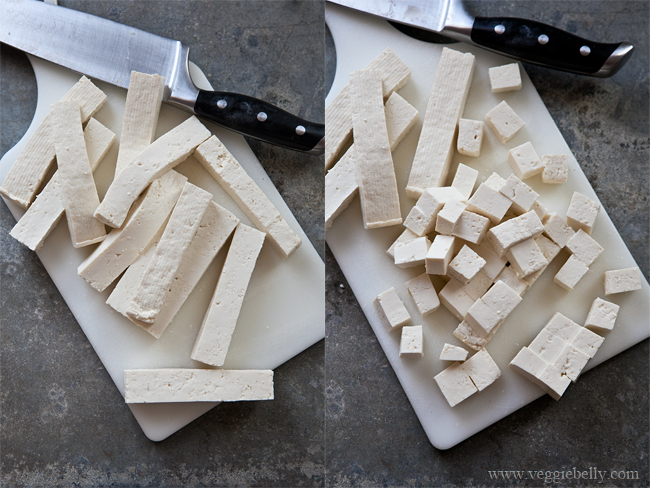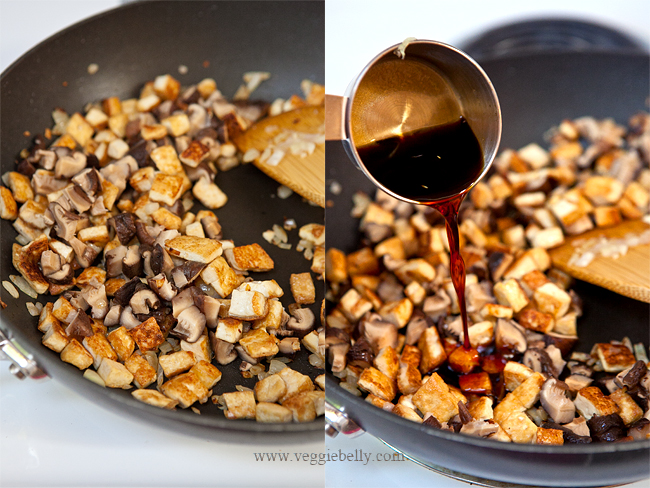 The dipping sauce for this recipe is simple. If you want it spicier add some sriracha or wasabi. For a creamier dipping sauce add a spoon or two of peanut butter to the recipe below.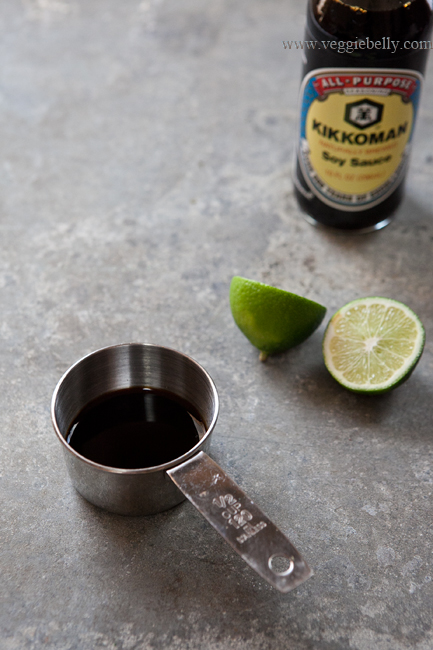 You can easily make the tofu mushroom filling ahead of time and re-heat it when you are ready to eat. Cut the tofu and the mushrooms the same size so it looks pretty!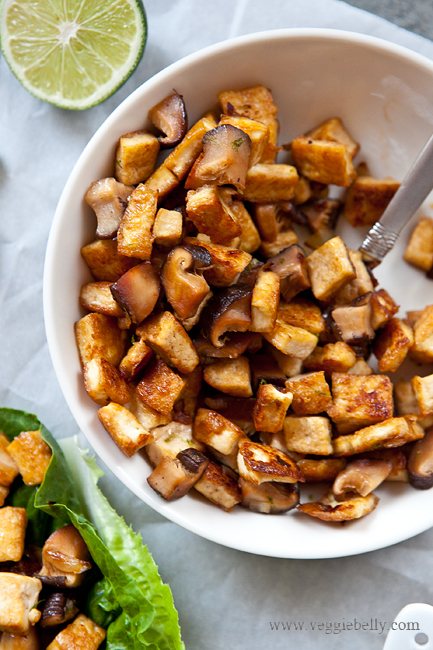 Tips
- Make sure you get the freshest romaine lettuce hearts you can find. (A romaine heart is the entire lettuce, with the leaves attached to the core). Keep in mind, the inner leaves are usually more fresh and crisp compared to the outer ones. If your romaine heart is looking a little limp on the outside, peel away the outer leaves and chances are, you will find the inner leaves are still fresh.
- I like using dried, rehydrated shiitake mushrooms for this recipe. If you don't have dried shiitakes, use button mushrooms instead. But they will tend to release liquid while cooking. If button mushrooms release liquid while cooking, increase heat to high and let the liquid evaporate.
- If you are using shiitakes, you can soak and squeeze them ahead of time and store the rehydrated mushrooms in the fridge.
- I like thin, light dipping sauces for lettuce wraps. But if you like yours thicker or richer, add 1-2 tablespoons of peanut butter to my dipping sauce recipe below.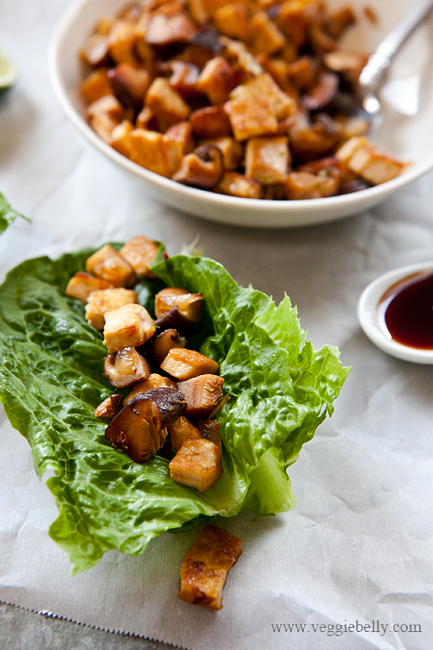 8 Ingredient Tofu Mushroom Lettuce Wraps
serves 3-4 as an appetizer
Ingredients
8 dried Shiitake mushrooms. Substitute with 12 button mushrooms
1 lb drained extra firm tofu
3 tablespoons oil
1/2 medium onion, diced
3 tablespoons Soy sauce
1/2 tablespoon Sugar
1/2 tablespoon lime juice or vinegar
1/2 tablespoon Sriracha, or according to taste
zest of half a lime, optional
12 crisp Romaine leaves
For the dipping sauce
4 tablespoon soy sauce
2 tablespoon lime juice or vinegar
2 tablespoon water
1 1/2 tablespoon sugar
Method
1. Drain the tofu and pat it dry. Cut the tofu length wise into 4. Then carefully turn the block over on its side and cut into 4 again. You will now have 16 strips. Cut the strips into 1/4th inch cubes.
2. If using dried mushrooms, rehydrate them according to package directions. When the mushrooms are soft, drain them (save the liquid for soups!), squeeze the excess liquid, and chop them about the same size as the tofu cubes. If using button mushrooms, chop them the same size as the tofu cubes.
3. In a cup, whisk together the soy sauce, sugar, sriracha and lime juice or vinegar. Set aside.
3. Heat oil in a large wok or large skillet. Throw in the tofu cubes. Try to keep them in a single layer. If all the tofu doesn't fit in a single layer, cook them in batches. If the tofu cubes are too crowded they will stew instead of browning.
4. Cook the tofu undisturbed on medium-high heat till the bottom side is golden brown. Carefully flip the tofu cubes over using a spatula, and cook undisturbed till the other side is golden brown.
5. When all the tofu is browned, add the onion and mushrooms to the skillet. Saute on high heat till the onion is translucent, about 2 minutes. If you are using button mushrooms and they let out liquid, just keep cooking on high heat till all the liquid evaporates.
6. Pour in the soy sauce mixture. Cook till all the liquid has been absorbed, about 30 seconds. Sprinkle lime zest, if using, on top.
8. To make the dipping sauce, whisk all ingredients together till the sugar dissolves.
9. To serve, cut each romaine leaf into half. Place one half on top of the other to form a cup. Repeat with all lettuce leaves. Serve the tofu mushroom saute in a bowl, along with the dipping sauce.
Comments
comments