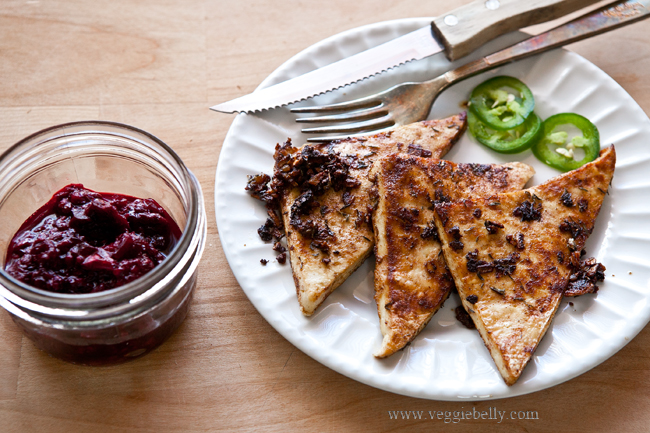 Your whole house will smell heavenly when you make this Jamaican Jerk tofu. And the flavor of the Jerk spices will transport you to an exotic land. Allspice, cinnamon, thyme, onion and garlic all come together to make a tasty, yet easy marinade for the tofu.
I have an exciting new giveaway today. Naturipe Farms is giving away a KitchenAid food processor to one lucky Veggie Belly winner! Scroll to the bottom of this post to enter!
But wait, theres more! You can also win a $500 Williams Sonoma gift card on Naturipe's site. Head over there and check out their grand prize giveaway!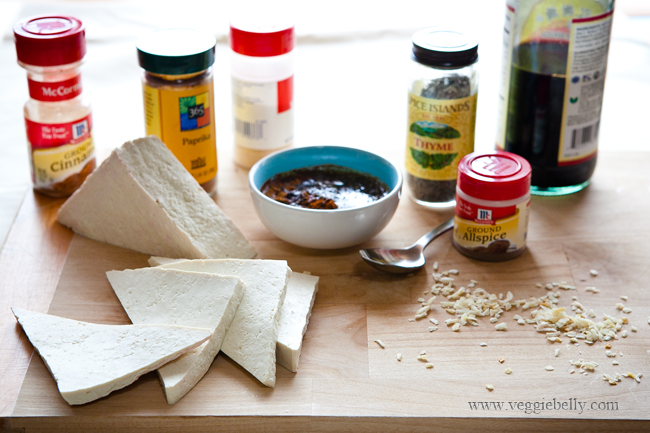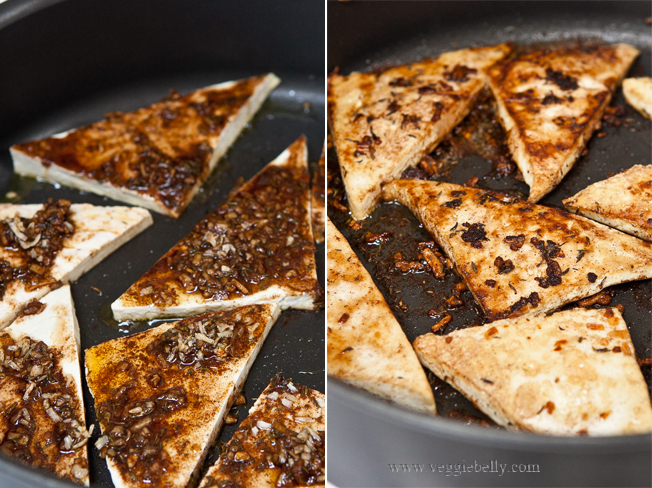 This simple blackberry jalapeño chutney goes really well with the jerk spiced tofu. You can also use it as a condiment or as a sandwich spread.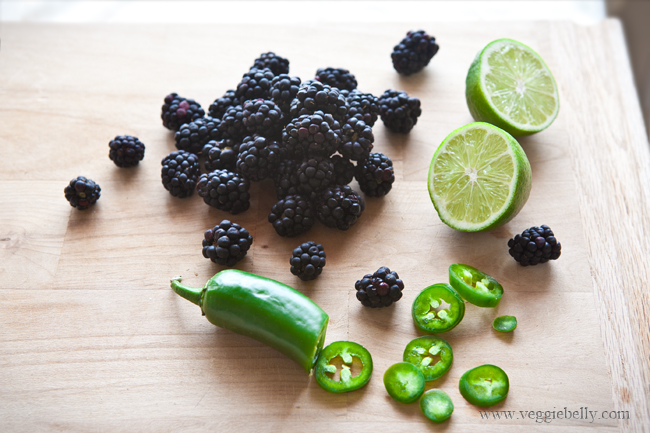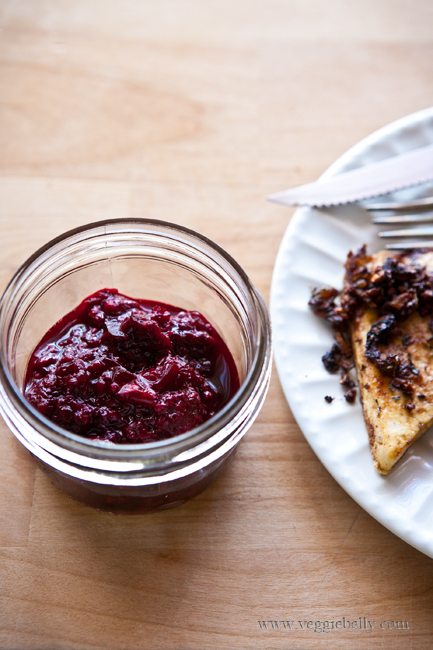 Tips
- The onion flakes in the marinade tend to burn. So keep an eye on it. If it starts to burn, sprinkle a little water into the pan. Or use a spoon and remove the bits of the marinade that are browned (but not yet burned). Add the browned onion bits back to the tofu before serving.
-Pressed tofu makes it easier for the marinade to soak in. Pressing tofu is pretty straight forward – you wrap a block of tofu in a kitchen towel and put a weight on it, so that all the water is released. See this post on how to press tofu. If you don't have time to press tofu, buy extra firm tofu, and gently pat the tofu with a kitchen towel to absorb the liquid. Then proceed with this recipe.
- Substitute allspice with ground cloves.
- The blackberry chutney is very customizable. Adjust the jalapeño, sugar and lime according to your taste.
- Most the heat in jalapeños lies in the seeds and white membrane. If you like it hot, keep the seeds. If you want it mild, remove the seeds and membrane.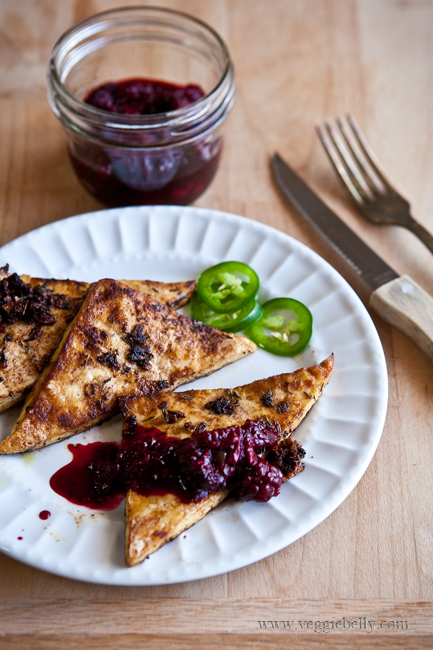 Jamaican Jerk Tofu with Blackberry Jalapeño Chutney Recipe
 Serves 2-3
Ingredients
One 15 oz block of firm tofu (drained weight), pressed.
For the Marinade
1 tablespoon onion flakes or onion powder
1 teaspoon garlic powder
3/4 tablespoon dried thyme
1/2 teaspoon ground allspice. Substitute with 1/4 teaspoon ground cloves.
1/4 teaspoon ground cinnamon
3 tablespoons light soy sauce
1 tablespoon lime juice, optional
3 tablespoons olive oil
For the chutney
6 oz blackberries
1 tablespoon chopped jalapeño*
2 cloves of garlic, optional
1/4 teaspoon thyme
1/8 teaspoon all spice
Juice of one lime
zest of 1/2 lime
1/2 cup water
2 tablespoons sugar
*This will make a medium-hot chutney. Use more or less jalapeños according to taste.
Method
1. Slice the block of tofu diagonally in half, so you have 2 triangles. Cut each tofu triangle lengthwise into 4 triangles, so that you have 8 tofu triangles in total.
2. Place all marinade ingredients in a bowl and whisk well.
3. Place the tofu in single layer on a plate, container or baking sheet. Pour the marinade on top and spread it evenly to coat the tofu. Cover and refrigerate up to 2 days, or cook the tofu immediately.
4. Heat a large non stick skillet over medium-high heat. Arrange the tofu slices on the skillet, without over lapping. Scrape the marinade and drizzle all over the tofu. Cook till both sides of the tofu are golden brown, flipping over once.
5. To make the chutney, place all ingredients, except sugar in a saucepan. Bring to a boil. Reduce heat to low, and simmer the chutney for about 8 minutes, or till it thickens. Stir in the sugar, mix well, and turn off heat. Chutney will keep in the fridge for up to a week.
——————————————————–
Win a KitchenAid 7 cup Food Processor!
Naturipe Farms is giving away an awesome food processor to one lucky Veggie Belly reader! The KitchenAid® 7-Cup Food Processor is powerful and durable. This model has a 7-cup work bowl with 2-in-1 Feed Tube and pusher for continuous processing. The 7-cup capacity is ideal for many home cooking needs, allowing you to chop, mix, slice and shred with ease, offering multiple tools in one appliance. A $100 value!
Enter below for a chance to win!
a Rafflecopter giveaway

Comments
comments