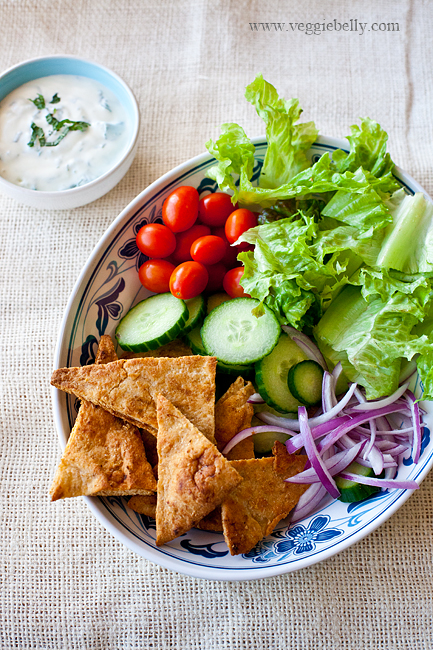 A friend of mine was telling me about how she loves Indian food but finds restaurant Indian food too heavy for hot weather. Just because its summer doesn't mean you need to give up on Indian food! Here's a grilled naan salad with raita dressing that is both light, and cooling for a hot summer day.
When Stonefire flatbreads approached me to be their spokesperson in Portland, I simply couldn't refuse. I love a good flatbread, especially naan – an Indian flat bread made in a special clay oven called a tandoor. Stonefire makes a variety of naans, including garlic which is absolutely delicious! I used their regular/plain flavored naan for this recipe and it was very good. But wait, there is a way for you to try this naan salad! Read on..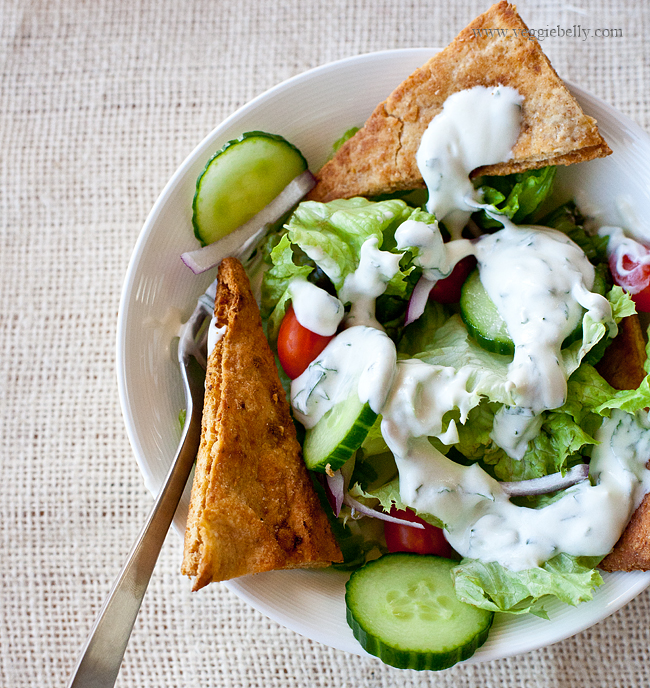 The Stonefire Food Truck will be touring the country from April-August, 2014 serving up some truly scrumptious fare, all involving flatbreads ofcourse! I will be serving this yummy naan salad at Stonefire's food truck in Pioneer square on June 26th at lunch time - only one day, only in Portland!
Stop by the food truck for free samples, giveaways and recipe tips!
WHEN:       Thursday, June 26, 2014. 11am-4pm
WHERE:     First stop at SW Morrison St and SW Broadway, followed by SW 3rd Avenue and SW Morrison St and SW Washington St & SW Park Ave
Follow the food cart tour on Facebook and Twitter
Don't miss it, its going to be fun!
Grilled Naan Salad and Raita Dressing
Serves 2 as an entree
For the salad
1 naan cut or torn into 12 bite size pieces
1/2 tablespoon olive oil
1/2 teaspoon ground cumin
salt
4 cups chopped iceberg or romain lettuce
1/2 cup cherry tomatoes
1/2 cup cucumber slices
1/4 cup red onion slices, optional
For the dressing
3/4 cup plain greek yogurt
2 tablespoons finely chopped mint leaves
2 tablespoons olive oil
2 tablespoon fresh lemon juice
4 tablespoons water
Salt and pepper
Method
Pre-heat oven to 400f.
1. Place the naan pieces on a baking sheet. Whisk the olive oil, cumin and salt together. Pour on top of the naan. Toss well. Arrange the naan pieces in a single layer on the baking sheet. Bake the naan at 400f for 10 minutes or till the naan is golden brown. Remove from oven and set aside.
Alternatively, you can also grill the naan on an outdoor grill – brush the whole naan with the oil and cumin mixture. Cook on an outdoor grill till grill marks appear on both sides and it. Let the naan cook slightly and then tear it into pieces.
2. While the naan is baking, work on the salad dressing. Combine all dressing ingredients in a bowl and whisk till well combined. If the dressing is too thick, add water 1 tablespoon at a time until the desired consistency is reached. It should be thick like ranch dressing. Refrigerate till you are ready to assemble the salad.
3. In a large bowl, toss the toasted naan, other salad ingredients. Serve the yogurt raita dressing on the side. Serve immediately.
Comments
comments