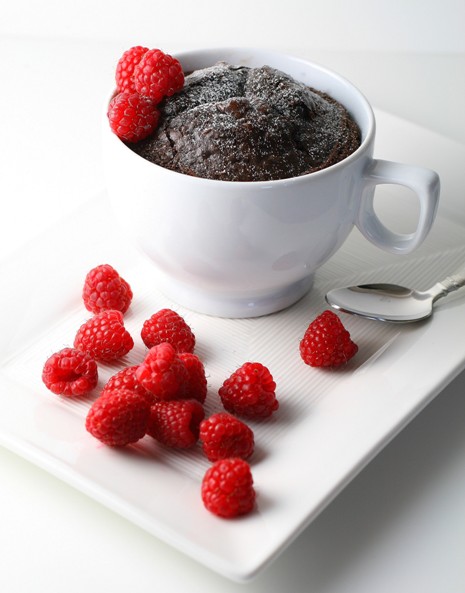 I just may have created the world's most expensive cupcakes. Thanks to UPS. Let me explain…
My sister moves a lot for her job. And every time she moves, it's become somewhat of a tradition for me to send her something homemade and chocolaty. She is moving this week and I sent her mini chocolate cupcakes with chocolate ganache frosting.
Did I mention my sister lives in England?? It cost me nearly a week's worth of groceries to send these cupcakes to England! But I suppose you can't put a price on these things. Besides, the Ina Garten recipe I used for these cupcakes was just perfect. This is a chocolate cake recipe and worked very well for making cup cakes.I didn't use the butter cream frosting that came with the cake recipe. Instead I made a simple chocolate ganache (recipe below).
I had some left over batter, so I poured the batter into a big oven proof coffee mug and baked it right in the mug….this one is very literally a cup cake. It's a lot of fun to eat out of the mug.

 
How to bake cup cakes in a coffee mug or cup
Make a batch of your favorite cake batter. I recommend Ina Garten's chocolate cake recipe.
Start with clean coffee mugs. Make very sure that the coffee mugs are oven proof. Butter the inside of the mugs and lightly dust with flour. Alternatively, spray the inside of the mugs with non stick spray.
Pour the cake batter only half way up the mug.
Bake in a 350F oven.
Baking times will vary depending on the size of the mug you use. When the cake is done, the batter would have risen, and your kitchen will smell like cake. At this point insert a tooth pick into the cup cake. If its done, the tooth pick will come out clean. Make sure you dont over bake and dry out your cup cake. I used a fairly large mug and it took 25 minutes.
To serve, dust some powdered sugar on top or top the cake with chocolate ganache (recipe below). Serve with fresh berries of your choice.
Notes: Use the best cocoa powder you can afford. Try adding some kahlua or rum to the cake batter for a more intense flavor.
Microwave Method

I attempted a batch in the microwave. I used the same method above and microwaved the batter in the mug for about 3 minutes. It works. But the oven method tastes better and has better texture.
Chocolate Ganache
Makes enough to frost 2, 8 inch round cakes or about 60 mini cupcakes1 cup semi sweet chocolate chips
1/3 cup heavy cream
Bring the cream to a simmer in a pan on low heat. Add the chocolate chips and whisk until melted. Turn off heat. Spread immediately on top of the cooled cake.
Comments
comments