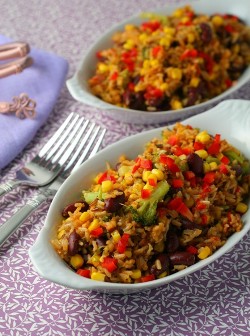 This is a hearty one pot meal for a cold night. You can put it together with minimal fuss, so this is also a great dish to make on a busy work day. This is a flexible recipe – use any kind of rice, veggies and beans you like. I used a blend of brown rice, red rice, barley and rye. My vegetable of choice was broccoli. You could use mushrooms, peas, cauliflower, roasted eggplant or roasted winter squash. Many Cajun dishes like gumbo and jambalaya get their smokey flavor from smoked Andouille sausage. I used liquid smoke and some smokehouse almonds to get that wonderful smokey flavor; the crunch from the almonds is a definite bonus.
Cajun Brown Rice with Veggies and Red Beans
makes 4-6 servings
 
1 large onion
2 ribs celery
1 red or green pepper
4 cloves garlic or 1 tbsp garlic powder
1 tbsp paprika
1 ½ tsp dried thyme
2 tsp Tabasco sauce
1 1/2 tsp liquid smoke, optional
2 cups Brown rice
4 cups stock or water (you might need more or less depending on the type of rice you use)
2 cups Broccoli florets
1, 16 oz can of Red kidney beans
1, 16 oz can of Sweet corn
½ cup Smokehouse almonds
Salt and pepper
2 tbsp olive oil
Finely chop the onion, celery and pepper. Mince the garlic. Drain the sweet corn. Drain and rinse the red kidney beans. Chop the almonds into small bits.
Heat oil in a large deep pot. Add the onion, celery and red or green pepper. Saute on medium heat till the onion is translucent. Now add the garlic, paprika, thyme, Tabasco and liquid smoke. Saute 30 seconds.
Add the rice to the pot, stir and cook for about 2 minutes. Then add the salt, pepper and stock or water and bring to a boil. Reduce to a simmer, place a lid on the pot and let the rice cook on a low simmer. Cooking time for the rice will depend on the type of rice you are using. Read the instructions on the rice package for cooking times. Mine took about 45 minutes.
In the last 5 minutes of cooking, add the broccoli florets to the rice, stir and put the lid back on. Let the broccoli florets steam for about 5 minutes.
Then check rice for doneness – rice must be completely cooked but not mushy and all the liquid should be absorbed. Once rice is cooked, stir in the beans, sweet corn and almonds. Mix well and turn off heat. Taste and adjust seasonings if needed.
Comments
comments