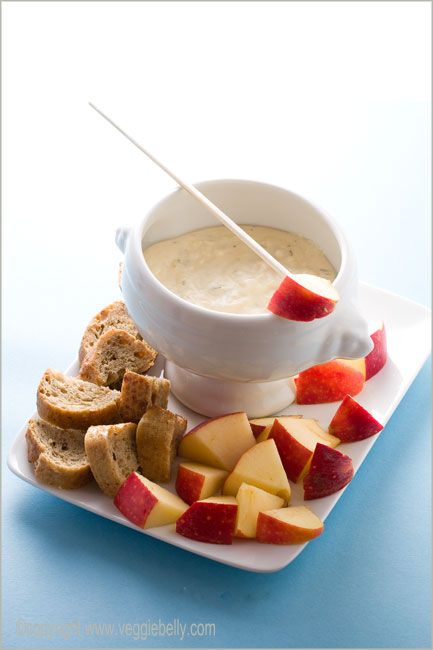 There is a proper way to eat fondue – dont double dip, the fondue fork shouldnt touch your mouth, transfer dipped food from the fondue fork to a plate and eat it with another fork, dont drop stuff into the fondue pot…
Then there is our 'throw-all-the-rules-out' method of eating fondue. We dont have a fondue set, so we put the fondue in a soup bowl and used bamboo skewers. We double dipped like crazy. Several apple cubes were lost in the fondue pot/soup bowl. At the end we wiped the bowl clean with our fingers. So much fun! 
The best part – 5 minutes is all it takes to make this fondue – easy and fuss free.
 Here are some fondue dipper/dunker ideas for you..
What to dip in fondue
lightly steamed broccoli, cauliflower, asparagus (pat them try before serving, if the veggies are wet, fondue wont stick to them)
lightly grilled eggplant or zucchini (my favorite)
roasted fingerling potatoes
button mushrooms
crusty bread
cubed apple, tossed in a little lemon juice to prevent browning
sliced fresh figs
pretzel sticks, tortilla chips, pita chips
cooked (al dente) tortellini, patted dry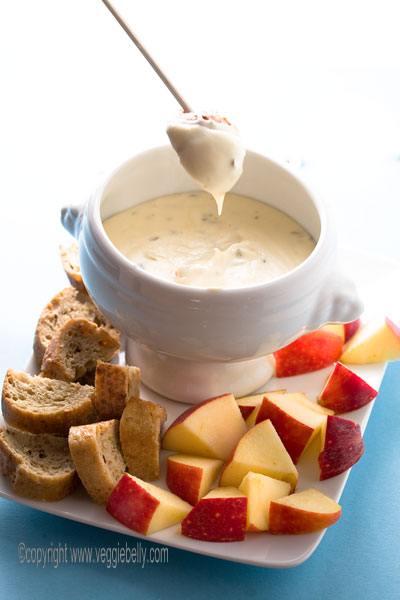 Easy 5-Minute Mozzarella Fondue Recipe
serves 1-2
1 garlic pod minced
1/4 cup white wine 
a pinch nutmeg
1/2 cup Alouette cheese spread (recommended: garlic and herb or savory vegetable). Scroll down to see how you can win Alouette cheese
1/2 cup grated mozzarella cheese
anything from the "what to dip" list above to serve with fondue
Heat a small, deep non-stick pot. Add garlic and wine and bring wine to a simmer on medium heat. Once the wine begins to bubble, whisk in nutmeg and Alouette cheese spread and let it melt. Then add mozzarella cheese. Keep stirring with a whisk till the mozzarella melts, about 1 minute. If the fondue is too thick, add milk (one tablespoon at a time) while whisking on medium heat till desired consistency is reached. 
Serve fondue with cubes of crusty bread, apples, steamed vegetables or anything from the "what to dip" list above. To reheat fondue, return it to a non stick pot on medium heat, whisk in a little milk if needed.
Like this recipe? Want to win the Alouette cheese I used in this fondue or two other cheese?
A cheesy giveaway! Win a free coupon for

one

of these cheeses!
1.Soft spreadable cheese (used in the fondue recipe above)

2.Baby Brie

3.Crumbles
How to enter
You can do one of three things to enter this giveaway:
-Leave a comment. Tell me what is your favorite cheese and how you like to eat it
-Mention this giveaway on your blog and link to this post
-Tweet about this giveaway
Do all 3 of the above and you will be counted 3 times!
Contest will close at 11.30pm EST on Friday, Oct 2nd '09.
Three winners

will be announced on Saturday, Oct 3rd '09.

THIS GIVEAWAY HAS ENDED. WINNERS ANNOUNCED HERE.
Comments
comments