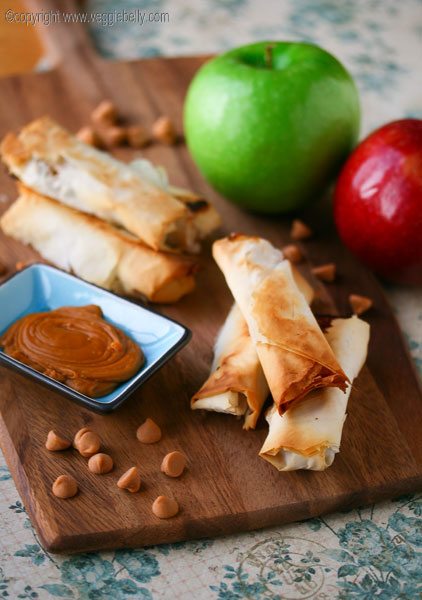 I was going to make these spring rolls with Asian pears. But I had to use up the million or so apples I have sitting in my kitchen. So I used apples instead. Thats the beauty of this recipe, you can use a lot of different fruits. I recommend apples or pears. You could also make this with phyllo pastry or with spring roll wrappers. But who doesn't love apples and phyllo and brandy and butterscotch!
Here is a somewhat step by-step post. 'Somewhat' because I was too lazy to take pictures of every single step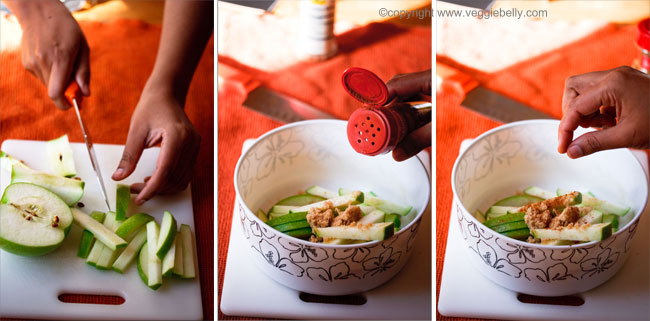 Start with the apple filling. Use a tart apple, like granny smith. Core and then cut the apple into sticks about 1/3 inch thick. Add brown sugar, cinnamon, nutmeg and a pinch of salt to the apples.

Now work on the phyllo spring roll. Place a phyllo sheet on a work surface. Spray baking/olive oil spray or brush melted butter evenly over the phyllo sheet. Place the second phyllo sheet over the first. Spray or brush with butter. Repeat for the remaining sheets. You'll now have a 4 layer stack of phyllo pastry sheets, one on top of the other.
Cut this stack into 4 rough squares. Start with one  square (see picture above). Place 4-5 apple sticks on the phyllo square, slightly off center and towards you. Fold the bottom of the phyllo sheets over the apple. 

Press down lightly. Then bring up the left and right ends towards the center.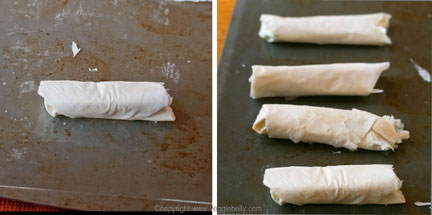 Keeping the ends tucked in, roll the spring roll away from you. Repeat with all the phyllo squares. Remember to keep all your phyllo sheets, except the one you are working with, covered in a damp cloth to prevent them from drying out. Each phyllo stack will give you 4 spring rolls.  Bake spring rolls in the oven till golden.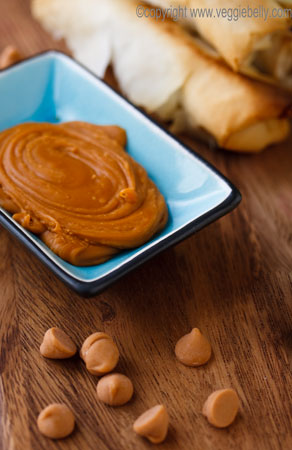 While the spring rolls are baking, make the brandy butterscotch sauce. The world's easiest brandy butterscotch sauce! Combine Nestle butterscotch morsels, milk and brandy in a bowl and microwave till the butterscotch morsels melt. Thats it!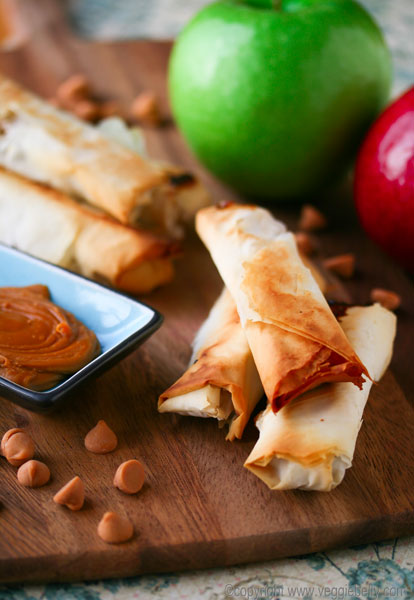 Serve spring rolls warm with brandy butterscotch sauce. Vanilla or Caramel icecream will also taste great with this!
Apple Spring Rolls or Phyllo Cigars with Brandy Butterscotch Sauce
makes about 12 spring rolls
for spring rolls
1 large tart apple, like granny smith
1 tbsp brown sugar (the butterscotch sauce that goes with this is quite sweet, so I dont use a lot of sugar in the spring rolls)
1/4 tsp powdered cinnamon
a pinch of nutmeg
a pinch of salt
12 sheets of phyllo (you will be making 3 'stacks' of 4 layers each)
baking/olive oil spray or 1/4 cup melted butter
Pre-heat oven to 375 f.
Peel apple if you wish (I didnt). Core and then cut the apple into 1/3 inch thick sticks. Toss apple sticks with brown sugar, cinnamon, nutmeg, and salt.
To make the spring rolls, start with 4 phyllo sheets. Place one sheet on a work surface. Spray or brush butter on top of the phyllo sheet. Place another phyllo sheet on top. Spray or brush butter on this sheet. Repeat this for all 4 sheets. You now have a phyllo stack of 4 phyllo sheets. Cut this into 4 equal pieces (they will roughly be squares). Take one square, place apple sticks on it and fold into a spring roll. See detailed pictures and instructions above. Repeat for all phyllo squares.
Place the spring rolls in a buttered or oiled baking sheet and bake for about 25 minutes or till the spring rolls are golden. Serve warm with brandy butterscotch sauce.
Note: You could also use spring roll wrappers instead of phyllo dough. Use 12 spring roll wrappers and leave out the baking spray/melted butter. Fold the spring roll according to the pictures and directions in this post. Dip your finger in water and go around the edges to seal the spring roll wrapper. Make sure all sides are well sealed. Deep fry in oil.
for brandy butterscotch sauce
1/2 cup Nestle butterscotch morsels
1/4 cup milk
3 tbsp brandy
Combine everything and microwave in 30 second increments till the morsels are just about melted. Make sure the sauce doesnt burn or boil over in the microwave. Stir to combine, serve warm. To re-heat sauce, add a little more milk and microwave.
Comments
comments