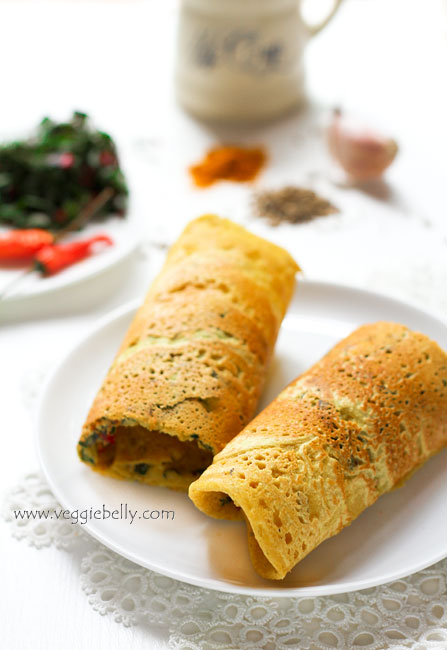 Chickpea or Garbanzo flour is a staple in Indian households, because its so quick to cook and versatile. Back home in India, when those unexpected visitors dropped in, chickpea flour always came to the rescue. We'd make a batter of the flour and water, dip some potatoes in it and deep fry them for quick, yummy bajjis or fritters for the unannounced guests. Or, we'd make a thinner batter with the chickpea flour, throw in some spices and make golden, crispy crepes. When cooked, chickpea flour (besan) has a beautiful creamy texture and a nutty flavor. Its chock full of protein too.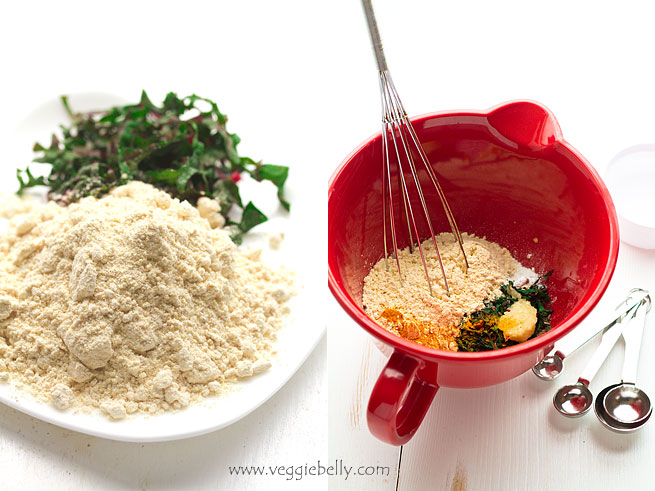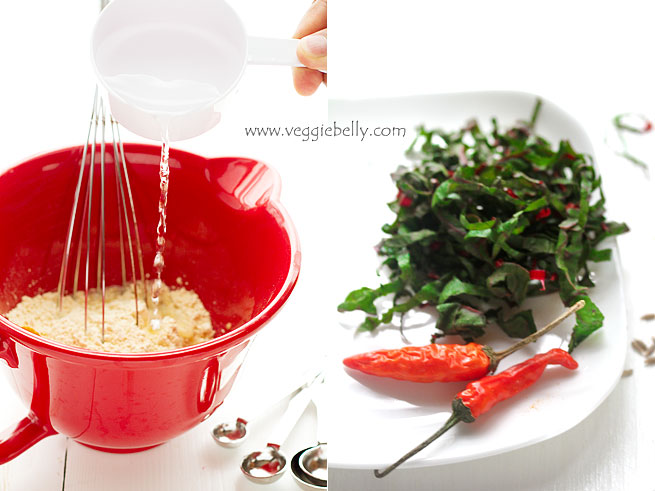 I added some shredded, wilted swiss chard to the crepe batter for extra nutrition. You could add any greens you like. The shredded chard in the batter does make it a wee bit difficult to spread around in the pan. But once youve made one crepe, you'll get the hang of it. Just make sure you spread the batter as thin as you can.
For a simpler method, dont add the chard to the batter; instead, cook the crepes without swiss chard, then place the wilted chard (or any other filling) over cooked crepes, and roll them up.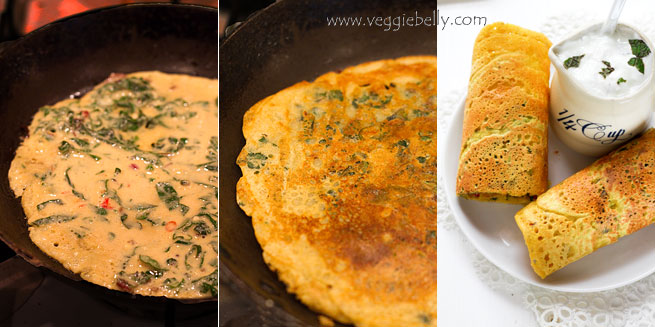 As far as savory crepes go, this Indian style garbanzo flour crepe is one of my favorites. Its quick, filling, gluten free and vegan friendly (think of these as vegan omelettes!).  And you can customize this dish however you like. Change up the spices or fill the crepes with spiced potatoes, sauteed mushrooms or whatever left over vegetables you have on hand.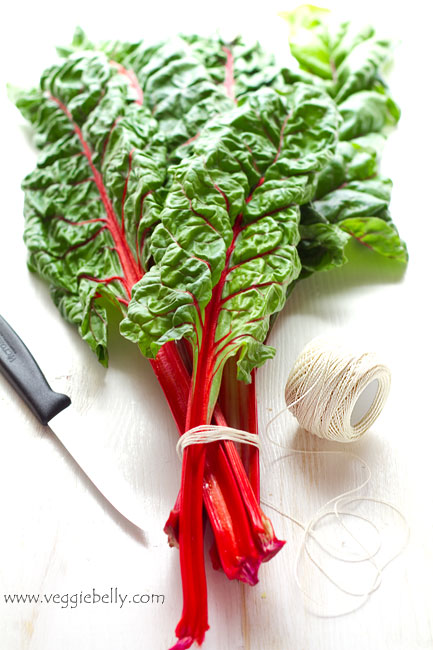 I like to serve these crepes with an easy mint and ginger raita (recipe below). But you can serve it with pretty much any chutney you like. Mint chutney, coriander or cilantro chutney, coconut chutney, date-tamarind chutney will all be great. Or try this with store bought mango chutney.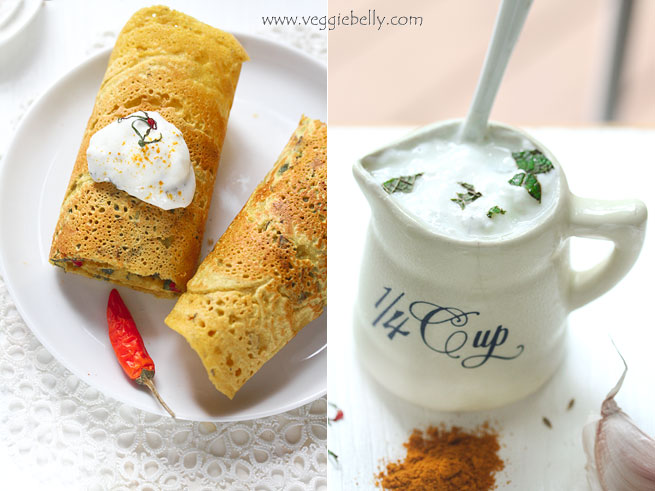 Chickpea Flour and Swiss Chard Crepes with Mint Ginger Raita (Besan Ka Chilla or Cheela) Recipe
serves about 2
4 large leaves of swiss chard (1 1/2 cups when shredded)
1/2 teaspoon vegetable oil
1/2 teaspoon cumin or carom (ajwain) seeds
1 cup chickpea flour (also called garbanzo flour or gram flour or besan)
1 1/4 cup water
1/2 teaspoon ginger paste
1/2 teaspoon garlic paste
1/2 teaspoon turmeric powder
1/8 teaspoon asafoetida
1/8 teaspoon baking powder, optional
1 green or red chilli finely chopped
salt
Oil for cooking crepes
Removed and discard the stems from swiss chard leaves.  Stack the swiss chard leaves and roll them tightly. Chop the roll into fine shreds. You should have about 1 1/2 cups of shredded swiss chard.
Heat oil in a small non-stick pan, add cumin or carom seeds. When they start to sizzle, add shredded swiss card and 1/2 teaspoon water and toss on medium heat till the swiss chard has wilted to half its original volume. This will take about a minute. You should now have about 3/4 cups of wilted chard.
In a mixing bowl, add the wilted swiss chard, and all other remaining ingredients except oil. Whisk till everything is combined. The batter should be slightly thinner than pancake batter and should be easily pourable. If the batter is too thick, add more water.
Heat a non-stick pan. Pour a ladle of batter on the hot pan. Using the ladle or back of a spoon, spread the batter around to form a thin crepe. Drizzle about 1/2 teaspoon oil over the crepe. Cook on medium heat for about 1 minutes or till the bottom side is golden and sides start to crisp. Using a spatula, flip the crepe over and cook the other side till golden. Serve hot.
Ginger Mint Raita
makes 1 cup
1 cup yogurt (I recommend Greek yogurt)
1/2 tablespoon minced ginger
2 tablespoons mint leaves loosely packed
Chaat masala to taste or salt
Place all ingredients in a food processor. Blend till smooth. Serve chilled.

Print
Comments
comments