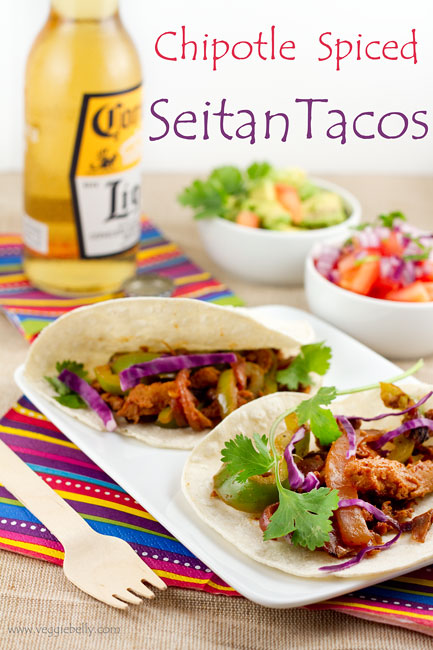 This recipe is a vegetarian and vegan version of a Food & Wine magazine recipe for chile spiced skirt steak tacos. I found the recipe on the Bitten Word site- my new favorite blog by fellow Washington DC bloggers!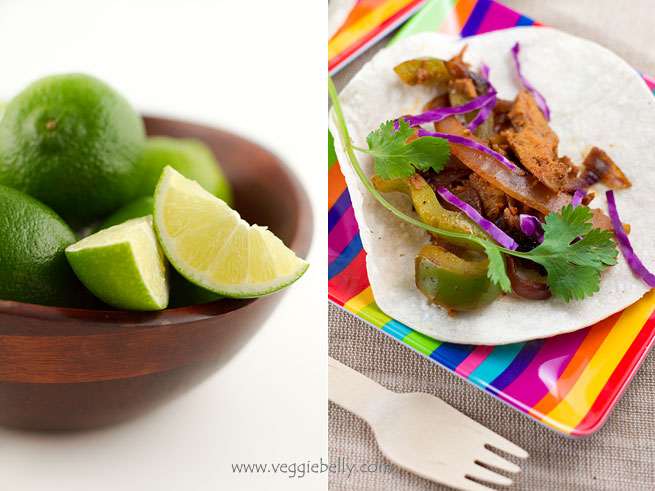 I used seitan (Westsoy brand)  instead of the meat and added some onions and green peppers to bulk it up.  I made some changes to the original taco seasoning recipe — I used more chipotle powder. I didnt use ancho chile powder because i didnt have any. I also cut out the black pepper because I didnt think it added much to the taco seasoning. The original recipe calls for onion powder, but because i was using a lot of fresh onions, I left out the onion powder.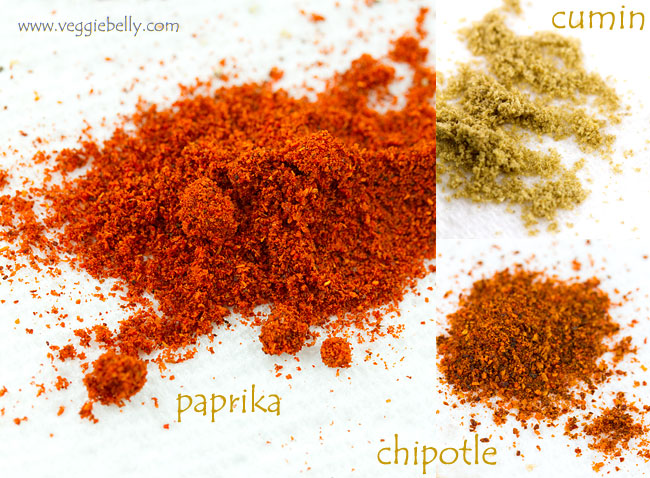 Non-vegans can serve this taco with shredded cheese and sour cream. But these tacos were so tasty thanks to all the paprika, chipotle, cumin and other spices that I didnt miss the cheese or sour cream. Enjoy with a good, cold mexican beer.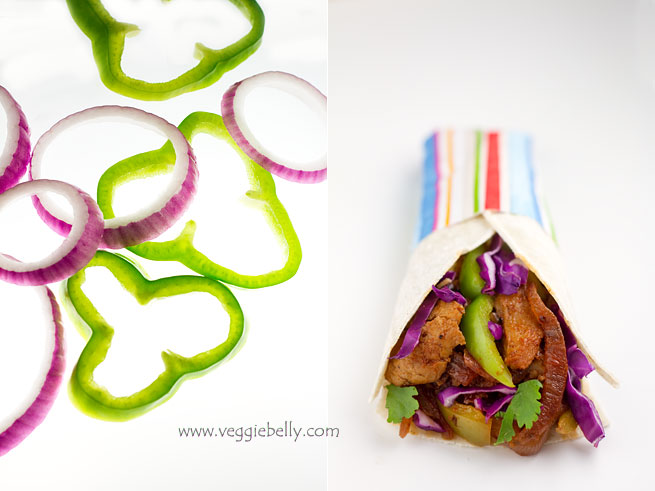 Chipotle Spiced Seitan Tacos Recipe
adapted from this Food & Wine magazine recipe found on The Bitten Word blog
makes about 8 tacos
for taco seasoning
1 teaspoon chipotle chile powder
2 teaspoons sweet paprika
1 teaspoon ancho chile powder (i left this out)
1 teaspoon garlic powder
1 teaspoon light brown sugar
1/4 teaspoon ground cumin
1/4 teaspoon ground coriander
3/4 teaspoon salt
1/4 cup fresh lime juice
for the filling
2 tablespoons oil
1 large red onion, cut into strips
1 large green pepper, cut into strips
8oz  seitan
8 corn tortillas, warmed
Pico de gallo, Guacamole, lime wedges, chopped cilantro and shredded red cabbage for serving
In a small bowl, whisk together all ingredients for the taco seasoning and set aside. In a wok, heat oil and add onions. Cook on medium heat till the onions are soft and caramelized, about 7 minutes. Then add green pepper strips, seitan, mixed taco seasoning and saute for about 2 minutes.
Serve with warm tortillas, pico de gallo, guacamole, and shredded red cabbage.
Comments
comments