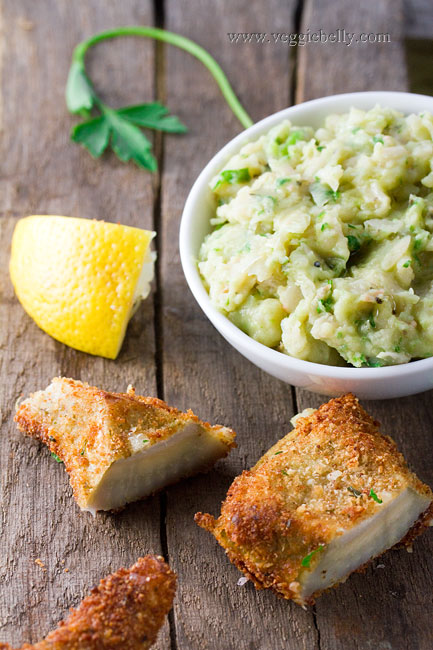 When Marx Foods sent me a packet of Marrow beans to sample, I was eager to use them along with crispy fried artichokes. This recipe is inspired by Yotam Ottolenghi's recipe for fried artichoke hearts with fava beans (broad beans). If you havent read Ottolenghi's new vegetarian cookbook, Plenty, you absolutely must buy it. Its my new favorite vegetarian cook book.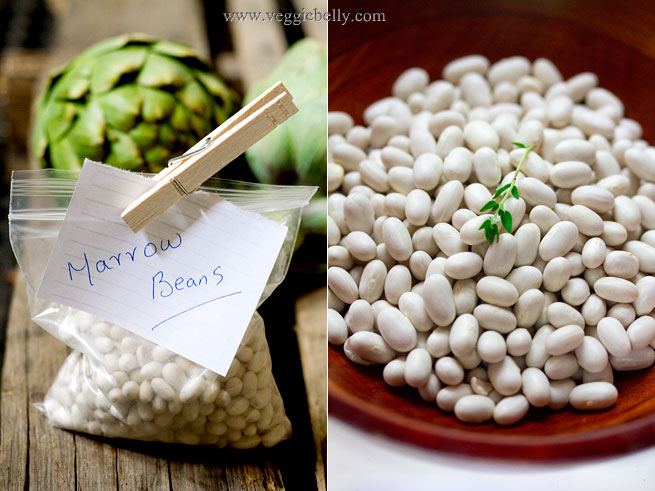 Lets talk about Marrow beans. Theyre also called Marrowfat beans. They are earthy, creamy beans that are great when mashed or pureed. They have a meaty flavor somewhat like pork/bacon. These heirloom beans are used in the Mediterranean and were popular in America in the 1800s. You need to soak these beans over night, then change the water and boil them till tender. Marrow beans will also be great in bean dips, stews or soups.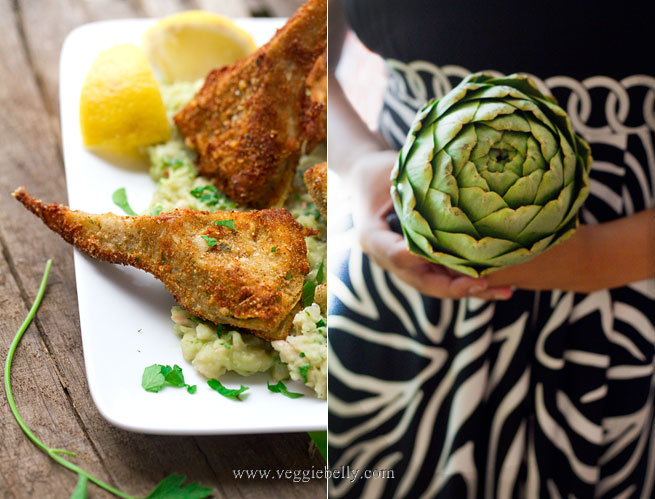 Ottolenghi's recipe is based on the Roman Jewish style of cooking artichokes – deep frying them in olive oil. Ottolenghi uses panko bread crumbs; I used Italian flavored bread crumbs because thats what I had on hand. He then serves the fried artichokes with crushed fava beans or broad beans. I serve mine with mashed marrow beans. I think mashed chickpeas or cannellini beans will also be nice. If you dont care for the mashed beans part of this dish, you can serve up these fried artichokes just with some garlic mayonnaise.
For a step-by-step tutorial on how to clean an artichoke heart, see this post.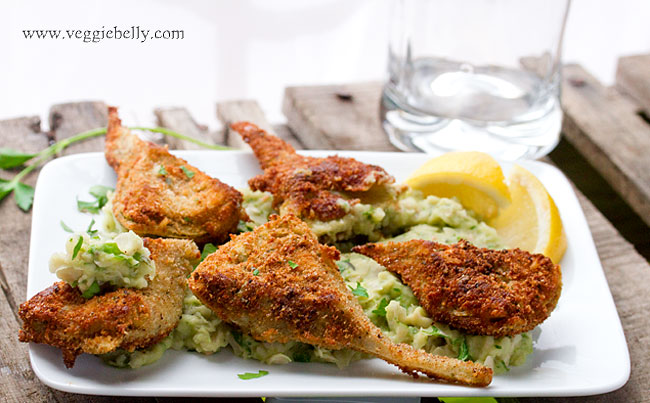 Crispy Fried Artichoke Hearts with Garlic Mashed Marrow Beans
adapted from this recipe by Yotam Ottolenghi
serves 3-4 as an appetizer
for mashed marrow beans
1/2 cup marrow beans, soaked overnight in plenty of water
2 sprigs fresh thyme
1 clove garlic, finely chopped
2 tablespoon lemon juice
2 tablespoon olive oil
3 tablespoons finely chopped fresh parsley or basil (Ottolenghi uses mint and dill)
salt and pepper
for fried artichokes
2 jumbo or 4 regular sized artichokes
1 egg
1/2 cup italian flavored bread crumbs or panko bread crumbs
2 tablespoons grated pecorino romano cheese (or parmesan or grana padano)
extra virgin olive oil for shallow frying
salt
Drain and rinse the marrow beans that have been soaking over night. Place beans and thyme sprigs in a large pot with plenty of water. Bring to a boil. Then reduce to a simmer, place a lid on the pot and let the beans simmer till they are cooked through, about 45 minutes. Drain when done.
While beans are cooking, work on the artichokes. Trim and prepare the artichokes hearts; see this post for a tutorial. Place fresh artichoke hearts in a pot full of boiling water, turn down to a simmer and cook artichoke hearts till they are fork tender, about 7 minutes. Make sure artichokes are not mushy; they must be cooked but still firm. Removed to a kitchen towel and pat dry. If using canned or frozen artichoke hearts, skip the boiling; but pat them dry.
Whisk the egg in a bowl. In a plate, combine the breadcrumbs and pecorino romano. Heat a small skillet with olive oil, about half way up.
Dip artichoke hearts in the egg and coat well.  Then dredge them in the breadcrumb mixture, pressing the breadcrumbs to the artichoke hearts. Shallow fry the artichokes, a few at a time, till they are golden on all sides. Make sure oil is very hot. Remove fried artichokes to a paper towel and sprinkle some salt over them. When you salt the artichokes, keep in mind that the breadcrumbs and cheese are already salty.
Once the beans are cooked, drain them, remove and discard the thyme sprigs and place the hot beans back in the pot. Add all other ingredients for the beans. Mash using a potato masher.
To serve, spread some mashed beans on a platter and arrange fried artichokes on top. Serve with lemon wedges.
Comments
comments