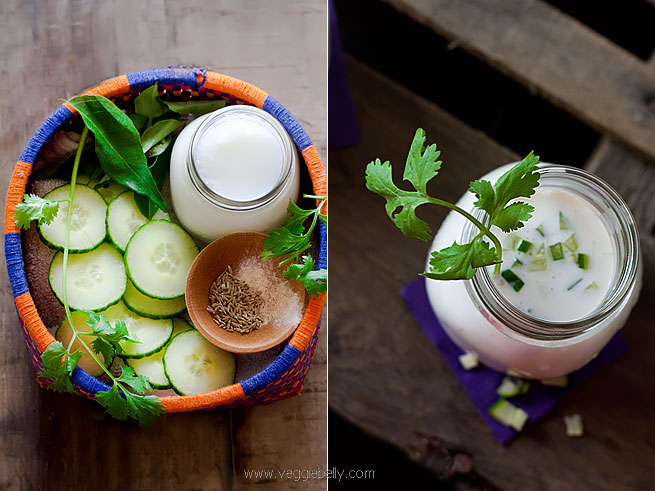 Spiced, salted buttermilk drink, also called mor, sambaram, majjige or chaas, is a popular thirst quencher in India. At its humblest form, this drink can simply be buttermilk served with a pinch of salt. I've added a little twist by using some refreshing, crunchy bits of cucumber in this recipe. With all the ginger, cumin and asafoetida in this drink, its also a great digestive.
If you dont have buttermilk, you could use 1 part yogurt and 1 part water. Or just thin out yogurt to your liking.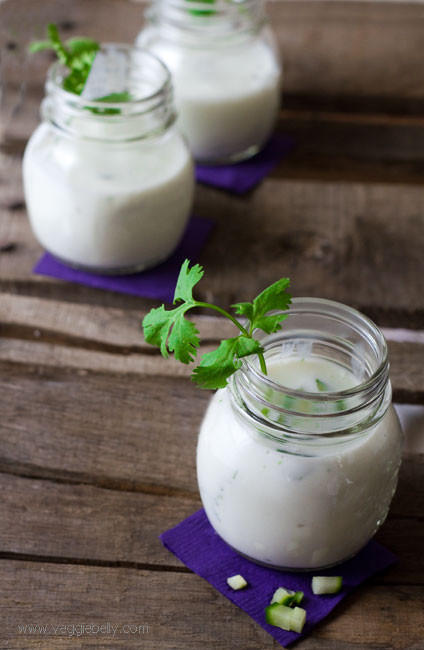 Similar spiced buttermilk recipes:
Sambharam, majjige or mor recipe on Edible Garden
Spiced buttermilk recipe on Vegetable Platter
Majjiga or salted yogurt drink recipe on Sailu's Kitchen
Spicy buttermilk on Aayis Recipes

Spiced Buttermilk Drink with Cucumber (chaas, mor, moru, majjige, sambaram) Recipe
serves about 2
2 cups buttermilk (or 1 cup yogurt diluted with 1 cup water)
1/8th teaspoon cumin  seeds
4-6 curry leaves
1 teaspoon sized knob of ginger, peeled
1 small green chilli or according to taste, optional
2 sprigs of cilantro
a pinch of asafoetida
salt
2 tablespoons finely chopped cucumber
Pour the buttermilk into a bowl and set aside. In a mortar and pestle, roughly pound the cumin seeds, curry leaf, ginger, chilli, cilantro and asafoetida. Add the pounded spices to the buttermilk and add salt. Stir well. Cover and refrigerate for at least an hour so the flavors marry. Strain before serving and garnish with chopped cucumbers.
Comments
comments