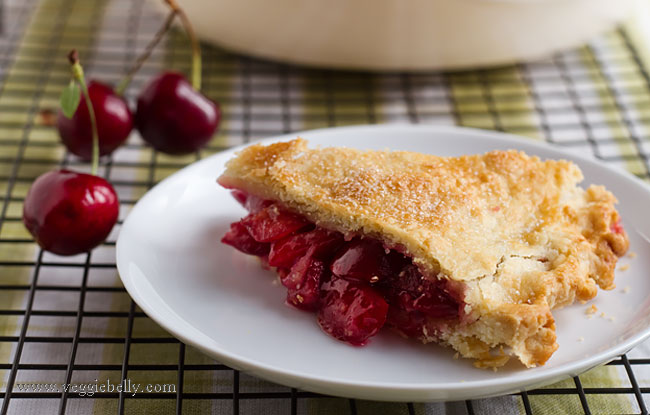 Take the everyday, all-American cherry pie, add some cardamom to it, and turn it into an exotic flavored pie. The cardamom scented filling is easy to make – just mix cherries, lemon juice, suagr, corn starch, and cardamom.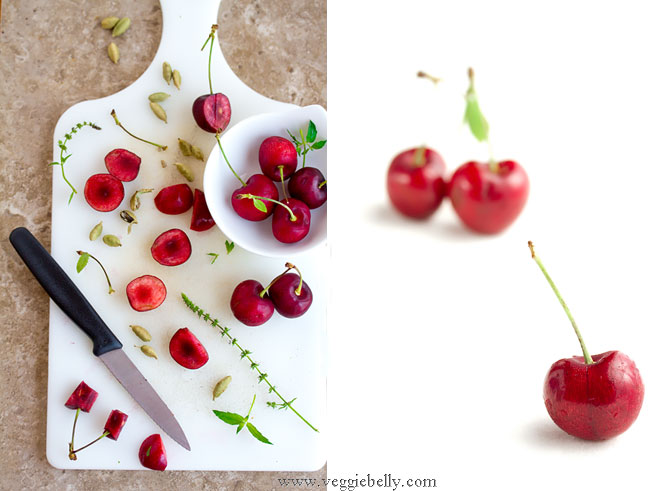 I dont have a cherry pitter, so I just cut around the pit with a knife.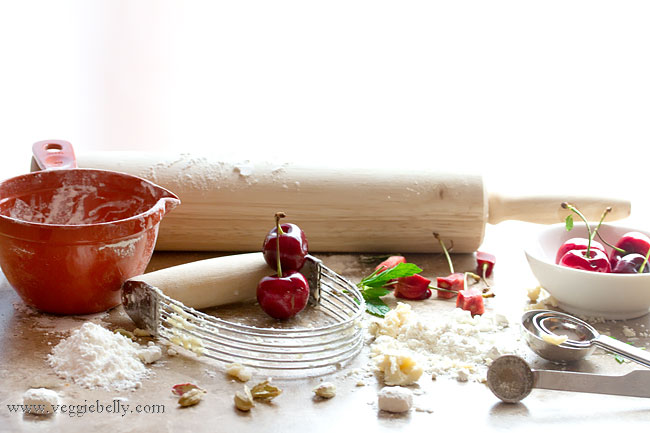 I made Ina Garten's pie crust recipe which is buttery, flaky and delicious. You can keep things simple and use a store bought pie crust. However, keep in mind that most store bought pie crusts, pie shells, and pie dough are not vegetarian, they may contain lard. The only vegetarian pie crust I've seen is Mrs.Smith's pie shells.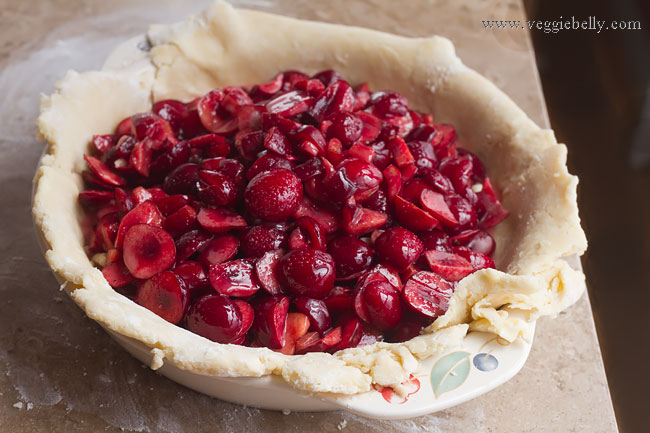 Here is a cherry pie recipe on joy of baking using some kirsch (a type of cherry liquor) on the filling – a great idea! This baked fresh cherry pie recipe on all recipes  also sounds delicious. If cherries arent in season and if you want a more fall time recipe, 6 bitter sweets blog has a lovely apple cherry pie recipe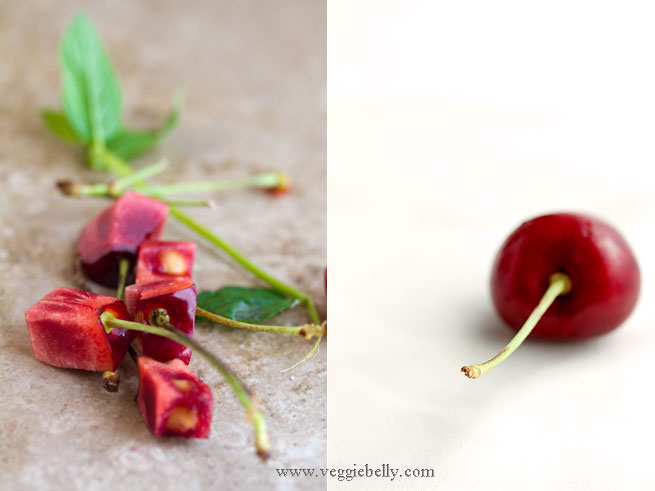 Notes
- make sure the butter, shortening and water for the pie crust are very cold, this is what makes a flaky crust
- if you are not crazy about cardamom in the pie filling, use almond extract instead
- you can make the same recipe with apples instead of cherries
- if you dont want to use shortening, try this all butter pie crust recipe from simply recipes 
- Vegan yum yum has a vegan pie crust recipe using Earth Balance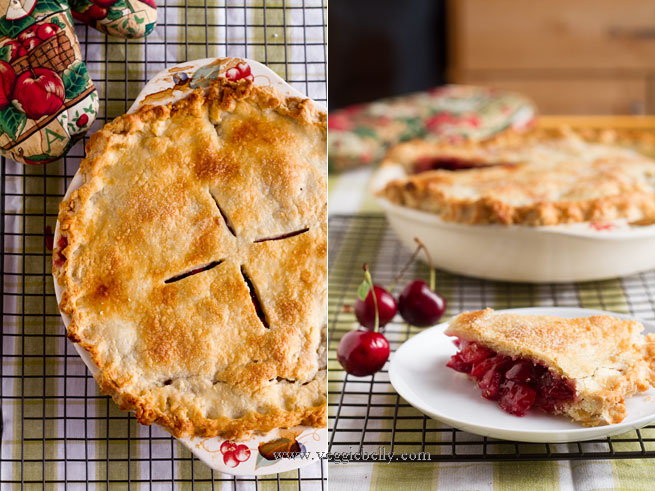 Fresh Cherry Cardamom Pie Recipe
serves about 8
for cherry pie filling
4 cups pitted sweet cherries
6 cardamom pods
4 tablespoons cornstarch
2 tablespoons lemon juice
a pinch of salt
3/4 cup sugar
1/4 teaspoon vanilla extract or a few drops of rose essence
other
1 recipe (two 10 inch crusts) home made pie crust (see recipe below) or store bought pie crust
1 egg, beaten with a teaspoon of water
1 tablespoon sugar to sprinkle on top
Pre-heat oven to 400f.
Place pitted cherries in a large bowl. Smash the cardamom pods using the back of a wooden spoon. Remove the little seeds from inside the cardamom pods. Place these seeds in a coffee grinder or mortar and pestle and grind to a powder. Add cardamom powder and all other ingredients for filling to the bowl, mix well. Refrigerate while you work on the pie crust. See pie crust recipe below.
Place one pie crust on a 10 inch pie dish. Pour the cherry filling into the dish. Place second pie crust on top. Cut away over hanging bits. Tuck edges in. Crimp the edges to seal.  Make a few slits on top to vent steam. Brush the top with the beaten egg wash. Sprinkle sugar all over. Cover the crimped edges with a strip of foil to prevent from burning. Place on a baking sheet and bake till the crust is golden, 50 minutes to 1 hour. Remove foil half way through baking.
makes two 10 inch crusts
12 tablespoons ( 1 1/2 sticks) very cold unsalted butter
3 cups all purpose flour
1 teaspoon salt
1 tablespoon sugar
1/3 cup very cold vegetable shortening
1/2 cup ice cold water
Ina uses a food processor. I used a pastry cutter and my hands.
Place a large bowl in the freezer for about 30 minutes. Cut butter into small cubes. Add all ingredients except water to the cold bowl. Using a pastry blender, mash the butter and shortening. Dont over do this, stop when the butter is pea-sized. You could also take hand fulls of the flour mixture and rub it in both your hands to form a coarse dough.
Add cold water to dough and gently mix just until it forms a crumbly ball. Wrap the dough ball in plastic wrap and refrigerate for 30 minutes.
Take out the dough and divide into 2 portions. Roll out each portion on a well floured surface. Proceed with cherry pie recipe above.
Comments
comments