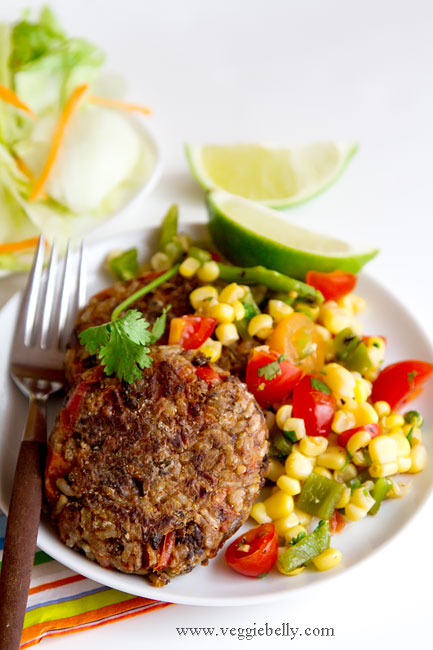 Please make this recipe, its incredibly delicious. Thats all I can say. I was going to make this recipe and freeze half of it, but we've eaten it all. The brown rice in this burger is filling and adds great, chewy texture. The black beans are luscious and creamy. And taco seasoning in the patties takes this to a whole new level of yumminess. Pair the burgers with my chilled sweet corn and roasted poblano salsa and you will be in heaven. Make this NOW!!
Also check out Alanna's black bean burger recipe, and this southwestern brown rice and black bean burger recipe on feed the moose.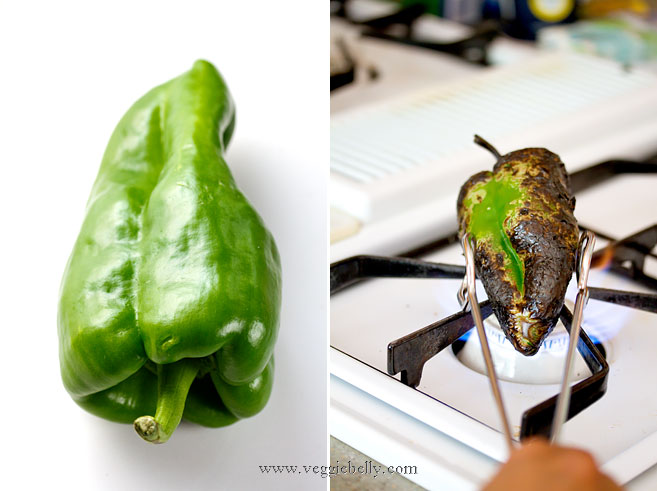 To roast poblanos, place them over an open flame. Keep turning till they are charred all over.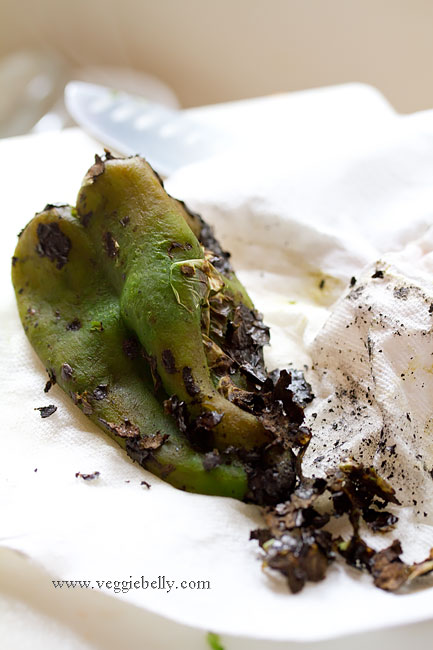 Keep roasted poblano wrapped in foil for about 5 minutes. Then using a paper towel, wipe off the charred skin. Roasting poblanos gives them great flavor which is wonderful in this roasted poblano sweet corn salsa.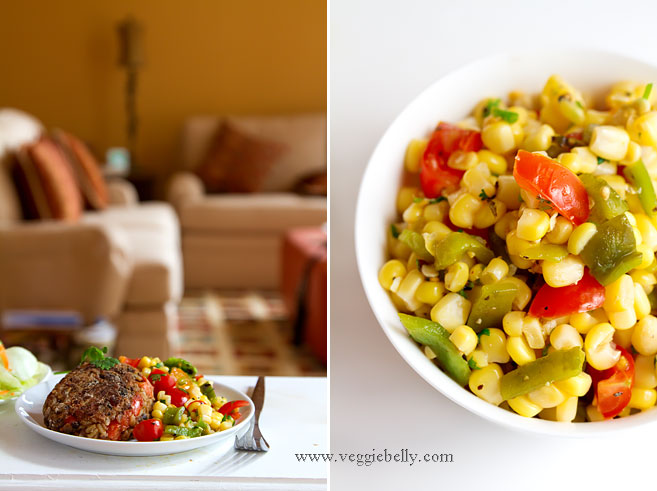 Serving suggestions for vegan southwestern black bean and brown rice burger patties:
Serve with your choice of chipotle mayonnaise, avocado slices, sour cream, ketchup, barbeque sauce, tomato slices, red onion, pickled jalapeno, lettuce, lime wedges, roasted poblano and sweet corn salsa ( recipe below)
- as a southwestern veggie burger with toasted burger buns
 - as a sandwich with bread slices
- as a tortilla wrap
- in pita bread pockets
- my favorite – in a salad with shredded lettuce, carrots, roasted poblano and sweet corn salsa (recipe below) and my cumin vinaigrette recipe
- lettuce wraps- serve burger patties and salsa with large, un-cut pieces of iceburg lettuce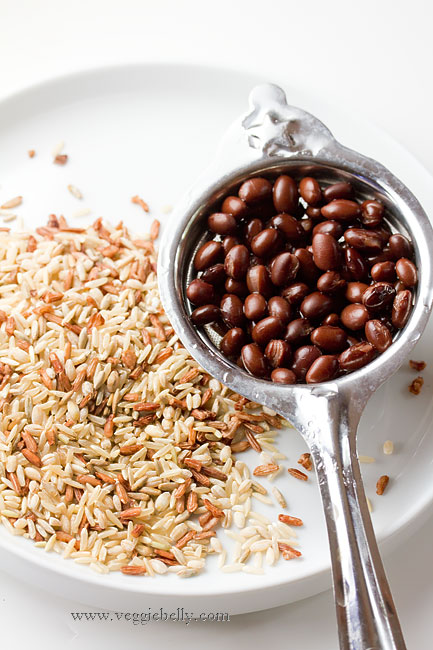 I like RiceSelect brand's Royal Blend brown and red rice for this recipe. Its nutty, chewy, and just perfect.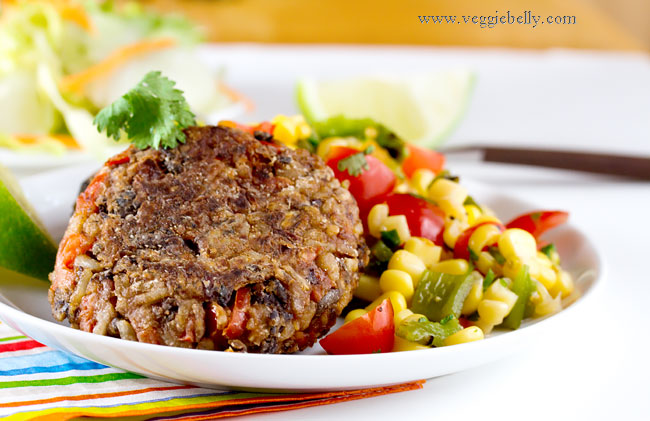 Vegan Southwestern Black Bean and Brown Rice Veggie Burger Patties Recipe
makes 8 patties
1/2 cup brown rice, uncooked. I recommend RiceSelect Royal Blend brown & red rice
One 15 oz can black beans
sauté
1/2 tablespoon olive oil
1 small onion, diced
1 small red (or green) bell pepper, diced
2 cloves garlic, minced
1 tablespoon store bought taco seasoning (substitute with 1/2 tablespoon cumin powder + 1/2 tablespoon paprika or red chile powder)
salt
to cook the patties
1 tablespoon corn starch
6 tablespoons olive oil
In a large pot, bring plenty of water to boil. Generously salt the water. Add brown rice and cook uncovered till the rice is done, about 20 minutes. Rice should be cooked through, but still chewy and not mushy. When done, drain the rice, run some cold water over it to stop the cooking. Make sure the rice is drained very well before using. Spread it on a kitchen towel to absorb moisture if needed.
Drain the canned black beans. Again, make sure it is drained very well.
While the brown rice is cooking, work on the satueeting. Heat a large non-stick skillet with the oil. Add onion and red pepper. Cook till onions are soft. Add garlic, stir for about 30 seconds. Add taco seasoning and drained black beans. Stir on high heat for about a minute. Turn off heat. Add salt (remember store bought taco seasoning already has some salt).
Using a potato masher or fork, mash the black bean mixture. Mash roughly, so that some black bean pieces remain. Add cooked, drained brown rice. Using a spatula, mix everything together. Taste and adjust salt and taco seasoning.
When the black bean brown rice mixture is cool enough to handle, divide it into 8 equal portions. Dust your hands with corn starch and make 8 balls. Flatten the balls down to shape into burgers. Dust a little corn starch on the patties; not too much, just a sprinkle. (You can freeze the patties at this point in a single layer in air tight containers).
Heat about 1 tablespoon oil in a non-stick skillet.  Place 2 burger patties on the skillet. Cook for 1-2 minutes on medium-high heat on each side. Remove when a crispy golden crust forms on both sides. Add more oil to the skillet and fry up 2 more patties at a time. Repeat till all patties are cooked.
Roasted Poblano and Sweet Corn Salsa Recipe
 enough to serve with about 4 burgers
1 poblano pepper (substitute with bottled roasted red pepper or sauteed jalapenos or canned New Mexican green chile)
1 can drained sweet corn
1 cup chopped tomatoes
zest of 1/2 a lime, optional
2 tablespoons lime juice (juice of about 1 large lime)
1-2 tablespoon chopped cilantro
salt and pepper
Roast the poblano pepper over an open flame either on your stove or an out door grill. Char the pepper on all sides. Then wrap it in foil and let it sit for about 5 minutes. When the pepper is cool enough to handle, open the foil and peel off the charred poblano skin. Wipe off any remaining charred skin with a paper towel. Remove the seeds inside. Dice the roasted poblano.
Mix together the roasted poblano and all other ingredients. Refrigerate till ready to serve.
Comments
comments